$100,000 Culinary Battle Races Into Indy
Share:
Posted Jul 28, 2020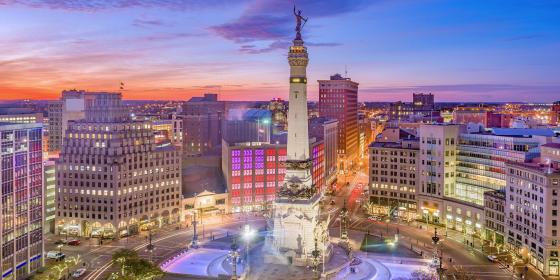 The destination best known for speed and flashy race cars is about to turn up the heat in sports, as it hosts the largest culinary competition in Food Sport. The World Food Championships (WFC) will host its finale in Indianapolis this August, where one cooking team crosses the culinary finish line in first place will go home with a $100,000 grand prize.
Often billed as the "Ultimate Food Fight," WFC's "Final Table: Indy" will conduct three Indiana-based cooking challenges for ten teams from around the country, all of whom finished first in their respective category this past October at the Main Event in Dallas.
In a private event with many safety protocols in place due to COVID-19, WFC will also be filming a reality television show during the process as it conducts its finale at Ivy Tech Culinary Center on August 8th and 9th. Along with several other key Indiana-based sponsors, Visit Indy has rolled out the red carpet for the world's largest Food Sport event. The other key presenting sponsors include Team Indiana, Ivy Tech Culinary Center and Sysco, all joining WFC's "cheferee" crew to make the "Final Table: Indy" a successful event.
During the first challenge, the ten contestants will get to choose their favorite cut of pork, courtesy of the National Pork Board. Then they will be tasked with making a Pork and Parisian Gnocchi dish using Red Gold Tomatoes as a required ingredient. The cooks will have an hour and a half to create this dish, which will be judged by a highly qualified panel of Indy chefs, food writers and food purveyors. Only the best five dishes will make it to Round 2.
The second challenge will be recreating a complex Duck dish curated by Chef Greg Hardesty of Studio C. The delicate White-Peking duck will be provided locally by Maple Leaf Farms. Only three will move on to the final round, where they will have to recreate the Indiana-famous Sugar Cream Pie.
The ten Champions who will compete at the Final Table include:
There will be three separate judging panels, featuring a ton of culinary experience from Indiana and product-based experts. The 15 judges involved include:
Round 1
Round 2
Round 3
To learn more about "Final Table: Indy," visit https://finaltable.worldfoodchampionships.com/.
Stay up-to-date on all culinary competition news, by following the World Food Championships on Twitter (@WorldFoodChamp), Facebook and Instagram (@WorldFoodChampionships).
About World Food Championships
The World Food Championships (WFC) is the highest stakes food competition in the world. This multi-day, live event culinary competition showcases some of the world's best cooks who compete for food, fame and fortune in 10 categories (Bacon, Barbecue, Burger, Chef, Dessert, Recipe, Sandwich, Seafood, Soup and Steak). In 2019, more than 450 culinary teams from 11 countries and 42 American states competed in WFC's Main Event. The 10 Category Champs crowned will now face-off in the $100,000 challenge that will determine the overall World Food Champion at The Final Table: Indianapolis in August 2020.
« Back to News