Sysco Executive Chef Set To Judge "Final Table: Indy"
Share:
Posted Jul 27, 2020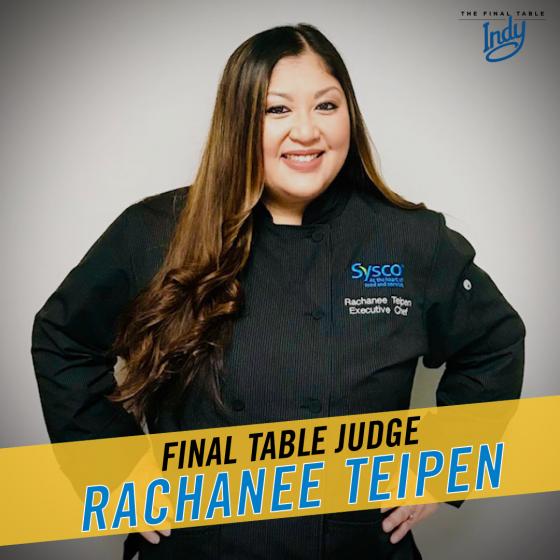 The World Food Championships (WFC) has partnered with several notable sponsors such as Visit Indy, Red Gold Tomatoes, Maple Leaf Farms, the National Pork Board, and now Sysco, to produce Food Sport's pinnacle event, "Final Table: Indy." As part of this new partner addition, Sysco Executive Chef Rachanee Teipen will be representing Sysco on the "Final Table: Indy."
Chef Rachanee grew up in an adventurous food environment encompassing her Thai heritage. There was never any question that food would be her life's passion. Chef Rachanee is the Culinary Consultant for Sysco Indianapolis. Sysco is the global leader in food service and as a culinary consultant for the Indianapolis region and surrounding cities, Rachanee is a valuable resource for customers providing them with her culinary support and expertise.
Rachanee is a graduate of the Cooking and Hospitality Institute of Chicago with a degree In Le Cordon Bleu Culinary Arts. She is currently a member of the International Caterers Association and a current member of the American Culinary Federation Greater Indianapolis Chapter.
Now, she will use her corporate culinary background to judge five championship-caliber dishes during the second challenge of the 8th Annual Final Table, which will occur on August 8th and 9th in Indianapolis.
During that second round, five of the champions who survived round one will be recreating a complex Duck dish curated by Chef Greg Hardesty of Studio C. Chef Rachanee and the round two-panel will decide which three contestants do the best during this process, so that they can continue on to the third and final round. At that point, the remaining champions will create their version of Indiana's famous Sugar Cream Pie.
The ten Champions who will compete at the Final Table —which is hosted by Visit Indy and sponsored by Ivy Tech Culinary Center, Maple Leaf Farms, Sysco, Red Gold, The Pork Board, and Culinary Crossroads — include:
To learn more about "Final Table: Indy," visit https://finaltable.worldfoodchampionships.com/.
Stay up-to-date on all culinary competition news, by following the World Food Championships on Twitter (@WorldFoodChamp), Facebook and Instagram (@WorldFoodChampionships).
About World Food Championships
The World Food Championships (WFC) is the highest stakes food competition in the world. This multi-day, live event culinary competition showcases some of the world's best cooks who compete for food, fame and fortune in 10 categories (Bacon, Barbecue, Burger, Chef, Dessert, Recipe, Sandwich, Seafood, Soup and Steak). In 2019, more than 450 culinary teams from 11 countries and 42 American states competed in WFC's Main Event. The 10 Category Champs crowned will now face-off in the $100,000 challenge that will determine the overall World Food Champion at The Final Table: Indianapolis in August 2020.
« Back to News