Alabama Cook Earns $10,000 With Award-Winning Burger
Share:
Posted Dec 31, 2019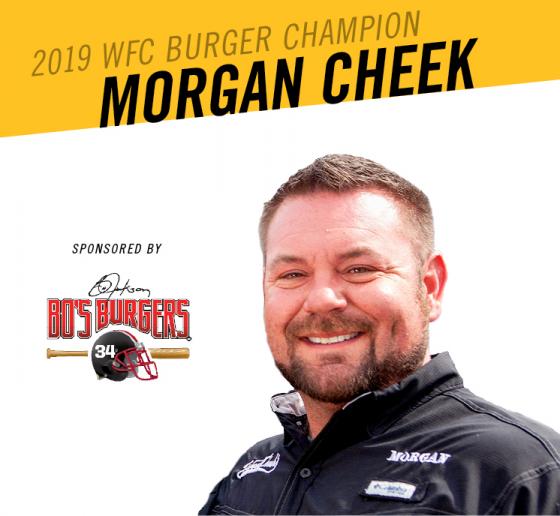 When Morgan Cheek started competing in cooking contests three years ago, he could have never imagined that he would one day be crowned a champion at the largest culinary competition in the world. This past October, Cheek, who is from Muscle Shoals, Alabama, traveled to the World Food Championships (WFC) in Dallas, Texas where he beat out a field of talented cooks and chefs to win the 2019 World Burger Champion title, $10,000 in cash, and a seat at the $100,000 Final Table Challenge that will occur in August 2020.
Cheek has never had professional training but has always had a passion for cooking. He and his wife first began competing in backyard barbecue competitions for fun a few years back.
"After the first year of competing, we caught the Food Sport bug," said Cheek. "This past year, we have competed in 23 competitions."
In the barbecue circuit, Cheek often competes in ancillary competitions, which is how he earned his Golden Ticket to compete in WFC's Burger Division. After hearing great things about the tournament from fellow cooks, Cheek decided to see what the hype was all about.
"We had several friends receive Golden Tickets to WFC last year, and that's how we first heard about it," explained Cheek. "Our first year competing at WFC was very intimidating being surrounded by so many accomplished chefs and past World Food Champions. Kitchen Arena was like nothing we had ever experienced, and it definitely was an adrenaline rush."
While Cheek may have been overwhelmed by the caliber of competition at WFC, he proved he knows his way around a grill. In the Burger Category's Opening Round, which was presented by Bo Jackson's Signature Foods, competitors were tasked to create a Cowboy Burger, which is defined as an all-beef patty, typically topped with barbecue sauce, melted cheese and crispy onions, sandwiched between two buns.
For the second dish in the Opening Round, competitors were given free rein to create any burger they could dream up. Cheek cooked up an old school double patty smash burger with caramelized onions, melted American cheese and BSB- Brown Sugar Bourbon bacon on a toasted brioche bun. Not only did his second dish receive a perfect 100 from the judges, but Cheek's combined Opening Round scores landed him in the top spot with a significant four-point lead going into the Top Ten Round.
During the Top Ten Round, Burger competitors were tasked to infuse their dishes with Little Bear Produce's HoneySweet Onions. Cheek decided to recreate his perfect-scoring burger from the Opening Round with slight modifications. His dish titled "The Hometown Smashburger" secured his first-place win and the World Burger crown.
When asked if he expected this outcome going into the awards ceremony, Cheek shared some of the struggles his team had to overcome in the final round of the competition.
"[During the Top Ten Round] We accidentally burnt our whole first batch of bacon. Thankfully, it was caught quick enough to get another batch in the oven and be able to finish on time. We also had issues with our onions. The sweet onions that we were required to use had a lot more moisture content than the white onions we used in the first round. All that extra moisture caused the onions to get soggy and not caramelize. Once again I was able to notice it in time, start over, and cook small batches to ensure they caramelized."
Despite the challenges, Cheek and his team received a final overall score of 96.42 to claim the category title. The Alabama cook is now planning for his next food fight against the other nine category champions this coming May in Indianapolis. WFC's Final Table Challenge will feature three rounds of destination-inspired competitions. The winner of the Final Table Challenge will be crowned the new World Food Champion and receive the grand prize of $100,000.
"We feel very blessed to have achieved the results we did this year. It's been an absolute whirlwind. We came to WFC as brand new competitors and had no expectations except to have a great time. To win against the caliber of chefs that competed alongside us is very humbling," said Cheek. "Our plan for the Final Table is to go in with the same mindset we had in the preliminaries: to keep it simple and structured.
To keep up with all Final Table news, follow WFC on Twitter (@WorldFoodChamp), Facebook and Instagram (@WorldFoodChampionships).
About the World Food Championships
The World Food Championships (WFC) is the highest stakes food competition in the world. This multi-day, live-event culinary competition showcases some of the world's best cooking masters competing for food, fame and fortune in ten categories: Bacon, Barbecue, Burger, Chef, Chili, Dessert, Recipe, Sandwich, Seafood and Steak. In 2019, almost 500 culinary teams from 11 countries and 42 American states competed in WFC's Main Event. The Ten Category champs crowned will now face-off in the $100,000 challenge that will determine the overall World Food Champion at The Final Table: Indianapolis in August 2020.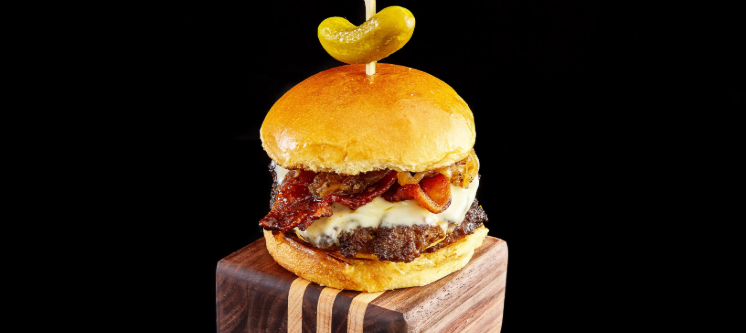 Cheek's Winning Dish: The Hometown Smashburger
« Back to News