Indiana Pork Expert Joins Final Table Judging Panel
Share:
Posted Jun 10, 2020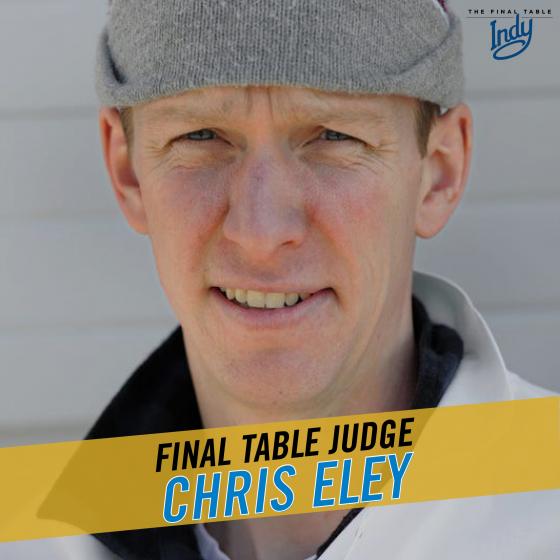 The World Food Championships' (WFC) crescendo moment, The Final Table, continues to build momentum for its August event as respected Indianapolis food personalities join the effort to crown the 8th World Food Champion. Securing qualified judges for this event is shaping up nicely in the Circle City, as WFC announced today another well-known chef who will join the panel of distinguished judges.
Local Chef Chris Eley discovered his love for food in high school while working for a restaurant in Fishers, Ind. This experience motivated him to pursue his cooking passion by attending Purdue University and majoring in Hospitality and Tourism Management. After receiving his degree, Eley worked as a chef in several great foodie destinations like the Caribbean and Chicago. Eventually, he and his wife, whose nickname is "Goose," returned home to Indianapolis to establish their own culinary business. Inspired by their time in Chicago, they opened a neighborhood meat market and named it Smoking Goose.
Smoking Goose prides itself on partnering with small, family farms in Indiana and neighboring states that raise animals in a natural manner – with no gestation pens, antibiotic-free, 100% Vegetarian feed and no growth promotants. As a premier supplier of salami, sausages and smoked meats, Smoking Goose opens up as a public smokehouse Tuesday through Saturday. In addition to offering classes and a program where customers can work with the staff and get paid, they offer house-smoked seafood, cheese, pickles, preserves, and more at wholesale prices.
At WFC's Final Table in August, Eley will be a featured chef in the first round of elimination, where all ten champions will face off in an Indiana-specific dish challenge. The championship will consist of three rounds of elimination, where the field is cut from ten champs to five; five to three, and ultimately three to one. That last champion standing will take home the event's coveted World Food Champion title, along with the event's $100,000 prize purse.
"We are thrilled about adding another incredible Indy chef to our lineup of judges at the Final Table," said Mike McCloud, President and CEO of WFC. "Chris's involvement in the first round will be an important moment because his expertise will be critical to judging what we are planning for the chefs to make."
Each of the Final Table's specific details will be announced by July 1, a full month ahead of the actual event on August 8/9th. So stay tuned for the big reveal where WFC will lay out the structured dishes, rules, sponsors and much more.
WFC will also continue to unveil its "Final Table: Indianapolis" in the coming weeks. Stay up-to-date on all the Food Sport news by following the World Food Championships on Twitter (@WorldFoodChamp), Facebook and Instagram (@WorldFoodChampionships).
About World Food Championships
The World Food Championships (WFC) is the highest stakes food competition in the world. This multi-day, live event culinary competition showcases some of the world's best cooks who compete for food, fame and fortune in 10 categories (Bacon, Barbecue, Burger, Chef, Dessert, Recipe, Sandwich, Seafood, Soup and Steak). In 2019, more than 450 culinary teams from 11 countries and 42 American states competed in WFC's Main Event. The 10 Category Champs crowned will now face-off in the $100,000 challenge that will determine the overall World Food Champion at The Final Table: Indianapolis in August 2020.
« Back to News