Duck Specialist Joins "Final Table: Indy" Panel of Judges
Share:
Posted Jul 17, 2020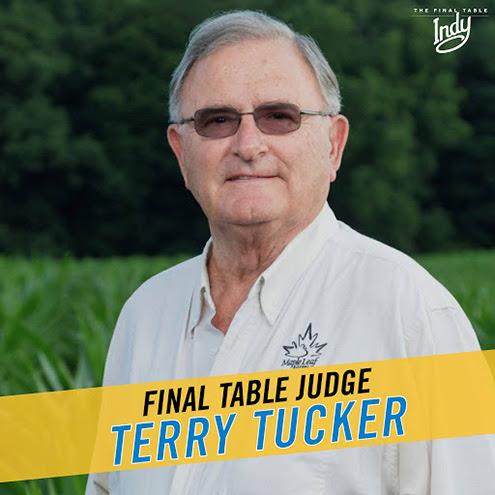 The world's largest Food Sport event is getting its ducks in a row. Literally. That's because the World Food Championships just announced that one of its second-round judges will be Terry Tucker, a second-generation owner of Maple Leaf Farms. The Indiana-based company will be featuring its delicate White-Pekin Duck in the second challenge at Final Table: Indy, where ten world-class cooks will face three challenges as they try to claim the $100,000 grand prize.
Tucker has led Maple Leaf for 55 years. He received his degree from Purdue University in Agriculture Economics and later received an Honorary Doctorate of Agriculture from Purdue due to his accomplishments. Throughout his career, Terry has used his diverse work experiences to serve as a voice on many business, industry and government boards. His decades-long focus has been to establish Maple Leaf Farms as an industry leader.
Facing Tucker and numerous other judges will be WFC's current ten category champions. Each won his or her category at WFC's 8th Annual Ultimate Food Fight in Dallas last October. More than 450 teams from 40+ states and 14 countries were featured in that event. A prize of $10,000 was awarded to each of the ten champions who made it to the top, and now they will compete one more time at a chance to win the ultimate grand prize of $100,000.
"Final Table: Indy," which was scheduled for May but postponed due to COVID, will take place in Indianapolis at Ivy Tech Community College on August 8th and 9th. In the first round, the Champions will be making a Pork and Parisian Gnocchi dish, after which the field will be narrowed down to just five contestants. The second challenge will be recreating the complex Duck dish curated by Chef Greg Hardesty of Studio C. Only three will move on to the final round, where they will have to recreate the to Indiana-famous Sugar Cream Pie.
The ten Champions who will compete at the Final Table —which is hosted by Visit Indy and sponsored by Ivy Tech Culinary Center, Maple Leaf Farms, Sysco, Red Gold, The Pork Board, and Culinary Crossroads — include:
To learn more about "Final Table: Indy," visit https://finaltable.worldfoodchampionships.com/.
Stay up-to-date on all culinary competition news, by following the World Food Championships on Twitter (@WorldFoodChamp), Facebook and Instagram (@WorldFoodChampionships).
About World Food Championships
The World Food Championships (WFC) is the highest stakes food competition in the world. This multi-day, live event culinary competition showcases some of the world's best cooks who compete for food, fame and fortune in 10 categories (Bacon, Barbecue, Burger, Chef, Dessert, Recipe, Sandwich, Seafood, Soup and Steak). In 2019, more than 450 culinary teams from 11 countries and 42 American states competed in WFC's Main Event. The 10 Category Champs crowned will now face-off in the $100,000 challenge that will determine the overall World Food Champion at The Final Table: Indianapolis in August 2020.
« Back to News