WFC Adds Food Critic To Final Table Judging Panel
Share:
Posted Jul 23, 2020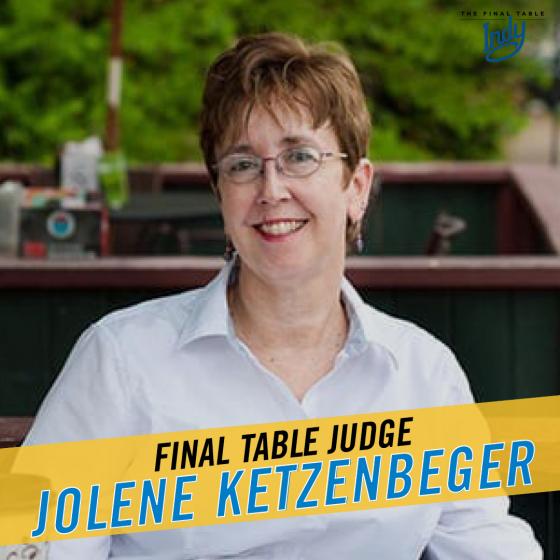 The World Food Championships (WFC) and its partners at Visit Indy, Culinary Crossroads, Sysco and Ivy Tech Culinary Center have announced another judge for the "Final Table: Indy." And this one will certainly have a lot to say about the dishes put in front of her, since it's her job to do so every day.
Jolene Ketzenberger, the editor of EatDrinkIndy, has been on the food writing scene for many years with hundreds of articles published in Thrillist, The Daily Meal and Indy Star. EatDrinkIndy is a website for information on local food and drink in Indianapolis and Central Indiana. More recently, Ketzenberg has opened The Signature Table, offering cooking classes, tastings, demonstrations and private dinners. By sharing food/restaurant news and cooking inspiration through the web and courses, she keeps local foodies up to speed on all things food-related in Indy.
For WFC, Ketzenberg will use her foodie knowledge by serving as judge of the third and final challenge on August 9th, when the remaining contestants will be tasked with making an Indiana favorite, the Sugar Cream Pie.
"Final Table: Indy," which was scheduled for May but postponed due to COVID, will take place in Indianapolis at Ivy Tech Community College on August 8th and 9th. In the first round, the Champions will be making a Pork and Parisian Gnocchi dish, after which the field will be narrowed down to just five contestants. The second challenge will be recreating the complex Duck dish curated by Chef Greg Hardesty of Studio C. Only three will move on to the final round to make the Sugar Cream Pie.
The ten Champions who will compete at the Final Table —which is hosted by Visit Indy and sponsored by Ivy Tech Culinary Center, Maple Leaf Farms, Sysco, Red Gold, The Pork Board, and Culinary Crossroads — include:
To learn more about "Final Table: Indy," visit https://finaltable.worldfoodchampionships.com/.
Stay up-to-date on all culinary competition news, by following the World Food Championships on Twitter (@WorldFoodChamp), Facebook and Instagram (@WorldFoodChampionships).
About World Food Championships
The World Food Championships (WFC) is the highest stakes food competition in the world. This multi-day, live event culinary competition showcases some of the world's best cooks who compete for food, fame and fortune in 10 categories (Bacon, Barbecue, Burger, Chef, Dessert, Recipe, Sandwich, Seafood, Soup and Steak). In 2019, more than 450 culinary teams from 11 countries and 42 American states competed in WFC's Main Event. The 10 Category Champs crowned will now face-off in the $100,000 challenge that will determine the overall World Food Champion at The Final Table: Indianapolis in August 2020.
« Back to News