Local Bistro Chef and Owner Added To Judges' Panel at "Final Table: Indy"
Share:
Posted Jul 3, 2020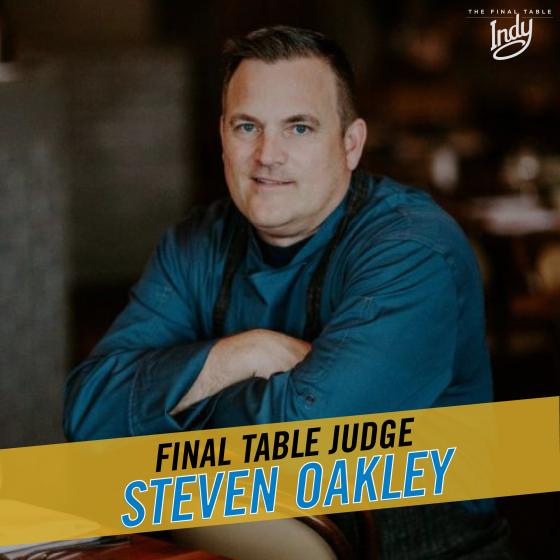 As the pinnacle moment in Food Sport approaches, the World Food Championships (WFC) has revealed another esteemed judge for its "Final Table: Indy" event in Indianapolis this August.
Chef Steven Oakley – a well-known local chef who has owned Oakley's Bistro since 2002 – will now bring his talents into play in the second challenge of the Final Table, which tasks competitors with recreating an intricate dish using Maple Leaf Farms White-Pekin duck.
Chef Oakley's career began in Chicago, where he fulfilled his childhood dream of working in great restaurants like Printer's Row and Charlie Trotter's. After several years of perfecting his craft in the Windy City, Oakley opted to relocate to the Circle City, where he would spend almost a decade at the Something Different Restaurant. It was here that his career would blossom, as he received many accolades, including nominations for the James Beard Rising Star Chef's award.
Oakley's most recent venture, Oakley's Bistro, has received recognition from Bon Appétit, American Culinary Federation awards, "Restaurant of the Year," from Indianapolis Monthly, and more. According to its web site, Oakley's Bistro Kitchen Team has "the joy of matching and pairing diverse qualities and characteristics in creating signature dishes, pleasing to the palate as well as the eye."
Now, Oakley will join a panel of four other judges in the second round of the 8th Annual WFC Final Table. The ten category Champions will be narrowed down to just five contestants for this round. WFC will keep fans updated on which champs make it to the final round, but the ultimate winner will not be revealed until WFC's newest Final Table show airs on the Cooking Channel.
The ten champions who will compete at The Final Table: Indy, which will occur at Ivy Tech Community College on Aug 8th and 9th, include:
Lidia Hadaddian, a two-time Recipe Champion from Pasadena, California

Jodi Taffel, the 2019 Bacon World Champion from Altadena, California

Matthew Statham, 2019 World Chef Champion from Fultondale, Alabama

Morgan Cheek, 2019 World Burger Champion from Muscle Shoals, Alabama

Ryan Hegland, 2019 World Steak Champion from Lakeville, Minnesota

Josh Cooper, 2019 World Seafood Champion from Tallahassee, Florida

Kelli Fairchild-Cochran, a two-time Sandwich Champion from Merced, California

Evette Rahman, a two-time Dessert Champion from Orlando, Florida

Rocky Julianelle, 2019 World Open Chili Champion from East Haven, Connecticut

Ryan Murphy, 2019 World Barbecue Champion from Kansas City, Missouri
Until then, stay up-to-date on all culinary competition news, by following the World Food Championships on Twitter (@WorldFoodChamp), Facebook and Instagram (@WorldFoodChampionships).
About World Food Championships
The World Food Championships (WFC) is the highest stakes food competition in the world. This multi-day, live event culinary competition showcases some of the world's best cooks who compete for food, fame and fortune in 10 categories (Bacon, Barbecue, Burger, Chef, Dessert, Recipe, Sandwich, Seafood, Soup and Steak). In 2019, more than 450 culinary teams from 11 countries and 42 American states competed in WFC's Main Event. The 10 Category Champs crowned will now face-off in the $100,000 challenge that will determine the overall World Food Champion at The Final Table: Indianapolis in August 2020.
« Back to News