Sugar Cream Pie Champion Joins WFC's $100,000 Finale
Share:
Posted Jul 16, 2020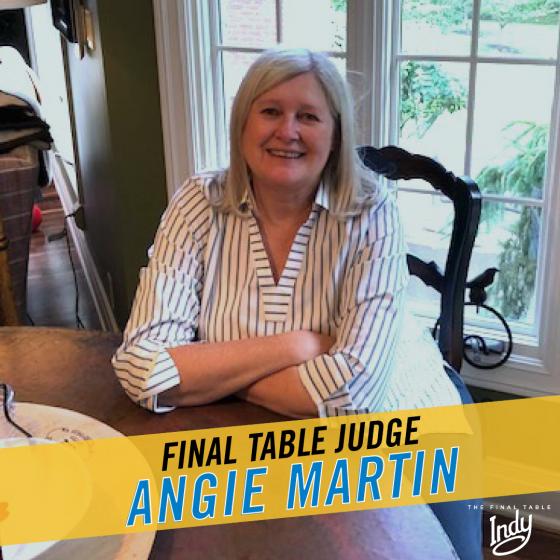 If you've spent any time in the Hoosier State, you've probably tasted Indiana's delicious and 'unofficial' state pie - the Sugar Cream Pie. It is this circular piece of heaven that will be the subject of the third and final challenge of the World Food Championships' (WFC) crescendo moment, known as the Final Table.
WFC announced today that it's bringing in a true expert to help determine the winner of this final challenge, which will also determine who leaves Indianapolis with the event's $100,000 grand prize. That expert? None other than the reigning Sugar Cream Pie Champion herself, Angie Martin, who won the title in 2019.
This will be quite a turn of events for Martin, who won her title during the Indiana State Fair's annual Sugar Creme Pie contest last year. She will be joining WFC's third and final judging panel at "Final Table: Indy", which will be held at the Ivy Tech Culinary Center from August 8-9.
"We are honored to have a Sugar Cream Pie connoisseur on the judging panel for the final round of competition," said Mike McCloud, President and CEO of WFC. "Nobody knows a Hoosier pie better than this Indy Champ, so she will be a great addition to this panel."
The Sugar Cream Pie is known as a depression pie. During the Great Depression, families were often left with rations and had to come up with creative ways to feed their families with only the most basic ingredients. It was during this time in history that the Sugar Cream Pie was created.
Though they will be working with more than the basic rations available to depression-era families, the remaining three Final Table contestants will be challenged with making their version of a traditional Indiana Sugar Cream Pie. But, In order to make it to the "Sugar Cream Pie" round, the remaining three finalists must first survive Rounds 1 and 2 of the overall Final Table process.
In the first round of the Final Table: Indy, all ten Champions will be tasked with making a pork dish paired with a Parisian Gnocchi and incorporating Red Gold Tomatoes. Similar to the WFC Main Event, the cooks will have 90 minutes to execute the dish.
Only five of the Champions will advance to the second round, where they will recreate a beloved dish by local Chef Greg Hardesty – Roast Duck Breast with Crispy Duck Spring Roll, Fried Wild Rice, Dried Cranberry Duck Jus. The White Pekin Duck will be provided by Indiana-based Maple Leaf Farms. The five finalists will taste Chef Hardesty's dish at his restaurant Studio C prior to the challenge. Only 60 minutes will be provided for cook time in this round.
The ten Champions who will compete at the Final Table: Indy, which is hosted by Visit Indy, Ivy Tech Culinary Center and Culinary Crossroads include:
To learn more about Final Table: Indy, visit https://finaltable.worldfoodchampionships.com/.
Stay up-to-date on all culinary competition news, by following the World Food Championships on Twitter (@WorldFoodChamp), Facebook and Instagram (@WorldFoodChampionships).
About World Food Championships
The World Food Championships (WFC) is the highest stakes food competition in the world. This multi-day, live event culinary competition showcases some of the world's best cooks who compete for food, fame and fortune in 10 categories (Bacon, Barbecue, Burger, Chef, Dessert, Recipe, Sandwich, Seafood, Soup and Steak). In 2019, more than 450 culinary teams from 11 countries and 42 American states competed in WFC's Main Event. The 10 Category Champs crowned will now face-off in the $100,000 challenge that will determine the overall World Food Champion at The Final Table: Indianapolis in August 2020.
« Back to News