Culinary Veteran Chef Brings Key Experience To Judges Panel
Share:
Posted Jul 3, 2020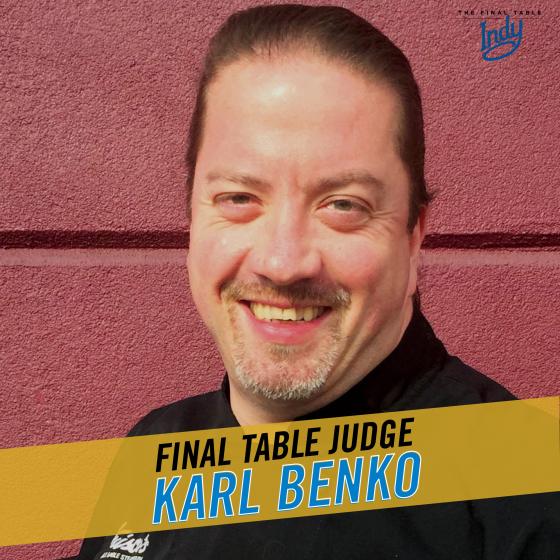 The World Food Championships (WFC) has announced yet another talented judge — one with Olympic size skills — for the upcoming "Final Table: Indy," the $100,000 pinnacle moment of Food Sport.
Chef Karl Benko, a regional chef for Del Frisco's Restaurant Group with 28-years of experience in the hospitality industry, will join the second panel of judges in the three-round process of the Final Table.
Chef Benko graduated from Oakland College Culinary School in 1992, the same year he was able to join the U.S. Culinary Team that competed in the Culinary Olympics in Frankfurt, Germany.
Helping open more than 40 restaurants in his career, Chef Benko has quite the resume under his belt. He also serves as a partner at Peterson's Restaurant in Fishers, Indiana, a high-quality restaurant specializing in steak, seafood and award-winning spirits. Peterson's has received numerous awards and accolades from Wine Spectator, Indy Star, OpenTable Diners Choice, and Indianapolis Monthly.
"As the biggest payday in Food Sport, it's critical for us to have the best and most experienced judges possible for the Final Table like Chef Benko," said Mike McCloud, President and CEO of WFC. "Chef Benko is certainly a qualified and welcome addition to our stellar line up of Indiana judges."
During the weekend of August 8 and 9, WFC's ten category champions will be narrowed to five after the first round. Those five remaining competitors will be tasked with recreating a specific dish using White-Pekin duck supplied by Maple Leaf Farms for round two. Chef Benko and the judging panel will use their expertise to name the best three dishes, determining who will move on to the third and final round.
The ten champions who will compete at The Final Table: Indy, which will occur at Ivy Tech Community College on Aug 8th and 9th, include:
Lidia Hadaddian, a two-time Recipe Champion from Pasadena, California

Jodi Taffel, the 2019 Bacon World Champion from Altadena, California

Matthew Statham, 2019 World Chef Champion from Fultondale, Alabama

Morgan Cheek, 2019 World Burger Champion from Muscle Shoals, Alabama

Ryan Hegland, 2019 World Steak Champion from Lakeville, Minnesota

Josh Cooper, 2019 World Seafood Champion from Tallahassee, Florida

Kelli Fairchild-Cochran, a two-time Sandwich Champion from Merced, California

Evette Rahman, a two-time Dessert Champion from Orlando, Florida

Rocky Julianelle, 2019 World Open Chili Champion from East Haven, Connecticut

Ryan Murphy, 2019 World Barbecue Champion from Kansas City, Missouri
WFC will continue to release updates on The Final Table and its judges and sponsors until the event in August. Until then, stay up-to-date on all culinary competition news, by following the World Food Championships on Twitter (@WorldFoodChamp), Facebook and Instagram (@WorldFoodChampionships).
About World Food Championships
The World Food Championships (WFC) is the highest stakes food competition in the world. This multi-day, live event culinary competition showcases some of the world's best cooks who compete for food, fame and fortune in 10 categories (Bacon, Barbecue, Burger, Chef, Dessert, Recipe, Sandwich, Seafood, Soup and Steak). In 2019, more than 450 culinary teams from 11 countries and 42 American states competed in WFC's Main Event. The 10 Category Champs crowned will now face-off in the $100,000 challenge that will determine the overall World Food Champion at The Final Table: Indianapolis in August 2020.
« Back to News