WFC Announces First Judge For The Final Table: Indianapolis
Share:
Posted Apr 3, 2020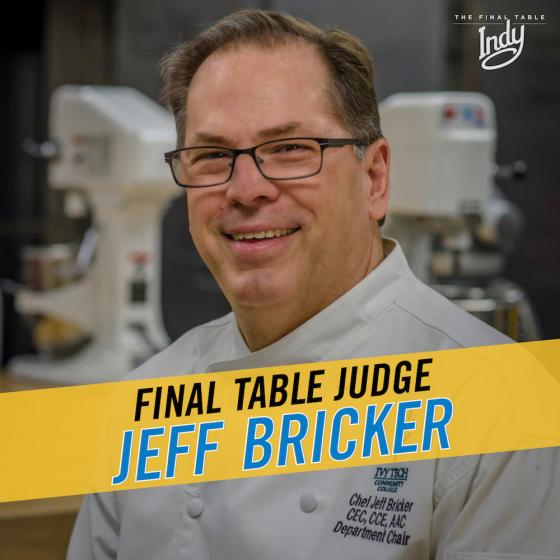 Selecting a judge, who has both an advanced palate and culinary knowledge to determine a $100,000 award-winning dish, is one of the key ingredients to World Food Championships' (WFC) recipe for success. As WFC's finale culinary challenge races to Indianapolis this August, the organization has seats to fill at its judges' table and established local Chef Jeff Bricker has reserved the first chair.
Chef Bricker is known as a proud alumnus, supporter and now department chair for the Hospitality Administration program at Ivy Tech Community College, the location of WFC's 8th Annual Final Table challenge. With his relevant experience, the leader in Food Sport has asked him to join its panel of local personalities to serve as an official judge for WFC's $100,000 pinnacle moment known as The Final Table: Indianapolis.
This finale event will have its Ten Category Champions (who won their categories at WFC's Main Event in Dallas last year) battle in a set of destination-themed challenges for a chance to be deemed the ultimate World Food Champion this August. The competitors' fates lie in the hands of the distinguished judges through three rounds of elimination. Indianapolis culinary history will be an important key in judging since competitors will be tasked with recreating famous dishes from established restaurants.
"We always pride ourselves in the fantastic line up of judges that we acquire for this event," said Mike McCloud, President and CEO of WFC. "It is important for the integrity of our competition that the judges are well prepared to judge at the highest level of competition and have insight on the destination of choice."
As an Indianapolis native who has owned and operated catering productions in the city, Chef Bricker is fully qualified to attest to the Final Table contestants' ability to recreate the flavors of Indy. In addition to his Bachelor's and Master's degrees, he completed his culinary arts training at Ivy Tech in a summer intensive Classical French Cooking program from l'Ecole de Cuisine La Varenne in Burgundy, France, under the direction of Chef Anne Willan.
Later in his career, Chef Bricker served as the founder and owner of The Columns Ballroom and Catering and The Colonnade Room, which he operated for fifteen years but later sold to join Ivy Tech as a full-time faculty member. Additionally, he serves on advisory boards for culinary programs of several local high schools and is a lead judge at Indiana FCCLA and Skills USA competitions yearly.
"I am excited to serve as a judge for the WFC Final Table event! I love to see people share their passion for cooking and baking through competitions, they learn so much more about themselves and their skills grow from the experience," said Chef Bricker.
One of Chef Bricker's major accomplishments is being inducted in the American Academy of Chefs and the International Disciples of Escoffier. His most recent venture in the culinary field is his line of "clean label" vinaigrettes, which are sold at local farmer's markets and health food stores.
Tickets to The Final Table: Indianapolis and the events leading up to it will be released in the coming weeks on WFC's social media.
Stay up-to-date with all things Food Sport by following the event on Twitter (@WorldFoodChamp), Facebook or Instagram(@WorldFoodChampionships).
Sink your teeth into last year's event, The Final Table: New Orleans, here.
About the World Food Championships
The World Food Championships (WFC) is the highest stakes food competition in the world. This multi-day, live event culinary competition showcases some of the world's best cooks who compete for food, fame and fortune in 10 categories (Bacon, Barbecue, Burger, Chef, Dessert, Recipe, Sandwich, Seafood, Soup and Steak). In 2019, more than 450 culinary teams from 11 countries and 42 American states competed in WFC's Main Event. The 10 Category Champs crowned will now face-off in the $100,000 challenge that will determine the overall World Food Champion at The Final Table: Indianapolis in August 2020.
« Back to News