Chef Carlos Salazar Joins Final Table Panel of Judges
Share:
Posted Jun 25, 2020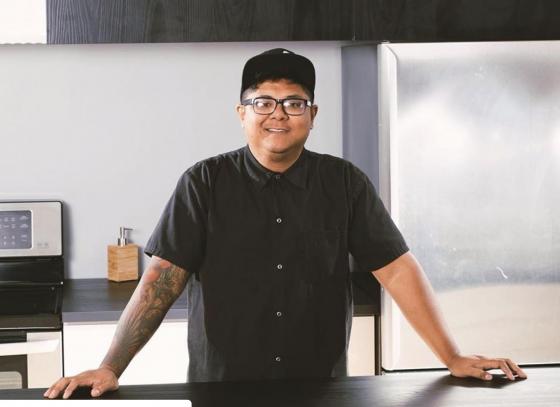 The World Food Championships' (WFC) 2019 Category Champions will go head to head in the biggest culinary battle of their lives at Ivy Tech Culinary Center in Indianapolis, Indiana this August 8th and 9th. Only one winner will be crowned the $100,0000 Ultimate World Food Champion after facing an esteemed panels of judges, which now includes Chef Carlos Salazar.
Chef Salazar graduated from The Chef's Academy at Indianapolis' Harrison College in 2008 and has since become one of Central Indiana's top young chefs. He currently owns Lil Dumplings at Fishers Test Kitchen. But more recently, Chef Salazar began serving as a chef and partner at Rook –– an Asian, street food-inspired restaurant in Indianapolis.
Receiving numerous local and national nominations, Chef Salazar has already created a major footprint early in his career. His repertoire includes being named a contender for Food & Magazines "People's Best New Chef," participating in James Beard events and collaborating dinners in the area.
Chef Salazar is the original recipe writer of challenge one in the upcoming Final Table process. This challenge will require all ten champs to create an Indiana-style pork dish with Parisian Gnocchi. Salazar will actually sit in on this round as one of the five judges to determine who moves on to the second challenge.
For the first time in WFC history, all three rounds of the Final Table will feature a different panel of judges that have specific insights to each challenge. WFC is in the process of introducing all of the judges, which currently include Chef Greg Hardesty, Chef Jeff Bricker, Chef Chris Eley and now Chef Carlos Salazar. WFC will continue to release the remaining judges in the coming weeks.
Stay up-to-date on all culinary competition news, by following the World Food Championships on Twitter (@WorldFoodChamp), Facebook and Instagram (@WorldFoodChampionships).
About World Food Championships
The World Food Championships (WFC) is the highest stakes food competition in the world. This multi-day, live event culinary competition showcases some of the world's best cooks who compete for food, fame and fortune in 10 categories (Bacon, Barbecue, Burger, Chef, Dessert, Recipe, Sandwich, Seafood, Soup and Steak). In 2019, more than 450 culinary teams from 11 countries and 42 American states competed in WFC's Main Event. The 10 Category Champs crowned will now face-off in the $100,000 challenge that will determine the overall World Food Champion at The Final Table: Indianapolis in August 2020.
« Back to News