Indy Chef Takes Seat At WFC's $100,000 Final Table As Celebrity Judge
Share:
Posted May 1, 2020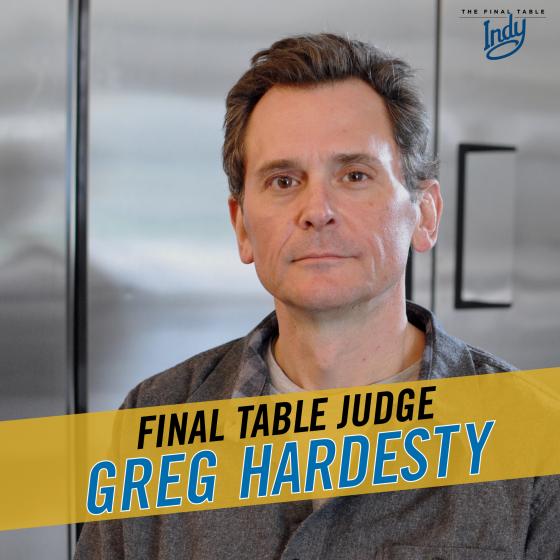 INDIANAPOLIS, Ind., – The world's largest Food Sport event, World Food Championships (WFC), is enlisting the taste buds of an elite panel of judges to help determine the next World Food Champion. As part of that process, WFC just revealed that four-time James Beard Award semifinalist, Chef Greg Hardesty, will be one of those key judges at the Ultimate Food Fight's crowning moment — The Final Table: Indianapolis.
WFC's 10 Category Champions will be participating in the culinary battle of their lives as they try to survive a three-round elimination process. First, all ten champs will make a quintessential Indiana dish by adding their own flair or approach. Second, the five remaining champs will taste a local savory dish and recreate it for the restaurant or chef who normally serves it. And finally, the last three remaining champs will take on the sweeter side of Indiana's heritage to see who wins the Final Table challenge.
That's why finding a judge who is familiar with the city's background and flavors is an important factor. As an Indiana native and true pioneer for the Indianapolis culinary scene, Chef Hardesty has the knowledge and taste buds fit for the job.
"Our Final Table panel is shaping up nicely, and we are honored to have Chef Hardesty be a part of the event," said Mike McCloud, President and CEO. "With almost 20 years of experience in the very region that we are basing our competition around, he is going to play a key role in figuring out which competitor best navigates our challenges and deserves the ultimate prize of $100,000."
Chef Hardesty graduated from Indiana University in 1991 and soon after began his culinary career at a well-known local restaurant called Glass Chimney. A couple of years later, Chef Hardesty moved to Los Angeles to work under "California's Best Chef," Joachim Splichal at Patina.
In the early 2000's, Chef Hardesty returned to his home state. For two decades, he owned and operated many high-end restaurants in Indianapolis — H2O Sushi, Elements and Recess — and mentored most of the chefs who put the city on the culinary map. Now, after taking a short break from the hustle and bustle of the hospitality industry to spend time with his family, he is back with a nontraditional pop-up restaurant called Studio C.
This "restaurant without walls" lives up to the chefs' extraordinary style serving as a grab-and-go coffee shop in the morning and turns into a private dinner club at night. Typically, groups of 10-24 can make reservations in advance and collaborate with Chef Hardesty on their private menu.
Now, this August, Chef Hardesty will play a major role in spotlighting Indianapolis as a foodie city by joining WFC for The Final Table.
To rev up this throwdown even further, Visit Indy and Ivy Tech Community College are partnering with WFC to host "Food Week" (August 5-9), which will feature foodie events throughout the city. Tickets to events such as a seafood boil and a pig roast at iconic locations like City Market will be available for purchase soon.
WFC will continue to unveil its Final Table: Indianapolis judges leading up to the event. Stay up-to-date on all culinary competition news, by following the World Food Championships on Twitter (@WorldFoodChamp), Facebook and Instagram (@WorldFoodChampionships).
About World Food Championships
The World Food Championships (WFC) is the highest stakes food competition in the world. This multi-day, live event culinary competition showcases some of the world's best cooks who compete for food, fame and fortune in 10 categories (Bacon, Barbecue, Burger, Chef, Dessert, Recipe, Sandwich, Seafood, Soup and Steak). In 2019, more than 450 culinary teams from 11 countries and 42 American states competed in WFC's Main Event. The 10 Category Champs crowned will now face-off in the $100,000 challenge that will determine the overall World Food Champion at The Final Table: Indianapolis in August 2020.
« Back to News