National Pork Board Member Joins "Final Table: Indy" As Key Judge
Share:
Posted Jul 24, 2020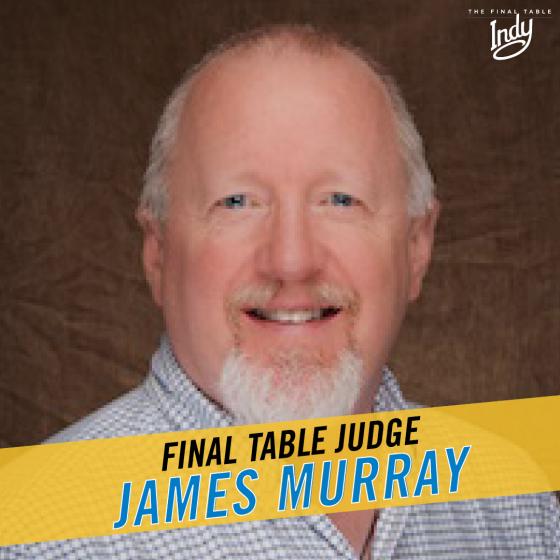 The World Food Championships (WFC) just announced that the National Pork Board will provide a key integration in the first round at the "Final Table: Indy" this August. They will also be providing a key judge to make sure that WFC's ten champions have executed their dishes perfectly.
A World Certified Executive Chef, James Murray currently serves as the Executive Chef and National Channel Marketing and Innovation Manager for the National Pork Board. He supports pork producers through innovation, education, and promotional activities. In his role, Murray manages a broad range of strategic foodservice, retail and distribution accounts by assisting them in designing on-trend, pork-based menuing concepts, products, merchandising and promotions.
Murray has worked as a professional chef since graduating from Des Moines Area Community College Culinary Arts program in 1985 with high honors as an outstanding business graduate. He has a Bachelor's in Art Education from the University of Northern Iowa and an Associates in Liberal Arts from North Iowa Area Community College. He has continued his professional education at the Culinary Institute of America, Texas A&M and Iowa State University.
Before joining the National Pork Board staff in 2012, Murray was the Senior Innovation Chef at Unilever Foodsolutions for 15 years and worked as a Corporate Chef and Sausage Evangelist for Johnsonville Sausage for four years. An active member of the American Culinary Federation, he has served as the Greater Des Moines chapter president and received the honors of chef of the year, president medallion and certified executive chef. Chef Murray has also received his World Certified Executive Chef certification through the World Association of Cooks Societies. He is a seasoned bbq competitor, KCBS judge, SCA judge and Certified Meat Cutter.
Now, Murray will use his specific pork knowledge and taste buds to help determine which of the ten champions made the best Parisian Gnocchi and Pork dish. Only five of the ten will move on.
The second challenge will be recreating a complex Duck dish curated by Chef Greg Hardesty of Studio C. Only three champions will move past this round to the third and final round, which involves making an iconic Indiana dish, the Sugar Cream Pie.
WFC will keep fans updated on which champs make it to the final round, but the ultimate winner will not be revealed until the newest "Final Table: Indy" show airs on the Cooking Channel this Fall.
The ten Champions who will compete at the Final Table —which is hosted by Visit Indy and sponsored by Ivy Tech Culinary Center, Maple Leaf Farms, Sysco, Red Gold, The Pork Board, and Culinary Crossroads — include:
To learn more about Final Table: Indy, visit https://finaltable.worldfoodchampionships.com/.
Stay up-to-date on all culinary competition news, by following the World Food Championships on Twitter (@WorldFoodChamp), Facebook and Instagram (@WorldFoodChampionships).
About World Food Championships
The World Food Championships (WFC) is the highest stakes food competition in the world. This multi-day, live event culinary competition showcases some of the world's best cooks who compete for food, fame and fortune in 10 categories (Bacon, Barbecue, Burger, Chef, Dessert, Recipe, Sandwich, Seafood, Soup and Steak). In 2019, more than 450 culinary teams from 11 countries and 42 American states competed in WFC's Main Event. The 10 Category Champs crowned will now face-off in the $100,000 challenge that will determine the overall World Food Champion at The Final Table: Indianapolis in August 2020.
« Back to News