WFC Sweetens Final Table Judge's Panel With Local Pastry Chef
Share:
Posted Jul 13, 2020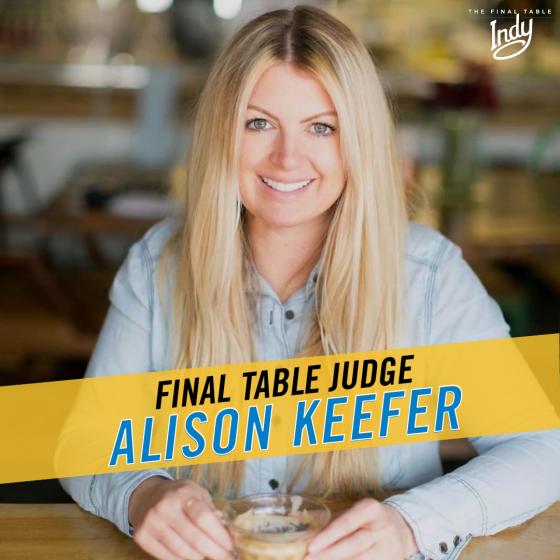 Aside from crowning the $100,000 grand champion, "Final Table: Indy" will definitely end on a sweet note this August as ten champions are narrowed down to one ultimate winner. That winner will have to make Indiana's iconic Sugar Cream Pie, and then stand in judgment from several experts on the topic.
One of those judges is Alison Keefer, co-owner of Gallery Pastry Shop, an Indianapolis favorite known for its sweet treats. Keefer will join four other judges to make sure that WFC's grand champion has executed a perfect dessert for the sweetest prize in Food Sport.
Keefer decided to open Gallery Pastry with her business partner, Ben Hardy, after receiving a Bachelor's in Event/Hospitality Management from the University of Florida and a Masters in Health Education from the University of Alabama. She has worked in many culinary settings and even served as a nutrition instructor for a local culinary school. Opening the shop also sparked her interest in business consulting and led her to become a member of Indy Women in Food. Now, Alison is working on her newest project, Gallery Brunch, opening in late 2020 on the old Northside.
"The Gallery Pastry Shop is such a wonderful business and excellent addition to the Indy culinary scene," said Mike McCloud, President and CEO of WFC. "With Alison's background and expertise on our final judges' panel, we know that our next World Food Champion is going to be a very talented and worthy winner."
The 8th Annual World Food Championships (WFC), which was held in Dallas in October, produced ten world-class culinary experts, all of whom are now seeking their crowning moment in the Circle City. That journey will culminate at Ivy Tech Community College in Indianapolis on August 8th and 9th, when Visit Indy, Culinary Crossroads, Sysco, Maple Leaf Farms, Red Gold and WFC officials will conduct a three-challenge, elimination-style cooking event like no other.
The ten Category Champions will be making a Pork and Parisian Gnocchi dish in the first round, after which the field will be narrowed down to five contestants. The second challenge will be recreating a complex Duck dish curated by Chef Greg Hardesty of Studio C. Only three will move on from this round.
Indy locals will be familiar with the event's third and final challenge –– Indiana's "unofficial" state pie, the Sugar Cream pie. With the help of an Indiana-based panel including Keefer, notable food writers, influencers and dessert connoisseurs, only one of the three finalists will emerge as WFC's 8th World Food Champion.
WFC will keep fans updated on which champs make it to the final round, but the ultimate winner will not be revealed until the newest "Final Table: Indy" show airs on the Cooking Channel this Fall.
The ten Champions who will compete at the "Final Table: Indy", which is hosted by Visit Indy, Ivy Tech Culinary Center and Culinary Crossroads include:
To learn more about Final Table: Indy, visit https://finaltable.worldfoodchampionships.com/.
Stay up-to-date on all culinary competition news, by following the World Food Championships on Twitter (@WorldFoodChamp), Facebook and Instagram (@WorldFoodChampionships).
About World Food Championships
The World Food Championships (WFC) is the highest stakes food competition in the world. This multi-day, live event culinary competition showcases some of the world's best cooks who compete for food, fame and fortune in 10 categories (Bacon, Barbecue, Burger, Chef, Dessert, Recipe, Sandwich, Seafood, Soup and Steak). In 2019, more than 450 culinary teams from 11 countries and 42 American states competed in WFC's Main Event. The 10 Category Champs crowned will now face-off in the $100,000 challenge that will determine the overall World Food Champion at The Final Table: Indianapolis in August 2020.
« Back to News