Online Baker and Dessert Publisher Carrie Miller Will Judge At "Final Table: Indy"
Share:
Posted Jul 29, 2020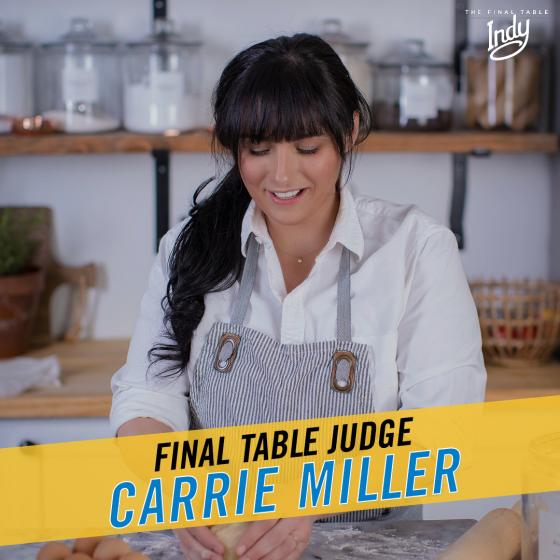 Carrie Miller is an IT consultant by day and a baker by night. But her newest adventure will be judging at the World Food Championships (WFC) pinnacle moment this August.
The "Final Table: Indy," set to take place at Ivy Tech Culinary Center, will host three elimination rounds, where three panels of judges will help decide the ranking of 10 Category Champions as they seek to win $100,000 for their talents and passion for culinary competitions. Miller will have a big role in this, as she will sit in on the last and final judging panel, when the remaining champs who have aced the previous two challenges will have to create an iconic Indiana dessert, the Sugar Cream Pie.
It wasn't until 2016 that Miller posted her first designer pie on social media and quickly gained a large following. She says she fell in love with baking pie.
"I specifically love the designing aspect. Turning an ordinary pie into edible art," Miller says.
In 2019, Miller made her television debut as a contestant on "Thanksgiving Pie Fight" that aired on Food Network. Additionally, she is the author of The Detailed Pie, which was published in October of last year.
Now Miller will use her baking knowledge to help crown the next World Food Champion. WFC will keep fans updated on which champs make it to the final round, but the ultimate winner will not be revealed until the newest "Final Table: Indy" show airs October 3rd on the Cooking Channel.
"The final round of the competition will be an important one so we are glad to have a panel of dessert experts and critics," said Mike McCloud, President and CEO of WFC. "I have confidence that each member of the panel has the key knowledge necessary to judge this important moment."
"Final Table: Indy," which was scheduled for May but postponed due to COVID, will take place in Indianapolis at Ivy Tech Community College on August 8th and 9th. To learn more about the challenge specifics, click here.
The ten Champions who will compete at the Final Table —which is hosted by Visit Indy and sponsored by Ivy Tech Culinary Center, Maple Leaf Farms, Sysco, Red Gold, The Pork Board, and Culinary Crossroads — include:
To learn more about "Final Table: Indy," visit https://finaltable.worldfoodchampionships.com/.
Stay up-to-date on all culinary competition news, by following the World Food Championships on Twitter (@WorldFoodChamp), Facebook and Instagram (@WorldFoodChampionships).
About World Food Championships
The World Food Championships (WFC) is the highest stakes food competition in the world. This multi-day, live event culinary competition showcases some of the world's best cooks who compete for food, fame and fortune in 10 categories (Bacon, Barbecue, Burger, Chef, Dessert, Recipe, Sandwich, Seafood, Soup and Steak). In 2019, more than 450 culinary teams from 11 countries and 42 American states competed in WFC's Main Event. The 10 Category Champs crowned will now face-off in the $100,000 challenge that will determine the overall World Food Champion at The Final Table: Indianapolis in August 2020.
« Back to News