Challenge Details Revealed for "The Final Table: Indy"
Share:
Posted Jun 18, 2020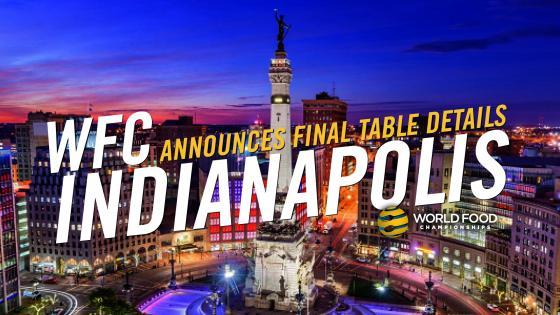 Organizers of the "The Final Table: Indy" have revealed the three key challenges for the upcoming August event that will crown the new World Food Champion, who will take home the coveted title and a $100,000 payday.
Known as the crescendo moment of the World Food Championships (WFC), a global search for the best, undiscovered chefs and cooks, The Final Table will occur August 8th and 9th in Indianapolis, Indiana at Ivy Tech Culinary Center. The event will include media and some limited seating for public viewing of the competition based on social event protocols at that time.
Ten champions, all of whom won $10,000 each, from ten different food categories will now face off for a $100,000 bounty in an Indiana-themed, three-challenge, elimination format. The event will feature local celebrated chefs and food brand ambassadors as an elite judging panel. It will also feature key products in the Sysco sponsored pantry, along with Maple Leaf Farms duck, Indiana-raised pork, Red Gold Tomatoes, and much more from the Hoosier state's abundant offerings of agricultural products.
"Indianapolis is an exciting and vibrant culinary destination," commented Mike McCloud, President and CEO of the World Food Championships. "Bringing our ten champions to the Circle City and the "Culinary Crossroads" for their final step in our culinary program has been extremely rewarding already. So many great food brands and food artisans have opened their arms and doors to our mission of celebrating cooks in a once-in-a-lifetime opportunity."
The event will be filmed and aired nationally as a special documentary for the Cooking Channel. Since its inception in 2012, the WFC has awarded more than $2 million in prizes and provided a culinary career in TV or corporate America for more than three dozen aspiring cooks.
To be crowned the ultimate champion, the ten champs (who beat out more than 450 other teams in the Dallas Main Event qualifier last November) will face three elimination challenges that are based on Indiana's history and current culinary scene.
In the first round, all ten Champions will be tasked with making a Pork and Parisian Gnoochi dish sourced by National Pork Board, but the competitor must use Red Gold Tomatoes, an Indiana owned and operated company. Similar to the WFC Main Event, the cooks will have 90 minutes to execute the dish.
Only five of the Champions will make it to the second round, where they will recreate a beloved dish by local Chef Greg Hardesty – Roast Duck Breast with Crispy Duck Spring Roll, Fried Wild Rice, Dried Cranberry Duck Jus. The remaining five will get to taste Chef Hardesty's dish at his restaurant Studio C prior to the challenge. The assortment of premier duck products will be provided by Maple Leaf Farms, while all other necessary ingredients will be provided in the Sysco Pantry. Only 60 minutes will be provided for cook time in this round.
Only three competitors will survive the second round in order to compete for the World Food Champion title in the final round. In the finale, the cooks will create their own unique version of the famous Indiana Sugar Cream Pie. Due to the delicate and timely process of making this dish, WFC will allow 90 minutes for this challenge.
Each round will host a different panel of judges that have knowledge specific to each challenge. WFC is in the middle of releasing a series of judges announcements about this, with Chef Greg Hardesty, Chef Jeff Bricker, and Chef Chris Eley already in the mix.
Stay up-to-date on all culinary competition news, by following the World Food Championships on Twitter (@WorldFoodChamp), Facebook and Instagram (@WorldFoodChampionships).
About World Food Championships
The World Food Championships (WFC) is the highest stakes food competition in the world. This multi-day, live event culinary competition showcases some of the world's best cooks who compete for food, fame and fortune in 10 categories (Bacon, Barbecue, Burger, Chef, Dessert, Recipe, Sandwich, Seafood, Soup and Steak). In 2019, more than 450 culinary teams from 11 countries and 42 American states competed in WFC's Main Event. The 10 Category Champs crowned will now face-off in the $100,000 challenge that will determine the overall World Food Champion at The Final Table: Indianapolis in August 2020.
« Back to News