WFC Welcomes Alabama Crown As Official Wine & VIP Partner
Share:
Posted Aug 25, 2016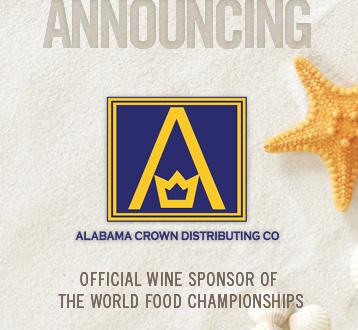 ORANGE BEACH, Ala. (August 25, 2016) – Thanks to a new partnership between World Food Championships and Alabama Crown Distributing, Top 10 competitors in the Steak Category have a new reason to say "Cheers!" at this year's 5th Anniversary. Alabama Crown Distributing will be providing each contestant a bottle of Josh Cellars Merlot, which will be the official Infused Ingredient for the World Steak Championships.
"The idea of pairing food and wine at WFC is not new, especially as an Infused Ingredient. We just hadn't found the right partner and place to do it — until now. So we're thrilled to be partnering with Alabama Crown to make this a possibility at our 5th Anniversary," said Mike McCloud, CEO of World Food Championships. "We know our Food Champs are going to love working with Josh Cellars Merlot, and we can't wait to taste their delicious results."
In addition to providing Josh Cellars Merlot — which is known for its flavors of juicy plums, blackberries, and Bing cherries — Alabama Crown is also partnering with WFC to help deliver an exceptional VIP Lounge experience for WFC competitors and sponsors during the competitions, which will be held at The Wharf in Orange Beach this November.
"We have some really wonderful events planned this year for competitors, judges, attendees, and foodies of all types. We will be proudly featuring many of the great brands distributed by Alabama Crown during the process, and we look forward to raising a glass of Josh Cellars to salute of our new World Food Champion," McCloud commented.
About Alabama Crown Distributing
Alabama Crown Distributing Co., located in Alabaster, Ala., is a wholesale distributor of wine, beer and beverages. The company is owned by Georgia Crown Distributing Co., a full service beverage distributor with wholesale operations in Alabama, Georgia, and Tennessee. The distributors sell imported and domestic spirits, wine, beer and specialty products.
Georgia Crown's corporate office is located in McDonough, Georgia, centralizing all corporate sales direction, administration, information systems and accounting functions. For almost 80 years, Georgia Crown has been growing, changing and diversifying. Georgia Crown Distributing Co. was founded in August 1938 by the late Fate D. Leebern.
About Josh Cellars
Josh Cellars was launched in 2007 by Joseph Carr. After a decade serving as a world-class sommelier followed by another decade as a wine industry executive, Joseph Carr set out on his own in 2005 to form his family-owned wine company.
Sourced from across many great California winegrowing regions, every bottle represents a labor of love, a commitment to quality, and a very personal promise to make great wine, in honor of his dad, Josh.
Josh Cellars is owned by
Deutsch Family Wine & Spirits.
Deutsch Family Wine & Spirits was founded in 1981 by Chairman, Bill Deutsch, to market quality wine and spirits produced by prestigious families from major wine and spirits regions of the world. The includes a prestigious roster of internationally renowned, award-winning brands serviced by over 170 employees.
« Back to News