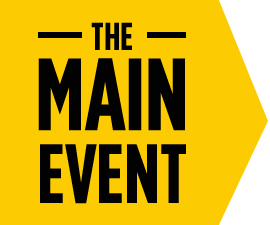 WORLD FOOD CHAMPIONSHIPS
Nov. 9 - 13, 2022
Dallas, Texas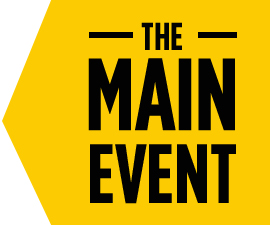 Tickets to the 2022 World Food Championships are onsale NOW! Grab your pass to some tasty (and limited) ticketing options today!
Don't forget to follow us on social media to stay
up to speed on the biggest week in Food Sport!

1,000+ Competing Chefs. Dozens of Custom Tasting Experiences. 5 Days of Foodie Heaven.
With a World Food Championships' General Admission Ticket, you'll see a LIVE culinary cook-off just like you see on TV! Join us at Fair Park in Dallas, Texas, November 9-13 and indulge in the world's largest live-action food competition.
The food fun doesn't stop there! In addition to the competition, General Admission ticket holders will gain access to unique tasting experiences in our Hall of Taste, BBQ Ranch, live chef demos and much more!
*Day Passes and Week Passes Available.
*Prices will increase.
*Children 10 and under may attend for free.
Back by popular demand, the World Food Championships and its barbecue partners will be serving up free fixins for Texas-sized appetites. Pitmasters and celebrity chefs will be firing up thousands of pounds of barbecue from the hottest grills and barbecue pits on the market for foodies to savor and enjoy. This ranch-style block party is one of the most unique barbecue bashes in WFC history.

*Included with General Admission ticket purchase.
The World Food Championships' Hall of Taste is the ultimate foodies' way of sampling products from near and far. Attendees will grab a taste of Texas, a taste of America, and finally, a taste of the World on this culinary adventure. And the best part is that the Hall of Taste is included with General Admission!
*Included with General Admission ticket purchase.
One of the World Food Championships' most anticipated ancillary competitions is coming back in 2022. The Fire Woman competition pits four of America's most award-winning lady pitmasters going head-to-head in a no electricity battle to determine the ultimate female GrillMaster!
The Fire Women pitmasters will be supplied with a grill, charcoal, and a single rule: impress the judges with your best BBQ dish in 90 minutes. Join us to see who will rise from the smoke to take home the Fire Woman title and cash prize.
*Included with General Admission ticket purchase on Thursday, November 10.

Upgrade your General Admission Ticket with any one (or all)
of these Tasty Experiences!
Want to learn how to judge some of the world's best food? Over a span of five days, 1,000 competitors will create over 8,000 dishes at the World Food Championships...all of which need to be judged by foodies like YOU!!
But first, you'll need to be certified through our custom food judging class. It's an interactive event where you'll be trained by a WFC professional on the E.A.T.™ methodology –– which is WFC's scoring system that enables judges to rank any dish based on three key criteria: Execution, Appearance and Taste.
Only judges who become E.A.T.™ certified will be eligible to enjoy judging privileges at WFC. Don't miss your chance to become an E.A.T.™ certified judge!
New for this year! For the first time in WFC history, YOU get to taste the championship food that is normally reserved ONLY for certified judges!! Try some of the week's extraordinary dishes from a sampling of the award-winning World Food Championship competitors. The best part? YOU get to be the judge! You'll get to taste 12 samples from the very talented chef lineup and VOTE for your FAVORITE one. The winner from Saturday and the winner from Sunday will receive qualification into our 2023 Championship! Only 300 tickets are available per day. Get yours today!
*Only 300 tickets available per day.
What do you get when you mix premium bourbon tastings with delicious ribs prepared by the best pitmasters in America? The best barbecue block party - and People's Choice voting - Dallas has ever seen (or tasted)! Ticket purchasers will enjoy crazy-good ribs and cast their vote for their favorite BBQ ribs in our lively Block Party set up. If you're a foodie who loves barbecue and bourbon, then this is a WFC must-attend event!

VIP ticket holders get the party started with early access! VIPs will also receive a specially curated gift bag to take home.
Here's your chance to learn any and everything about Pork Ribs! From the farm all the way to your Table … and in between … Melissa will be sharing her tips, tricks and competition insights during this two hour tell-all master class.
Everything you need and want to know about these party favorites will be covered. Tuffy will be sharing three different recipes including Brown Butter Hot Wings, Celery Seed White Wings, Honey Chipotle BBQ Wings. Tons of other tips and tricks will be shared as well.
Want to learn and understand how this versatile cut of pork can turn you into the superstar of your neighborhood? Celebrity Pitmaster Melissa Cookston will take you on a two-hur journey to share how to purchase, multiple ways to prepare, and even how to serve up this delicacy.
Ever wanted to learn how to cook a steak from a true master? Tuffy Stone will be sharing three different cuts of steak that includes Tri-Tip, Ribeye Cap, and Flank Steak and teaching the tips and tricks to make you know how to prepare them all perfectly.
Want to sip and savor in comfort while taking in all of the World Food Championships' food fighting action? Then the VIP Lounge is calling you! Attendees will enjoy a private cash bar, TV screens to keep up to date on all of the action, complimentary chef demos and sampling, featured cocktails & refreshments, and more!