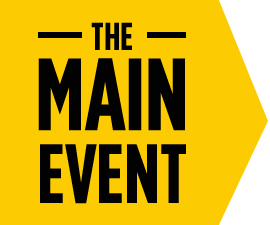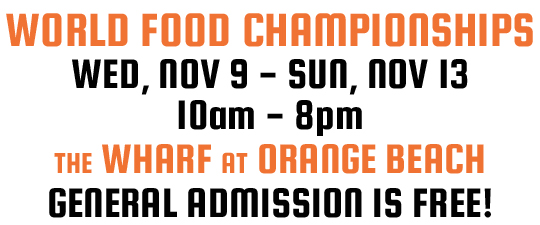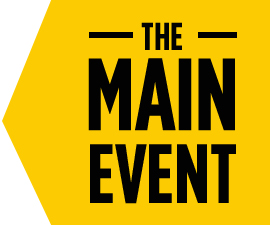 The darlings, divas and dudes of Food Sport turn everyday ingredients into thousands of dollars in winnings. This is the MAIN EVENT, the Ultimate Food Fight - a week-long showdown pitting hundreds of cooking and culinary teams from around the world against each other in nine categories. More than 50 champions will be "in the money," but only ONE leaves as World Food Champion and $100,000 in cash and prizes on Tuesday night!
Celebrating its 5th anniversary, WFC 2017 will include television crews to document a reality television series, and the world's quickest cutlery and culinary talent at the World Chef Challenge (an invitational for 21 of the most talented professional chefs in the world).
For a complete competition schedule, click here.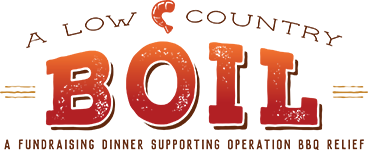 Thurs, Nov 10, 6-8PM
The Wharf at Orange Beach
Admission is $20
Join WFC and Operation BBQ Relief for a delicious and traditional Low Country Boil! OBR will be serving up the best seafood the gulf coast has to offer along with scrumptious sides. You don't want to miss out on this relaxing night filled with flip flops, friends and fantastic food. But, come hungry! This is an all-you-can-eat affair benefiting Operation BBQ Relief. Tickets are only $20 and can be purchased at the door.

Fri, Nov 11 - Sun, Nov 13
The Wharf at Orange Beach
General Admission is Free!
Presented by Chef's Roll and WFC, The World Chef Challenge will showcase world-class chefs in a multi-round tournament with the winner taking home a bounty of cash and prizes. From hand-skills, to recipe development and execution, the World Chef Challenge is an unbelievable showcase of local, national & international talent, including Food TV stars!

If you're looking to add a bigger helping of food fun to your plate, check out these WFC FOOD FEST ticketed events.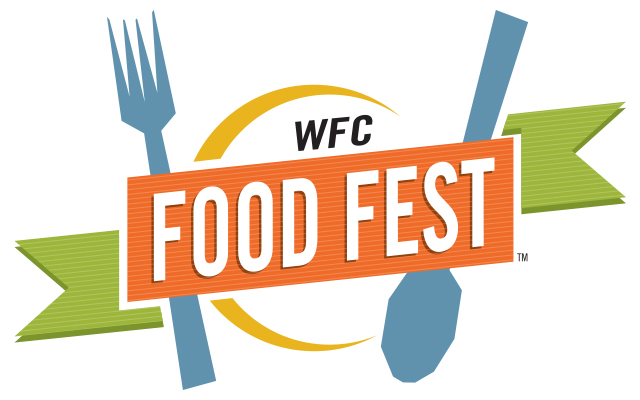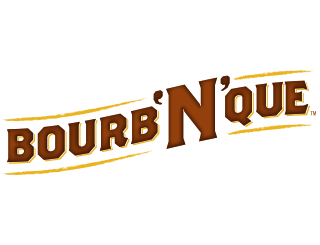 Surrounded by World Food Champs past and present, Bourb 'n' Que is a VIP event in every aspect of the word. Walking distance from WFC Kitchen Arena, the gorgeous Heron Pointe event space is reminiscent of a plantation home overlooking the beautiful marina. Join us for Jim Beam Bourbon Whiskey samples, premium pork from Compart Duroc, recipes from esteemed Food Champs and an overall entertaining evening in high style! Benefiting local charities and setting the stage perfectly for the super exciting World Food Fest weekend.
FRI, NOV 11 8pm - 10pm @ Heron Pointe $125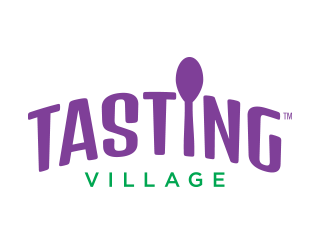 WFC's Tasting Village returns for a second year, better than ever! Our showcase of savory samples from local, regional and national food brands is a tempting tour for your taste buds. Our entire Tasting Village is designed to introduce you to fantastic flavors, tasty morsels and culinary culture at a price you can swallow - just $5. Your ticket also gains you access to Sizzle Spot where you can watch, listen, and learn from the BEST chefs! Pull up a chair and hear their culinary stories, see how they commandeer the kitchen, and explore whether you'd be a candidate for Food Sport fame like them.
Kids 10 and under get in free.
FRI, NOV 11 - SUN, NOV 13 10am - 6pm @ The Wharf $5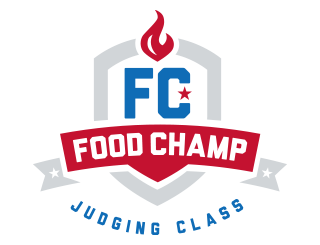 Curious how we judge the biggest food fight in the world? This is YOUR inside track to becoming an expert as a certified Food Champ Judge! This kitchen classroom experience is hosted by a certified food sport professional who takes you through our proprietary E.A.T Methodology so you can be eligible to judge at any WFC event starting 2017. Upon completion of the class, you will join our growing community of WFC Judges and receive a CERTIFIED FOOD CHAMP Judge GOLD CARD to prove it! Space is limited for this class, and, historically, tickets sell out fast!
MON, NOV 14 6pm - 8pm @ The Palms $60