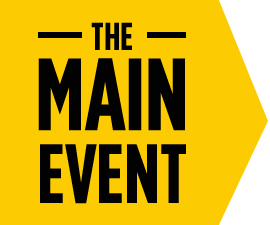 WORLD FOOD CHAMPIONSHIPS
Nov. 5 - 7, 2021
Dallas, Texas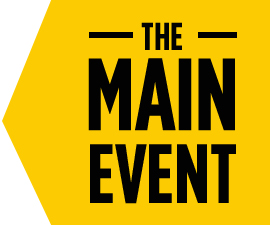 Celebrity Demos. Taste-bud Journeys. Intimate Settings. Gastronomic Creations. Sweet Sensations.


NOTHING brings out the passion, performance and profound creativity from chefs and award-winning cooks like the World Food Championships. More than 1,500 grand champions will bring their best to Dallas to dazzle, to impress and ultimately — to beat the best in this one epic Food Sport event! The experience is amazingly unique and one that every foodie can find the perfect way to devour.

Take a bite out of the world's largest food sport event by securing your tickets below!
COVID PROTOCOL: Proof of vaccination is not required to attend the World Food Championships; however, we do encourage the use of masks for non-vaccinated guests. As a result, masks will be available at event entry points for anyone who wishes to wear one. We also encourage that all guests use social distancing guidelines with non-family members where and when possible.
In accordance with the guidance and recommendations set forth by the CDC and local health officials, we respectfully request that the following guests not attend this event:
Guests who are feeling sick or experiencing cold or flu-like symptoms (including fever, coughing and shortness of breath);

Guests who have been diagnosed with, or believe to have contracted, COVID-19, unless you have had no fever for 72 hours (without the use of medicine) and 10 days have passed since symptoms first appeared;

Guests who have been in contact with an individual diagnosed with COVID-19 within the past 14 days; and

Guests who have traveled internationally in the past 14 days.For more information about COVID-19 in
For more information about COVID-19 in Dallas County, click here.
For more information about COVID-19 in Texas, click here.
For more information from the CDC, click here.
Don't forget to follow us on social media to stay
up to speed on the biggest week in Food Sport!

1,500 Competing Chefs. 20+ Tasting Experiences. 3 Days of Foodie Heaven. With a World Food Championships' General Admission Ticket, you'll see a LIVE culinary cook-off just like you see on TV!
The food fun doesn't stop there! In addition to the competition, General Admission ticket holders will gain access to unique tasting experiences like Hall of Taste, BBQ Ranch, WFC's Family Fun Zone, live music, chef demos and much more!
*Prices will increase.
*Children 10 and under may attend for free.
Want to sip and savor in comfort while taking in all of the World Food Championships' food fighting action? Then the VIP Lounge is calling you! Attendees will enjoy a separate entrance to the main event, a private cash bar, TV screens to keep up to date on all of the action, complimentary chef demos and sampling, featured cocktails & refreshments, and more!
*WFC Gate admission for the day is included in the ticket price.
*Prices will increase.
What do you get when you mix premium bourbon tastings with delicious ribs prepared by the best pitmasters in America? The best barbecue block party - and People's Choice voting - Dallas has ever seen (or tasted)! Ticket purchasers will enjoy crazy-good ribs and cast their vote for their favorite BBQ ribs in our lively Block Party set up. If you're a foodie who loves barbecue and bourbon, then this is a WFC must-attend event!
*WFC Gate admission for the day is included in the ticket price.
*Prices will increase.
Come brunch with us! The World Food Championships is hosting this new foodie experience, which is set to be a crowd favorite (because, well, who doesn't love BRUNCH?!). Ticket holders will have many sipping opportunities:
Mimosas from the Bubble Bar. Coffee from the Cattle Dog Coffee Corner. Savory drinks from the Bloody Mary Bar. And more!
Daily Brunch Bar tickets allow you to enjoy the libations from 11 am to 1 pm and include WFC Gate Admission access on the date selected.
*Prices will increase.

Want to learn how to judge some of the world's best cuisines? Over a span of five days, 1,500 competitors will create over 8,000 dishes at the World Food Championships...all of which need to be judged by foodies like YOU!!
But first, you'll need to be certified through this food judge class. It's an interactive event where you'll be trained by a WFC associate or professional chef on our own E.A.T.™ methodology –– which is WFC's scoring system that enables judges to rank any dish based on three key criteria: Execution, Appearance and Taste.
Only judges who become E.A.T.™ certified will be eligible to enjoy judging privileges at WFC. Don't miss your chance to become an E.A.T.™ certified judge!
Back by popular demand, the World Food Championships and its barbecue partners will be serving up free fixins for Texas-sized appetites. Pitmasters and celebrity chefs will be firing up thousands of pounds of barbecue from the hottest grills and barbecue pits on the market for foodies to savor and enjoy. This ranch-style block party will be one of the most unique barbecue bashes in WFC history.
*Included with General Admission ticket purchase
The World Food Championships' Hall of Taste is the ultimate foodies' way of sampling products from near and far. Attendees will grab a taste of Texas, a taste of America, and finally, a taste of the World on this culinary adventure and the best part is Hall of Taste is included with General Admission!
*Included with General Admission ticket purchase.
The World Food Championships' Granny Grilling Challenge is a unique competition that's been featured on a special segment on Delish. For this year's throwdown, four talented grannies will have to put their grilling gear on as they'll be challenged to a live-action grill-off! Each granny will be given a "mystery box" of ingredients to create their entry dish. With no prior knowledge of what products they will have access to, they will have to let their culinary skills and imagination take the lead.
The competition will be hosted by fellow WFC grannies, Chef Nancy Manlove (The Nana Chef) and Mary Edwards (a veteran Food Champ). They are sure to throw some curveballs into this already action packed Granny competition so don't miss it!
*Included with General Admission ticket purchase on Saturday, Nov. 6.
One of the World Food Championships' most anticipated ancillary competitions is coming back in 2021. Its Fire Woman competition pits four of barbecue's award-winning lady pitmasters head-to-head in a no electricity battle to determine the ultimate Fire Woman.
The Fire Women pitmasters will be supplied with a grill, charcoal, and a single rule: impress the judges with your best BBQ dish in 90 minutes. Join us to see who will rise from the smoke to take home the Fire Woman title and cash prize.
*Included with General Admission ticket purchase on Sunday, Nov. 7.