Alabama Gulf Seafood Splashes onto Food Sport's Biggest Stage
Share:
Posted Jun 28, 2016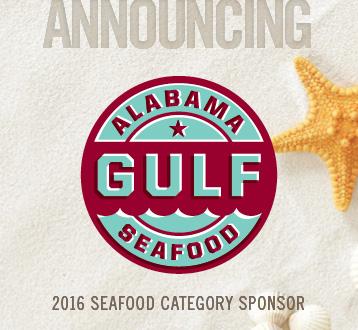 ORANGE BEACH, Ala. – (June 28, 2016)
Alabama Gulf Seafood
(AGS) joined the Ultimate Food Fight today by announcing its sponsorship of the seafood category at the 5th Annual World Food Championships, which will be held at The Wharf in
Orange Beach, Alabama
Nov. 9-15.
Competitors in WFC's Seafood category – one of WFC's most unique and creative divisions – will be using AGS in the "Structured Build" part of the competition, where they will be challenged to create the perfect "shrimp scampi."
"Competitors at the World Food Championships love quality ingredients and a new challenge," said Mike McCloud, CEO of World Food Championships. "Having Alabama Gulf Seafood on board for our 5th Anniversary is an exciting moment not only for our seafood contestants, but for our entire field of chefs and home cooks. We will be finding numerous ways to utilize a variety of Gulf species that AGS plans on bringing to our event."
Each division requires two builds in the opening round, a "Structured Build" and "Signature Dish," which are scored using WFC's E.A.T. methodology and combined to determine the Top 10 finishers. Those Top 10 competitors move on to second and final round, where the top finisher perfects a single-dish and collects a $10,000 prize as the 2016 World Seafood Champion.
The World Seafood Champion will go onto compete against the other eight category champions – Bacon, Barbecue, Burger, Chili, Dessert, Recipe, Steak and Sandwich – at WFC's ultimate event, The Final Table. The winner of that competition takes home $100,000 and the overall title, World Food Champion.
"To have Alabama Gulf Seafood represented in this competition is thrilling for us because of the event's global reach," commented Chris Blankenship, director of Alabama Marine Resources and program administrator for the Alabama Seafood Marketing Commission. "We want culinary talent from around the world to see how incredible our seafood is, and WFC has opened a door for us to prove just that."
AGS will be involved in other categories since seafood can be paired in numerous ways to complement other dishes. The WFC's
Blogger Summit
, which features 50 food bloggers from around the world, will also be treated to a special AGS experience during the week of activities that surround the championship.
Now celebrating its 5th Anniversary, WFC will be held Nov. 9-15 at
The Wharf
, a resort destination with a full-service marina, retail, dining and entertainment options anchored by a multi-use event center and a 10,000-seat amphitheater. The majority of the food competitions will occur in the WFC Kitchen Arena, which is the largest outdoor kitchen in the world, complete with 50 cook stations of Kenmore brand equipment and $100,000 worth of professional grills from Bull Outdoor Products.
About Alabama Gulf Seafood Marketing Commission
Established by Alabama Governor Robert Bentley by executive order signed in March of 2011, the Alabama Seafood Marketing Commission (ASMC) was created to help provide advice, oversight, management and encouragement to the marketing of Alabama seafood. Led by Chris Blankenship, director of the Alabama Marine Resource Division of the Alabama Department of Conservation and Natural Resources, the ASMC is comprised of volunteer members appointed by the Governor that includes fishermen, processors, charter boat operators, retailers, restaurant owners and others directly and indirectly related to the Alabama seafood industry.
About the World Food Championships
The
World Food Championships
features hundreds of competitors seeking food fame and fortune. The 5th annual event, scheduled for Nov. 9-15, 2016 at The Wharf in Orange Beach, Alabama, invites the champions from the biggest and best food competitions around the world into a single high-stakes culinary showdown for hundreds of thousands in cash and prizes. Follow WFC on
Twitter
,
Instagram
and
Facebook
for the latest updates.
« Back to News