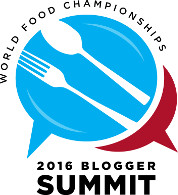 Who's ready for World Food Championships' Blogger Summit 2016? This year's summit is Nov. 7-9 in Orange Beach, Ala., and includes a jam-packed schedule of information, inspiration and insider activity at the world's largest Food Sport competition! And, for the first time ever, WFC will be providing free accommodations for three nights at the luxurious Turquoise Place.
Turquoise Place delivered by Spectrum Resorts is a premier resort destination on the beach in Orange Beach, Alabama with luxurious amenities in a condominium-style setting. Condominium units offer spacious floor plans with floor-to-ceiling views and grand balconies, and the resort boasts a 450-foot-long heated lazy river, indoor and outdoor saltwater pools, saunas and many other attractions.
What makes our Blogger Summit truly unique is how bloggers are INTEGRATED into the World Food Championships experience. Last year, attendees competed as chef contestants; this year, bloggers will judge the opening round of the World Dessert Championship after becoming certified in WFC's proprietary E.A.T. Scoring Methodology.
Field trips galore and food beyond belief. If you're a food or travel blogger, this is where you need to be in 2016. Submit now for one of our 50 limited seats! The deadline to apply is midnight on Tuesday, August 9.
WHAT'S HAPPENING AT THE SUMMIT
Day 1: Intensive Training
Day 1 unpacks topics important to World Food Championships in 2016, including Food Sport as a global phenomenon, Oyster Farming with Auburn University's "Dr. Oyster", a Sustainability Model From Another World, and, of course, blogging secrets including such elements as Facebook Live.
Day 2: All About Seafood
Our adventure begins with Forrest Gump's home of Bayou la Batre, Ala., involves an amazing tour at Murder Point Oyster Farm, puts you below deck of the Alleluiah (one of the Gulf's largest commercial fishing vessels), and introduces you to a co-founder of FishTrax Marketplace, the online trackable seafood technology used at the famed LuLu's Restaurant (owned by Jimmy Buffett's sister, Lucy).
Day 3: Living The Story
What's a summit for bloggers without great stories? We've teed up WFC's official Food Champ Judging Class to credential you as E.A.T. certified officials, which authorizes you to judge the World Dessert Championships – our first-ever competition in Orange Beach. Not a big enough story for you? Then head out with us on our very own off-shore fishing adventure. If you can't find something to write about on day three, you probably should stop blogging!