Wright Brand Bacon brings BIG Sizzle to WFC
Share:
Posted Oct 2, 2019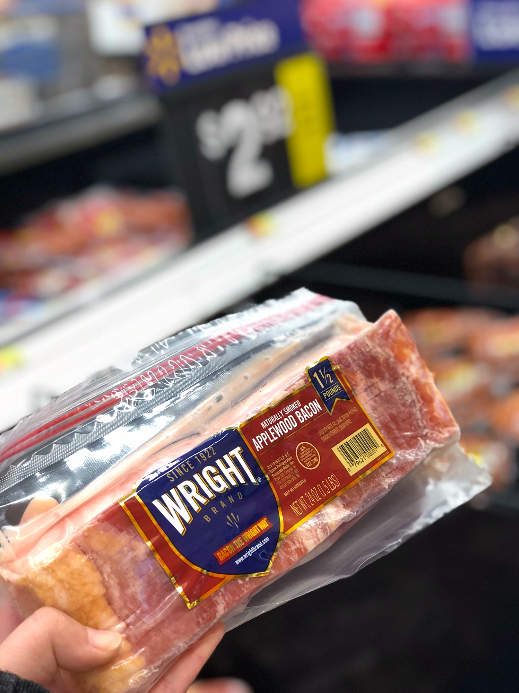 From the world's largest outdoor kitchen to a VIP Bacon Bar, the World Food Championships' (WFC) returning bacon sponsor, Wright® Brand Bacon, will be attracting Dallasites to its Main Event with its line of premium products and sizzling attractions.
As part of the Tyson Foods family since 2001, the Wright® brand continues to gather bacon lovers from across the country. This company is a perfect fit as the Official Bacon sponsor of WFC, which is on track to be the largest food fight to date, with over 1,500 cooks traveling from around the globe to battle it out for ten category titles and a shot at the $350,000 prize purse.
"We are so excited to have Wright brand on board for our first year in Dallas," said Mike McCloud, president and CEO of WFC. "They are helping make our competition our biggest yet and enhance the foodie experience for Dallasites who have never experienced Food Sport."
Wright® Brand will be involved in several areas at WFC this October, including a special treat for VIP ticket holders. Whether you like your bacon crispy, chocolate dipped, twisted, or wrapped, Wright® brand has an exclusive opportunity that will satisfy all bacon enthusiasts in the Walmart VIP Lounge! A bacon bar will be set up for attendees from Friday, Oct. 18 to Sunday, Oct. 20th with the Fabulous Bacon Babe, Jodi Taffel, whipping up and serving Bacon the Wright Way®. Don't miss out on this sizzling opportunity! To purchase tickets, click here.
Apart from adding an exclusive bacon spread in the Walmart VIP Lounge, Wright® Brand will also be providing products for WFC's general pantry for all cooks to utilize throughout the five-day tournament.
Wright® Brand will also be offering foodies the opportunity to attend WFC's Main Event at Reunion Tower Lawn for a price that's easy to swallow –– FREE admission. Instead of paying a $20/day General Admission fee at the gate, Wright® Brand has partnered with WFC to allow anyone who buys its products a waived entry fee* into the world's largest food sport event.
Along with these exciting new Food Sport opportunities, Wright® Brand is giving competitors the opportunity to win extra cash outside of the Main Event through the WFC's Bonus Bucks program. For a chance at an additional $1,000, participants must use Wright® Brand Bacon in the Signature Round of their category. To read more about WFC's Bonus Buck opportunities, click here.
To learn more about Wright® brand bacon, click here.
*Available to anyone who purchases Wright® Brand Bacon products from Oct. 1-20 from any retail store. Proof of purchase with receipt is required to be shown at the gate. One receipt = entry for one individual for one day of the event.
The WFC's 8th Annual Main Event is scheduled for Oct. 16 – 20, 2019, at Reunion Tower Lawn in Dallas, Texas. To keep up with all the WFC news, follow the event on Twitter (@WorldFoodChamp), Facebook and Instagram (@WorldFoodChampionships). Click here to book your room for #WFC2019.
About the World Food Championships
The World Food Championships (WFC) is the highest stakes food competition in the world. This multi-day, live-event culinary competition showcases some of the world's best cooking masters competing for food, fame and fortune in ten categories: Bacon, Barbecue, Burger, Chef, Chili, Dessert, Recipe, Sandwich, Seafood and Steak. In 2018, over 1,500 contestants on nearly 500 official teams from 42 American states and 12 countries competed. More than 20 million people have attended WFC or have seen it on national TV over the past seven years. This year's Main Event will be held in Dallas, Texas at Reunion Tower Lawn, Oct. 16-20.
« Back to News