Kid Entrepreneurs Showcase Products at the World Food Championships
Share:
Posted Sep 26, 2019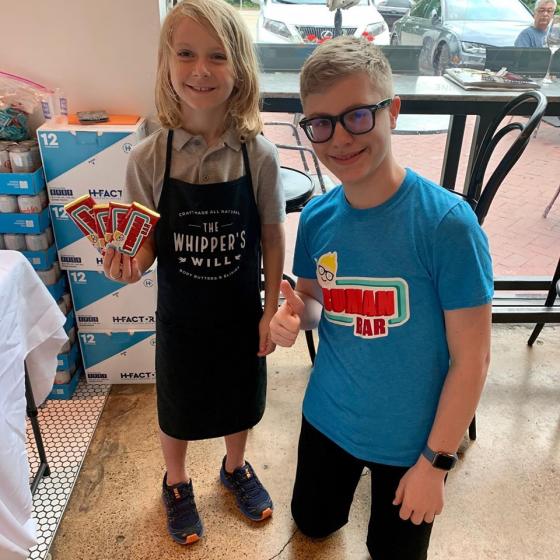 The world's largest Food Sport event just announced a new opportunity for young entrepreneurs in the food business. This October, while over 1,500 cooks compete for a piece of the $350,000 prize purse during the five-day tournament, the World Food Championships (WFC) will be featuring five selected kid business owners and their companies at its Main Event this October.
For its 2019 debut in Dallas, WFC is providing a platform for young entrepreneurs who are possibly the next big winners in the food space. By carving out an opportunity for them in the new Kid & Company section of its event grid, WFC is preparing to help spur some new avenues for today's youth.
"At the heart of WFC, we are all about following your passion and realizing your dreams," commented Mike McCloud, president and CEO of WFC, which is now in its eighth year. "What better way to demonstrate that than by providing a platform for young entrepreneurs who are trying to make it in the food space?"
After some strategic research and networking, WFC found five compelling new business concepts in the Dallas/Texas area that were spawned and operated by children 16 years or younger. Each of them will be given prime space at WFC this year to show off their concepts and event sell their products to event attendees.
From chocolate bars to clothing, these kid companies provide quite a range of products. The Kid & Company line up includes:

Company: SplatterRainbow
Kid entrepreneur: Hollis Wrighton
About the company: Hollis handmakes 80s-inspired splash paint clothing.


Company: The Whipper's Will
Kid entrepreneur: Dorian Rawlings
About the company: Hand whipped, all-natural body butter. The Whipper's Will is based on french skincare that Dorian's mom used to make for him when he was a baby. This kid-entrepreneur learned to make these products as he got older. To make the fun, messy all-natural whip he uses essential oils, elixirs and organic oils.


Company: The Truman Factory
Kid entrepreneur: Truman Wilson
About the company: Truman is a 14-year-old kid entrepreneur with his own lifestyle company for people his age. His main product is a very successful candy bar he sells in over 70 Dallas locations called Truman Bar. Truman Bar is a delicious milk chocolate bar that has a virtual golden ticket in the wrapper that can win epic prizes. Also, a portion of the sales goes to help Dallas homeless children at Vogel Alcove.
Truman Bar brings together great fun and high engagement, a kid entrepreneur and charity. Kids go crazy over these bars! He has been called his generation's Willy Wonka.


Company: Pash and Post
Kid Entrepreneur(s): Megan & Dorian Rawlings
About the Company: Pash and Post is a fashion company designed to grow and change kids' self-expression. The line feature jackets, backpacks and gear with snaps that house "swag." Swag, which is defined as a snap-backed accessory, allows for creative, craft fashion that changes on the snaps in an instant. The swag also lets kids "wear their heart on their sleeve" because several pieces give money to children's charities and causes.


Company: Charlie's Treats
Kid Entrepreneur: Charlie Kobdish
About the Company:
This sliced pecan business started in 2017 was developed by 12-year-old "Pecantrepreneur," Charlie. Charlie's Treats feature five gourmet flavors including Cinnamon Sugar, Hot PECANte, Maple, Traditional Spice and Pumpkin Spice. This kid-owned and operated company was just voted a 2019 People's Choice Business of the Year winner.

Company: Sienna Sauce
Kid Entrepreneur: Tyla-Simone Crayton
About the Business: This line of gluten-free gourmet barbecue sauce features three tasty flavors (Tangy, Lemon Pepper and Spicy) and is made with no high fructose corn syrup. Sienna Sauce was crowned the $25,000 grand prize winner of the "Side Hustle Showdown" on the Good Morning America show Strahan and Sara for her thriving sauce business.
Stop by these inspiring kid companies booths at WFC, October 18-20 from 11 a.m. - 4 p.m. Click here to purchase your general admission tickets.
WFC's 8th Annual Main Event is scheduled for October 16 – 20, 2019, at Reunion Tower Lawn in Dallas, Texas. To keep up with all WFC news, follow the event on Twitter (@WorldFoodChamp), Facebook and Instagram (@WorldFoodChampionships).
About the World Food Championships
The World Food Championships (WFC) is the highest stakes food competition in the world. This multi-day, live-event culinary competition showcases some of the world's best cooking masters competing for food, fame and fortune in ten categories: Bacon, Barbecue, Burger, Chef, Chili, Dessert, Recipe, Sandwich, Seafood and Steak. In 2018, over 1,500 contestants on nearly 500 official teams from 42 American states and 12 countries competed. More than 20 million people have attended WFC or have seen it on national TV over the past seven years. This year's Main Event will be held in Dallas, Texas at Reunion Tower Lawn, Oct. 16-20.
« Back to News