American Royal and World Barbecue Champion Set To Make BIG WFC Appearance
Share:
Posted Sep 19, 2019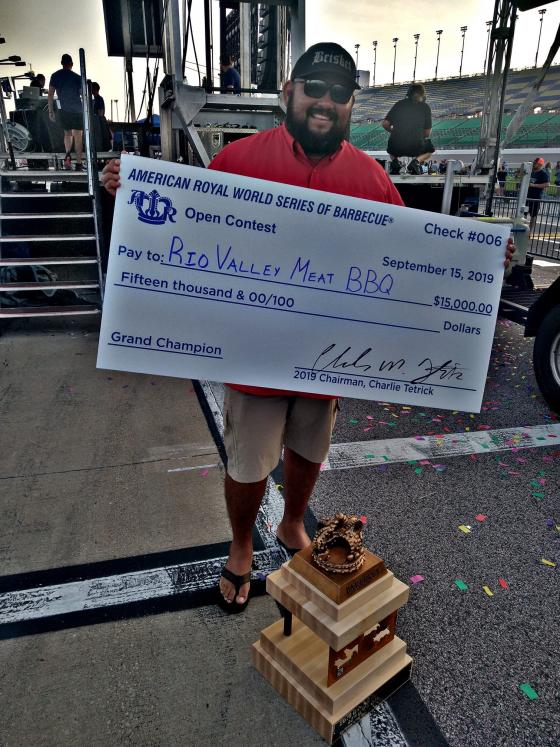 The World Food Championships (WFC) is attracting some of the nation's top talent in culinary competitions. WFC's 2017 Barbecue Champion, Fred Robles, will be returning to the Ultimate Food Fight in Dallas with an additional Food Sport title under his belt.
In his first appearance at the WFC, pitmaster Fred Robles of Team Rio Valley Meat dazzled Food Sport judges to take home $10,000 and the 2017 World Barbecue Champion title. The then-rookie competitor's category win qualified him for a seat at WFC's Final Table challenge in Bentonville, Arkansas, where he competed for $100,000 and the World Food Champion title. Even though Robles fell just shy of claiming the crown, his second-place finish proved this Texas-based pitmaster knows a thing or two about competitive cooking.
Adding to his lengthy culinary resume, Robles just took home the title of American Royal Grand Champion at its 40th World Series Barbecue© event where he beat out over 400 teams this past weekend. The Royal is a Kansas City Barbecue Society (KCBS) sanctioned event that brings pitmasters from near and far to the Kansas Speedway.
In addition to competing at WFC's Dallas debut this October, Robles will be one of the 10 featured barbecuers in the highly anticipated Bourb'N'Que event in downtown Dallas. This barbecue block party will showcase mouth-watering ribs from the key barbecue regions (Carolinas, Texas, Memphis, St. Louis, Kansas City) and will sample bourbons from BSB-Brown Sugar Bourbon, Title No. 21, Crooked Fox, TX Bourbon, and Bulleit Bourbon. Bourb'N'Que ticketholders will vote for their favorite barbecue ribs at the end of the night to determine which pitmaster takes the people's choice crown. Click here to sink your teeth into event tickets.
Don't miss your chance to see if Robles will bring home another title win, and enjoy all of WFC's food-filled attractions, by purchasing a General Admission Weekend Pass. (Ticket prices will increase at the gate).
WFC's 8th Annual Main Event is scheduled for October 16 – 20, 2019, at Reunion Tower Lawn in Dallas, Texas. To keep up with all WFC news, follow the event on Twitter (@WorldFoodChamp), Facebook and Instagram (@WorldFoodChampionships). Click here to book your room for #WFC2019.
About the World Food Championships
The World Food Championships (WFC) is the highest stakes food competition in the world. This multi-day, live-event culinary competition showcases some of the world's best cooking masters competing for food, fame and fortune in ten categories: Bacon, Barbecue, Burger, Chef, Chili, Dessert, Recipe, Sandwich, Seafood and Steak. In 2018, over 1,500 contestants on nearly 500 official teams from 42 American states and 12 countries competed. More than 20 million people have attended WFC or have seen it on national TV over the past seven years. This year's Main Event will be held in Dallas, Texas at Reunion Tower Lawn, Oct. 16-20.
« Back to News