High School Teams Prepping For Ultimate Food Fight
Share:
Posted Sep 17, 2019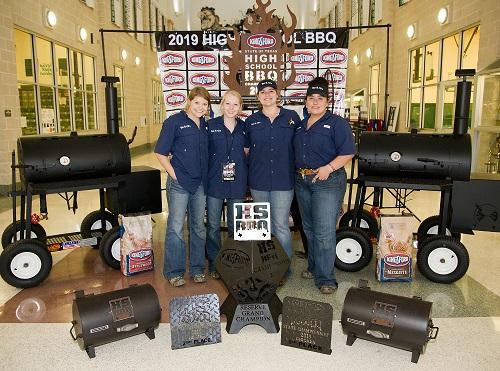 Not only are the stakes high for over 500 professional teams this October in Dallas, but the World Food Championships (WFC) just made it possible for ten aspiring high school barbeque teams to leave their mark on Food Sport like never before.
"Cooking is a universal language and one that we believe the entire family can benefit from in many ways," commented Mike McCloud, President and CEO of the WFC. "For our 8th Anniversary and debut in Dallas, we felt like it would be a perfect time and place to invite young cooks into our event and provide them a great incentive to show off their culinary chops."
That incentive will be as much as a $1,000 grand prize for the top-performing team that cooks the best dishes in five categories (listed below) on Sunday, Oct. 20th. They'll be competing in a format that allows them to be judged in each category while compiling a grand score that will be rewarded after the fires are extinguished.
Teams competing in this inaugural High School BBQ Challenge at WFC include:
Iron Dawgs from Burnet High School

Bar-B-Cuties from James Madison High School

Outlaw Cookers from James Madison High School

Hudson FFA from Hudson High School

Burnet FFA from Hudson High School

Quest for Que from Quest High School

Smoken Mevans Glenn High Schools

Eagles Smoke from Goldwaithe High School

Smokin Raiders from Cedar Ridge High School

Three Gringos and A Cajun from Rankin High School
The high school teams will be cooking dishes in the following categories: Dessert, Beans, Chicken, Ribs and Brisket. Products and ingredients have graciously been supplied by WFC's Food Sport sponsors Walmart, Compart Duroc, Texas Beef Council, Challenge Butter and Cowboy Charcoal.The winning teams that impress the judges will take home Walmart gift cards.
The following prizes will be awarded:
1st Place: $1,000

2nd Place: $500

3rd Place: $250

1st Place Chicken: $250

1st Place Ribs: $250

1st Place Brisket: $250

1st Place Beans: $250

1st Place Dessert: $250
Don't miss your chance to cheer on these teen cooks, click here to grab your tickets to WFC.
WFC's 8th Annual Main Event is scheduled for October 16 – 20, 2019, at Reunion Tower Lawn in Dallas, Texas. To keep up with all WFC news, follow the event on Twitter (@WorldFoodChamp), Facebook and Instagram (@WorldFoodChampionships). Click here to book your room for #WFC2019.
About the World Food Championships
The World Food Championships (WFC) is the highest stakes food competition in the world. This multi-day, live-event culinary competition showcases some of the world's best cooking masters competing for food, fame and fortune in ten categories: Bacon, Barbecue, Burger, Chef, Chili, Dessert, Recipe, Sandwich, Seafood and Steak. In 2018, over 1,500 contestants on nearly 500 official teams from 42 American states and 12 countries competed. More than 20 million people have attended WFC or have seen it on national TV over the past seven years. This year's Main Event will be held in Dallas, Texas at Reunion Tower Lawn, Oct. 16-20.
###
« Back to News