7 Ways To Enjoy The 8th Annual World Food Championships
Share:
Posted May 1, 2019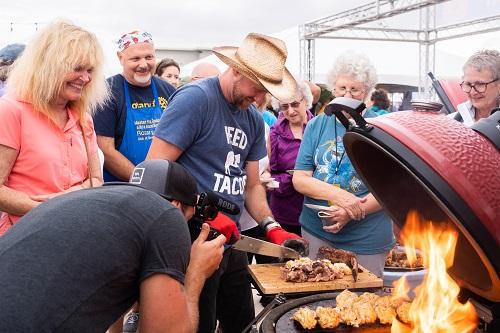 Tickets for the 8th Annual World Food Championships (WFC) went on sale today, setting the scene for Food Sport's debut in Dallas this October. But for the newcomers to this event, what's all the buzz about? Well, here's a snapshot of the best bets — seven, in fact — on how to enjoy the world's largest culinary competition, which will bring more than 1,500 chefs to downtown Dallas this fall…

7. Spotlighting Women in Food Sport
Event: Granny Grilling (GG) & Fire Woman Challenge (FW)
Date: GG - Sunday, Oct. 20 from 11AM-1PM | FW - Saturday, Oct. 19 from 3PM-5PM
Price: Free with General Admission (GA) Ticket on the day of event | Click here for GA tickets
WFC loves to spotlight women in Food Sport with events like "Fire Woman" and "Granny Grilling" (as seen on Delish). These events will be accessible with the purchase of a General Admission ticket on the day of the event. See nationally-acclaimed cooking champs go head to head in these tasty challenges!
6. Judge the World's BEST Culinary Dishes
Event: Licensed To E.A.T.™: WFC –– a food judging class
Date: Tuesday, Oct. 15, 2019
Price: $75 | Click here for tickets
Want to get in on the Food Sport judging action? Here is your chance! The "Licensed To E.A.T.™" course will get you Gold Card certified and ready to judge the world's largest Food Sport event! This kitchen classroom experience is hosted by a certified Food Sport professional who takes you through our proprietary E.A.T.™ Methodology to prepare you for your first judging experience. All ticket holders will be guaranteed a judging spot to partake in the 8th Annual World Food Championships!
5. Innovative and Insightful Culinary Demos
Event: Showcase Demos
Date: Thursday - Sunday
Price: Free with General Admission (GA) Ticket on the day of event | Click here for GA tickets
Watch the MAXimus truck (as seen on Gordon Ramsay's 24 Hours To Hell And Back) unfold into a state-of-the-art, self-leveling, full-service kitchen to become WFC's Main Demo Stage. See innovative brands and products take the helm to show off the latest and greatest in the culinary field and what tools you need in your kitchen!
4. Calling All Carnivores
Event: BBQ Ranch
Date: Oct. 18-20, 2019
Price: Free with General Admission (GA) Ticket on the day of event | Click here for GA tickets
Lasso your way over to the BBQ Ranch where WFC 'meats' Dallas and some of our favorite barbecue brands and pitmasters will be smoking thousands of pounds of meat for attendees to savor. These pitmasters will show off their favorite products and even give out tips and tricks for smoking meat like a pro.
3. Level Up To VIP Status
Event: VIP Lounge
Date: Daily & Weekend Passes Available (Oct. 18-20)
Price: $95-195 | Click here for daily passes | Click here for weekend passes
Watch the Ultimate Food Fight from the best seat in the house as you enjoy samples from the competition's entries, sip complimentary beverages and watch celebrity chef demos all in the comfy VIP Lounge. VIP passes will guarantee you the hottest seats in town!
2. Ten Champion Pitmasters + Five Bourbon Flavors!
Event: Bourb-N-Que
Date: Friday, Oct. 18, 2019 FROM 7PM - 10PM
Price: $45 | Click here for tickets
Is Texas-style barbecue TRULY the best in the nation? Find out at WFC's Bourb-N-Que event which will feature America's five great styles of barbecue (Carolina, Kansas City, Memphis, St. Louis, Texas). Ticket holders will vote for their favorite style while enjoying bourbon samples and live music through the streets around Reunion Lawn in downtown Dallas. Yep, that's right! It's going to be one Texas-sized block party! Must be 21+ to attend.
1. Half A Million Bites!
Event: The Grand Tasting
Date: Thursday, Oct. 17, 2019 from 7PM - 10PM
Price: $95-150 | Click here for tickets
The Grand Tasting event will provide its foodie attendees with a progressive sampling experience that is sure to leave your stomachs fully satisfied. A group of previous World Food Champions will prepare their winning dishes –– which have combined earnings of $500,000!! This mix and mingle event will have plenty of fantastic food and fun! Proceeds go to the Dallas 24-Hour Club, which helps provide a safe, sober transitional living for homeless men and women seeking a new life away from alcohol and drugs. Must be 21+ to attend.
For a full list of foodie events, click here.
WFC's 8th Annual Main Event is scheduled for October 16 – 20, 2019, at Reunion Tower Lawn in Dallas, Texas. To keep up with all WFC news, follow World Food Championships on Twitter (@WorldFoodChamp), and Facebook or Instagram (@WorldFoodChampionships). Click here to book your room for #WFC2019.
About the World Food Championships
The World Food Championships (WFC) is the highest stakes food competition in the world, having awarded more than $2 million to Food Champs in the past seven years. This multi-day, live-event culinary competition showcases some of the world's best cooking masters competing for food, fame and fortune in ten categories: Bacon, Barbecue, Burger, Chef, Chili, Dessert, Recipe, Sandwich, Seafood and Steak. In 2018, over 1,500 contestants on nearly 500 official teams from 42 American states and 12 countries competed. More than 20 million people have attended WFC or have seen it on national TV over the past seven years. This year's Main Event will be held in Dallas, Texas at Reunion Tower Lawn, Oct. 16-20, 2019.
« Back to News