WFC Updates Food Champ Rankings
Share:
Posted Feb 7, 2019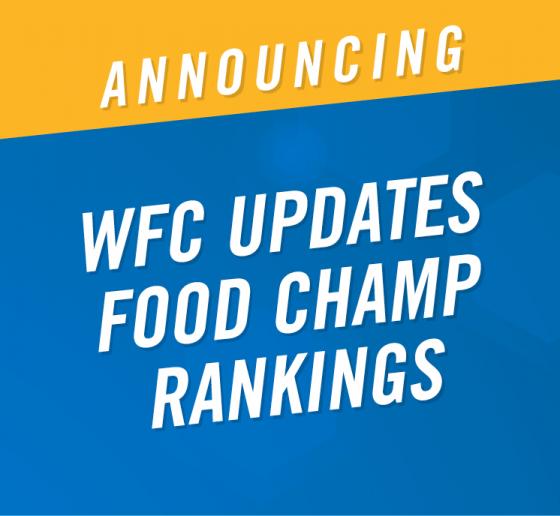 Have you ever wondered how you rank against Food Sport competitors? Here's your chance to find out!
The World Food Championships' (WFC) Food Champ Rankings leaderboard gives a snapshot of how the field of talented cooks stack up going into its main event this October in Dallas, Texas.
The rankings give Food Champs an opportunity to create credibility and an understanding of where they stand in regards to their fellow competitors leading up to the main event. The best part? It's a completely free service that competitors can partake in once they've registered for the 2019 event.
To appear on the rankings leaderboard, a Food Champ must be registered to compete for WFC. Once a competitor has input the appropriate information into their competitor ranking profile, WFC's system analyzes the results to create an overall Food Champ Rankings score.
Steps on how to begin your Food Champ Rankings profile: :
New WFC Competitor: If you have already won a Golden Ticket to compete at WFC 2019, your first step is to register for its main event by clicking here. After completing your registration and champ profile, please fill out your Food Champ Ranking Profile. (See photo for reference).
Already have an account? If you already have a competitor profile, you must first be registered for the 2019 event.* Once you've completed your registration, update your Food Champ Ranking Profile with your latest accomplishments. If you have already completed your registration for 2019, then you'll need to simply log into your competitor profile and update the Food Champ Ranking Section only. (See photo for reference). Start by logging into your account here.
*Please note: If you already have a competitor profile but are not registered to compete in 2019, you will not appear on the leaderboard. Be prepared to answer questions about your 1st-10th place rankings in all former competitions. In order for these to be accurate, you must answer honestly and thoroughly!
Once your Food Champ Ranking Profile is complete, the WFC staff will then review your answers and either approve or ask for clarification on your submission. After approval, the ranking will go live on the "Food Champ Rankings" page. The rankings will be updated every Wednesday by noon EST. Therefore, when submitting your profile, expect a small delay. Your scores will be posted by the next Wednesday!
In the meantime, mark your calendar for WFC 2019 in Dallas, Texas, October 16-20. To stay up to date on all WFC developments, visit
www.worldfoodchampionships.com
or
follow World Food Championships on Twitter
(@WorldFoodChamp), and
Facebook
or I
nstagram
(@WorldFoodChampionships).
« Back to News