Texas Chefs Earn Their Way To Ultimate Food Fight Through Port Aransas
Share:
Posted Oct 9, 2018

They say everything is bigger in Texas, and Food Sport is no exception. The Lonestar state recently tested and qualified its 2018 all-star chef team at the Texas Super Chef Throwdown Series in Port Aransas. The 15-member "Team Texas" will now travel to Orange Beach, Alabama to compete at the largest Food Sport event in the world, the World Food Championships (WFC).
Port Aransas (Port A), which became the first state partner of WFC this past year, held a series of nine "chef fights" and one grand tasting event to determine who would represent Texas as this year's seventh annual WFC. Representing nine cities, Team Texas will now take the largest "team" of cooks and chefs into WFC in an attempt to grab a large slice of the $350,000 prize purse.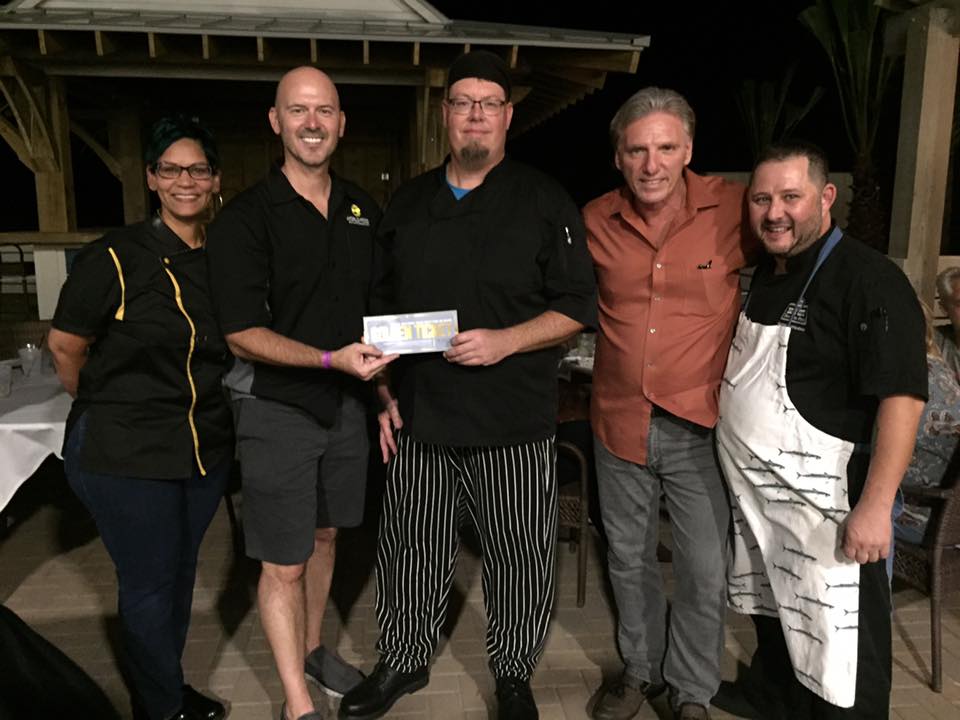 "The Texas Super Chef Throwdown was fantastic. The competitions, the passion, the creativity we saw, it all really illustrated the many facets of what Food Sport is all about," said Mike McCloud, President, and CEO of WFC. "In our seven-year history, Texas has always been one of the top three represented states at our competition. There is no doubt that Texas has a lot of fantastic Food Champs, and it was quite a treat to see them battle their way onto Team Texas in this inaugural throwdown series. I know the passion and skill each competitor displayed during the series will serve them well when they step into WFC's Kitchen Arena."
Here are the Golden Ticket winners and official members of Team Texas:
Julie Adauto from El Paso, Texas

Emily Hernandez from Port Aransas, Texas

Carlos Salazar from New Braunfels, Texas

Christopher Beasley from Port Aransas, Texas

Vanguelis Pablopulos from San Antonio, Texas

Mathew Axtell from Port Aransas, Texas

Spencer Cox from Port Aransas, Texas

James Clark from Austin, Texas

Aundre Blasingame from Dallas, Texas

Teresa Cardin from Stephenville, Texas

Gail Huesmann from Port Aransas, Texas

Rob Richards from Dallas, Texas

Beverly Calhoun from Wimberley, Texas

Carlo Casanova from San Antonio, Texas

Rob Flores from Corpus Christi, Texas
In the event any of the members of Team Texas is unable to compete at WFC, Port Aransas also determined two official alternatives that will have the chance to step in and cook.
Team Texas Alternates:
1st Alternate - Chris Collins
2nd Alternate - James Bigon
The members of Team Texas will be competing in various categories throughout the five-day tournament including Bacon, Barbecue, Burger, Chef, Chicken, Chili, Dessert, Sandwich, Seafood and Steak. If any of the Texas Food Champs advance to the Top Ten round, they will not only have the chance to take home their respective category's title but also earn a spot to compete at the Final Table for a chance at the World Food Champion crown.
"We are so excited with the success of our inaugural WFC qualifying event," expressed Jeffrey Hentz, President, and CEO of Port Aransas / Mustang Island Chamber of Commerce & Tourism Bureau. "We can't wait to see our field of talented chefs represent the State of Texas on the world's largest Food Sport stage."
The World Food Championship main event is scheduled for Nov 7 – 11, 2018, at The Wharf in Orange Beach, Alabama. To keep up with all WFC news, follow World Food Championships on Twitter (@WorldFoodChamp), and Facebook or Instagram (@WorldFoodChampionships).
For ticket information for WFC, click here.
« Back to News