WFC Invites Cooks and Chefs to Join Food Champ University
Share:
Posted Jun 15, 2018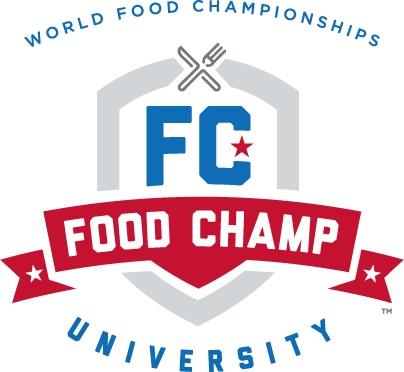 Calling all Food Champs! The World Food Championships is offering a special opportunity for a select field of cooks to get an inside look into all things Food Sport! The world's Ultimate Food Fight will be hosting its first-ever Food Champ University (FCU) in Cookeville, Tennessee on July 19-21. If you are looking to discover ways to build your brand and learn more about Food Sport opportunities, then this is the place for you.
The two and a half day workshop will feature seminars and live demonstrations from industry experts, including Mike McCloud, the CEO, and founder of WFC, long-standing Food Champs, and Walmart's Safety Team. Topics will range from how to build your own brand to integration into WFC's biggest retail program yet, as well as other social media and digital content opportunities.
"We created WFC as a way to identify and elevate deserving chefs and cooks from all walks of life," said McCloud. "As we continue to invest in the overall platform of WFC to provide more opportunities than ever before, we are also making it a priority to provide Food Champs the necessary tools and insights they will need to plug into and perform successfully in the many revenue streams we are bringing to the table."
At the inaugural FCU, cooks will learn how to position themselves for bigger and better opportunities in the food industry. From learning how to build their individual brand and social media training to pitching yourself to the media and becoming an official food ambassador. This is your chance to take your food aspirations to the next level and turn your love for cooking into a paycheck!
"Attendees will get to see first-hand the possibilities this platform provides and hear from respected leaders and champs that have built long-lasting careers in Food Sport," said McCloud. "If food is your passion and you want to make a living doing what you love, then you need to be there."
Click here learn more about joining the elite field of cooks at Food Champ University. To stay in the loop on the latest WFC news, follow World Food Championships on Twitter (@WorldFoodChamp), and Facebook and Instagram (@WorldFoodChampionships).
« Back to News