Cowboy Charcoal and Western Premium BBQ Products Bringing Back the Heat
Share:
Posted Jun 5, 2018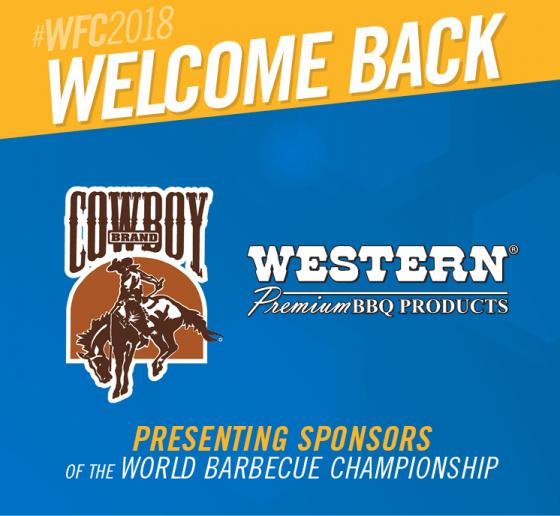 The World Food Championships announced today that Cowboy Charcoal and Western Premium BBQ Products will return for its 7th Anniversary in Orange Beach, Alabama with big plans to heat up the 2018 competition.
Cowboy Charcoal and Western Premium BBQ Products, part of the Duraflame Inc. family of brands, will be the co-presenting sponsors of the WFC Barbecue Championship, which will once again feature a dual challenge in 2018. This year, teams will have a chance to win their way into the Top 10 Finals through an EAT-sanctioned contest or an IBCA-sanctioned competition. Click here to read full details about the structure of the 2018 Barbecue category.
"Cowboy Charcoal and Western Premium BBQ Products have consistently demonstrated how great partners can really help elevate an event," commented Mike McCloud, CEO, and President of the World Food Championships. "Every year Cowboy Charcoal and Western Premium BBQ Products provide our competitors with exciting opportunities to showcase their talents, along with supplying them with quality products to help them create the best Food Sport entries in the industry."
Before the main barbecue battle begins, WFC will hold three ancillary contests on Thursday, Nov 8. These will be free, voluntary contests for all registered BBQ teams, offering a cash payout from additional sponsors. More ancillary details will be released in competitor packets later this summer, including the rule on possibly allowing Kitchen Arena teams to compete in the ancillaries.
Additionally, Cowboy Charcoal is presenting the 3rd Annual Fire & Ice Women's Championship Barbeque Series, the finals of which will be held during WFC. This competition gives the top 10 female pitmasters in America a shot at $30,000 in cash and jewelry prizes. Cowboy Charcoal is also turning up the heat with a few new twists and turns this year, including a chance to earn up to $15,000 as a donation to a pitmaster's favorite charity! To learn more about this Lady Pitmaster program, including the new Hot Pass qualifying process this year, visit www.cowboyfireandice.com.
"We are extremely honored to host the Fire & Ice finals," commented McCloud. "The fact that Cowboy Charcoal continues to shine a spotlight on the Lady Pitmasters of BBQ is something we believe the entire industry should be thrilled with and supporting."
Stay tuned for more partner announcements about WFC 2018. To keep up with all WFC news, follow World Food Championships on Twitter (@WorldFoodChamp), and Facebook or Instagram (@WorldFoodChampionships).
« Back to News