WFC Prepares for its Second Annual BBQ Duel
Share:
Posted May 23, 2018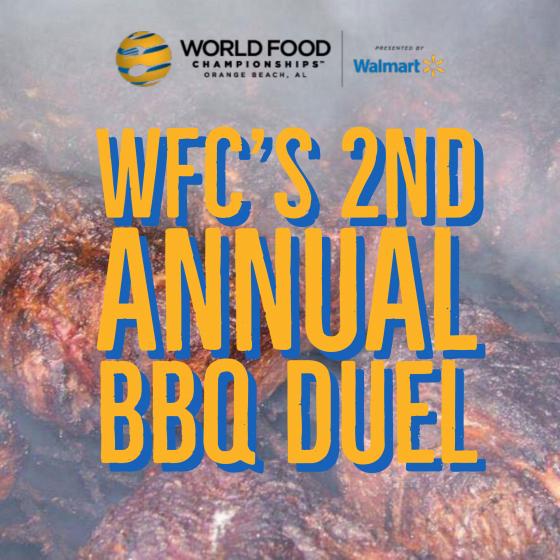 ORANGE BEACH, Ala. — WFC announced today how its World Barbecue Championship is going to work at the 2018 main event in Orange Beach, Alabama.

For the second time in its seven-year history, WFC will be holding two official, sanctioned contests during the weekend, in addition to numerous ancillary challenges and a Top Ten finals round.

In what will be considered a barbecue "warm-up" day, WFC will hold three ancillary contests on Thursday, Nov 8. These will be free, voluntary contests to all registered BBQ teams, offering a cash payout as well as prizes from featured sponsors, including Cowboy Charcoal and Western Wood Premium BBQ Products, the presenting sponsors of the BBQ category.

But the real heat will begin on Friday, Nov 9th, when WFC will conduct its first-ever, full field EAT-sanctioned contest for barbecue. This contest, which has an entry fee of $300, will focus on three proteins that are popular on the pro pitmaster circuit: Pulled Pork, Pork Ribs, and Brisket. However, the turn-in process will be extremely different, as the EAT process uses a silver platter and any type of garnish (or no garnish) that the team desires.
"We saw last year how beautiful barbecue entries can be with this process when we conducted Smithfield's Smokin' Hot Challenge" commented Mike McCloud, President of WFC. "So we're excited to see how creative teams will get once they have the freedom to 'think outside the box' with their incredible barbecue entries."
A prize purse of $7,500 in cash will be used to reward the Grand Champion and Reserve Grand, in addition to the top five performing teams in each of the EAT categories. As an added bonus, the Top 5 overall performing teams will advance to WFC's Top 10 Final Challenge on Sunday, Nov 11th.

On Saturday, WFC will switch gears and conduct an IBCA-sanctioned event. Similar to Friday, this contest will also have a $300 entry fee and will feature pro teams competing in the same three categories: Pork Butt, Pork Ribs, and Brisket. Another $7,500 in cash will be divided among the winners of the three categories, as well as the Grand Champion and Reserve Grand. And then, to match up against the five EAT winners, the Top 5 performing teams from the IBCA contest will advance to WFC's Top 10 Challenge on Sunday, Nov 11th.

That's right. For the second time, WFC is creating a BBQ gauntlet challenge like no other. All participating teams will have a chance to earn money four days in a row as they enter ancillaries, sanctioning rounds and possibly the Top 10 finals. A total of more than $30,000 in cash will be rewarded through the process, in addition to extra bonuses from sponsors who will be providing valuable prizes along the way. And ultimately, the last pitmaster standing will have a shot at $100,000 at WFC's Final Table.
"Our barbecue division is one of the most innovative, creative and rewarding categories in the world of Food Sport," commented McCloud. "I can't wait to see the beautiful barbecue on display in our EAT contest, and then see what our IBCA competitors can do to top last year's epic performance by Fred Robles! Thanks to presenting Barbecue sponsors — Cowboy Charcoal and Western Wood Premium BBQ Products — this is going to be one epic week of que!"

Teams will be able to compete in both of the sanctioned contests, regardless of their sanctioning affiliation or performance after day one. But if a team ends up in the top 5 of both sanctioned contests, it will only be able to represent one position during the WFC Top 10 Finals. In that case, the 10th spot would fall down to the sixth-place finisher in the IBCA contest.

As an added feature to the Barbecue category this year, WFC is partnering with numerous barbecue pit manufacturers to create a BBQ Beach area where teams can congregate and share tips, techniques and enjoy complimentary refreshments. This area will be situated in the BBQ zone and open to the public as well.
More information on the ancillary challenges — and the full EAT methodology rules for Barbecue — will be released in the official competitor packet. But in the meantime, barbecue teams should check their 2018 eligibility status and enter as soon as possible. As a reminder, any barbecue team who finished in the Top 10 last year is eligible to enter, as well as any team that has won a Grand Championship or Grand Reserve from October 1, 2017 to August 31, 2018, under the following sanctioning bodies: MBN (Memphis Barbecue Network), KCBS (Kansas City Barbeque Society, Master's series), Barbecue Competitors Alliance (BCA), Pacific Northwest BBQ Association, St. Louis BBQ Association, FBA (Florida BBQ Association), IBCA (International Barbeque Cookers Association), SBN (Southern BBQ Network), and SCBA (South Carolina Barbeque Association). As noted earlier in the year, additional sanctioning bodies may also petition WFC for consideration to be included.
For all WFC updates, follow World Food Championships on Twitter (@WorldFoodChamp), and Facebook and Instagram (@WorldFoodChampionships).
« Back to News