Pitmaster "Big Moe" Cason Joins WFC's Final Table
Share:
Posted Jan 17, 2018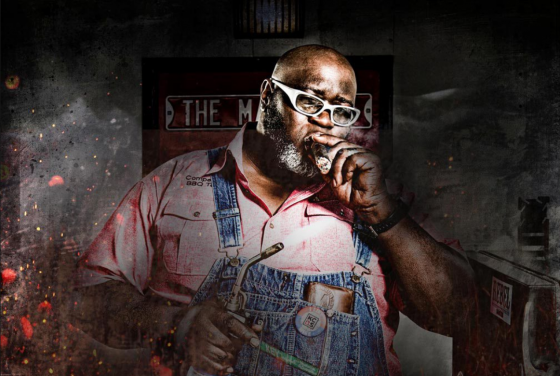 Pitmaster "Big Moe" Cason has competed in over 300 barbecue competitions, appeared on the popular tv series "BBQ Pitmasters" and performed cooking demos on daytime talk shows for Steve Harvey and Harry Connick Jr.
So what's next for this Iowa barbecue pro? Joining an all-star panel of judges at The Final Table for The World Food Championships.
Big Moe is the second judge announced by WFC for its ultimate culinary test, which will be presented by Walmart on April 22. The event will be held at Brightwater, a world-class culinary center in Bentonville, Ark., for the study of food. Cason, Chef Katie Dixon and three more judges (not yet announced) will be using the E.A.T. methodology to determine which of the ten WFC category champions will take home WFC's $100,000 prize purse.
Cason is looking forward to seeing what unique dishes each category champ whips up for the final round of competition. In his opinion, he says it's truly anyone's game.
"I really like WFC's competition concept. What's cool about (WFC) is that you don't have a barbecue guy going up against another barbecue guy. It comes down to 'if it's good, it's good.' You might be great in steak or seafood and then get your butt kicked by a Peanut Butter and Jelly sandwich! It's truly amazing."
Although Cason claims to "live and breathe" barbecue, the newly appointed judge has a love for a wide variety of flavors.
"It doesn't matter what you are judging as long as it speaks to you. Texture, flavor, the appearance — all these things are factors in how you score," explained Cason. "It somewhat comes down to individual taste, but the good thing about me is that growing up with my grandma, I was introduced to a lot of different things. I have a great appreciation for all different types of flavors."
The self-taught pitmaster has been competing since 2006 and has won multiple awards including Grand and Reserve Grand championships. As an experienced competitor, he offered up some advice to the ten WFC category champs:
"Plan your work and work your plan. I can't stress that enough," Cason said. "Make sure you have everything you need to execute your dish the way you envision. Nine times out of ten you might need to add additional seasonings or flavoring during the last minute — and if you don't give yourself time to be able to do that, then you've completely messed that opportunity up."
Stay tuned to see who else will be joining the 2018 Final Table Judging Panel. Also, don't forget to tune in to WFC's Facebook on April 22 from 3:00 p.m. - 6:00 p.m. CST to watch all of food fighting LIVE, thanks to our streaming partners Kitchen Ambush!
« Back to News