Wild Card Qualifier Takes Home the Seafood Crown
Share:
Posted Dec 7, 2017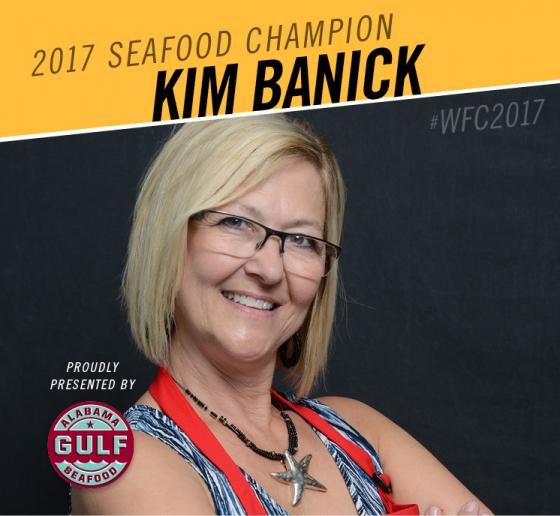 Kim Banick set out this year to represent the female home cooks on the world's largest Food Sport stage. Many people question her choice of competing in a category mostly comprised of men and professional chefs, and that wasn't missed by this multi-year competitor.
"People kept asking me 'are you sure you want to do seafood?' I just couldn't get over my love for seafood," recalled Banick. In her fourth time competing at WFC, she proved the skeptics wrong by taking home the title of World Seafood Champion.
Banick was a part of the first-ever Elite Wild Card division at the World Food Championships. For the first time in its six-year history, WFC gave its competitors an opportunity to purchase a $1,000 Elite Golden Ticket that would allow the ticket holder to skip the qualifying process. Rules were simple. The Elite tickets were made available to the first 25 competitors who purchased. This wildcard entry allowed Banick to bypass the qualifying process, be able to select her preferred category (seafood) of competition, represent any brand or corporation, and automatically advance to compete for the Main Event in Orange Beach, Alabama. Banick was hesitant at first to purchase the qualifying ticket, but with her other commitments throughout the year piling up the wildcard entry proved to be the perfect solution.
"The past three years I've won a golden ticket to qualify for WFC. I decided to do the Wild Card Elite Division this year because it allowed me to focus on other community projects I had already committed to," says Banick. "I knew I wanted to be in the Seafood category and being able to be certain that was the category I would get to compete in made it a very easy decision to purchase the ticket."
It turned out to be a very good decision — a $10,000 prize-winning decision, in fact. Additionally, the Salem, Ore., home cook took home "bonus" money from the Wild Card division, the first time that this prize purse has been available at WFC.
In the final round, Banick's "Alabama Crawfish Thai Bowl with Coconut Gulf Shrimp", infused with the required ingredient, Blue Chair Key Lime Pie Rum, secured her the top spot in Seafood category, which was sponsored by Alabama Gulf Seafood and The Oyster Bed.
But now the stakes get even bigger.
Banick will be going up against her friend and fellow Saucy Mama teammate, Rebecka Evans and the eight other category champs in April at the Final Table event. That's when a grand prize purse of $100,000 will be up for grabs!
"Each individual wants to walk away with the championship," said Banick. "Regardless of who wins, I don't think anything will change between me and Rebecka. We are going to have fun with it and support each other throughout the entire process."
Banick, however, isn't wasting her time dreaming about what she would do with the $100,000 grand prize. Instead, she has been in deep preparation for her final dish. "The night after I won. I woke up at midnight and I started typing up my recipe for Final Table," tells Banick. "I just want to be able to do my very best."
This home cook definitely means business, noting that her Thanksgiving dinner did not feature traditional a turkey, but instead, her family judged a practice run dish for Final Table!
Stay tuned to hear more WFC category champs stories and find out who serves up the best dish at Final Table to take home the overall grand prize. To review all the 2017 World Food Championship scores and results, visit https://worldfoodchampionships.com/scores or like the event's Facebook page.
« Back to News