Home Cook's Perfect Bite Pays Off Big at WFC
Share:
Posted Dec 5, 2017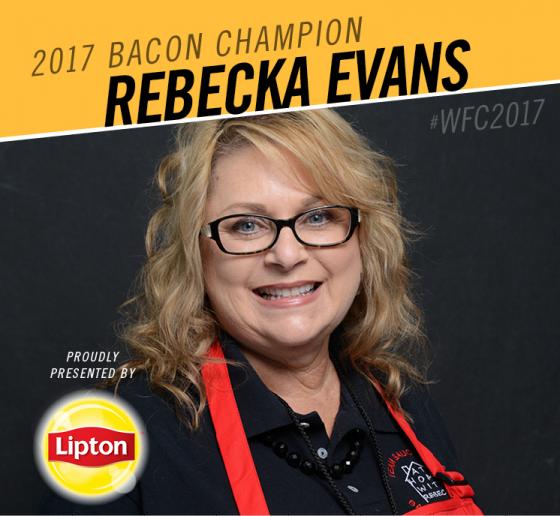 Rebecka Evans from Houston, Texas, knows how to bring home the bacon, $10,000 worth that is! The stay-at-home mom and self-taught home cook was named the 2017 World Bacon Champion title and awarded a $10,000 prize package for her Dutch Crunch Baby Pancakes at the World Food Championships, which was held Nov 8-12 at The Wharf in Orange Beach, Ala.
Now in its 6th year, the WFC is the largest cooking competition in the world of Food Sport, fielding almost 450 teams and crowning winners in a tournament-style process. The 10 official categories include BBQ, Bacon, Burger, Chef, Chili, Dessert, Recipe, Sandwich, Seafood and Steak. Competitors come from all types of culinary backgrounds — from home cooks to pro chefs — proving that WFC's E.A.T. methodology is providing a level playing field for Food Sport enthusiasts.
Evans won a golden ticket to qualify for this year's championships through Saucy Mama's 2017 Recipe Contest. The contest also secured her a position on Team Saucy Mama along-side WFC's 2017 World Seafood Champ, Kim Banick. "It was the funniest thing because besides being teammates, we were also roommates at the event. It was just like a party in our condo, jumping on the bed with our big checks," said Evans.
The win for the newest member of team Saucy Mama wasn't pure luck. Evans came in with a strategic plan on how she was going to approach the build of her dish. "Going into this year I used the opportunity I had at the 2016 World Food Championships to be trained as an E.A.T. certified judge as I planned my dish for this year's competition," explained Evans. "Keeping my new perspective of E.A.T. methodology in mind, my concept was to make the best thing someone has ever put in their mouth."
Finishing in the 8th place in the opening round, Evans managed to jump seven spots in the final "Infusion" round to ultimately win the category championship. Setting out to create the perfect bite, Evans used the infused Lipton Mango Iced Tea throughout the entire pancake, while pairing it with Saucy Mama's All Natural Champagne Honey Mustard and, of course, adding lots of bacon and bacon dust. The finishing touch that she believes really "put it over the top" was the dutch crunch.
"As I was going into the final round I knew I really had to kick it up a notch. I really wanted to give the dish a winning chance," recalls Evans. "I strategized about what I could do differently to take it right over the edge."
With a score of 92.1334, one whole point separating her from second place, Evans took the title, prize money, and earned a trip to the Final Table that is set to take place in April 2018. In the final food battle, she will go up against the nine other category champs, one of which will walk away with the grand prize package of $100,000 and be crowned the 2018 World Food Champion.
Unlike most competitors in the Top Ten, though, Evans will now have to battle her own teammate. "After we were done celebrating we both got really quiet when we realized that we would have to compete against one another," reveals Evans. Nevertheless, the two teammates have made a promise to continue supporting one another and lending a helping hand throughout the competition when the other one needs it. Once at the championship finals, though, they will not be allowed to help each other at all. Each cook will have to stand alone in the process to make sure all cooks have a fair and equal chance.
All friendships aside, make no mistake. Evans has her eye on the prize with concepts for recipes at the Final Table already flowing. "To win the Final Table would be beyond a dream come true. That would validate me as a home cook and open major doors for me," said Evans. "However, right now, my biggest concern is creating a $100,000 bacon recipe."
Read more WFC stories by visiting our News page and stay tuned to find out who will serve up the best dish at Final Table to take home the overall grand prize. To review all the 2017 World Food Championship scores and results, visit https://worldfoodchampionships.com/scores or like the event's Facebook page.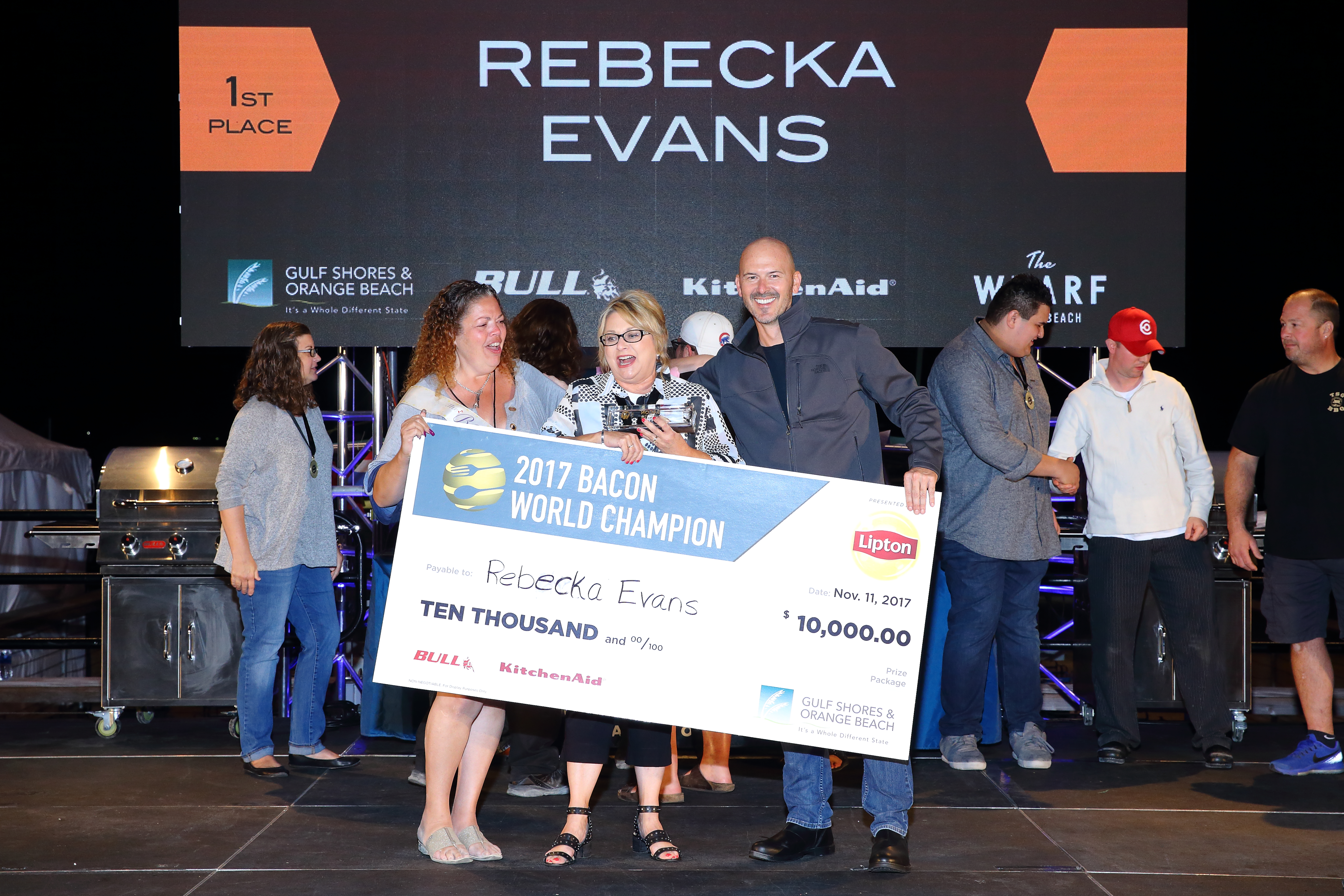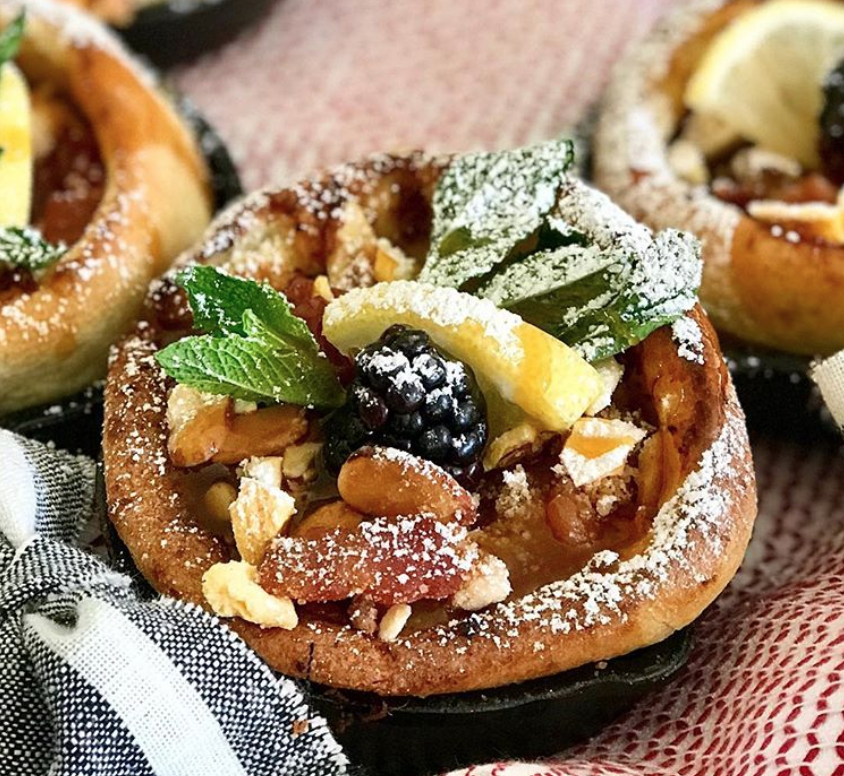 « Back to News