World Food Championships Address Allergies in the Food Industry
Share:
Posted Oct 3, 2017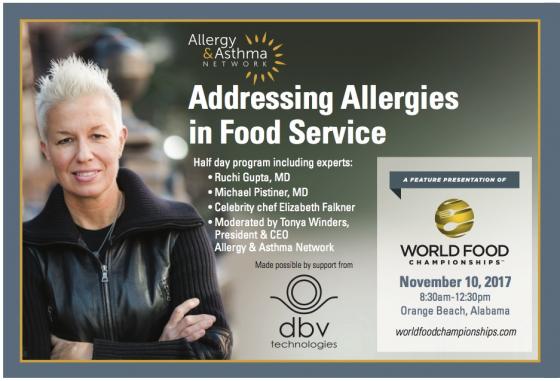 ORANGE BEACH, Ala. — According to F.A.R.E (Food Allergy Research & Education), 15 million Americans have food allergies, including 5.9 million children under age 18. Since more than 170 foods have been reported to cause allergic reactions, The Allergy & Asthma Network and World Food Championships have teamed up to take a closer look at this very topic and the rise of allergies in the food service industry.
The Food Allergy Symposium will take place during the World Food Championships in Orange Beach, Ala., on Nov. 10 from 8:30 a.m - 12:30 p.m. The symposium will feature a panel of leading allergy experts: Ruchi Gupta, MD Michael Pistiner, and MD Celebrity chef Elizabeth Falkner, as they discuss some of the major factors to consider when dealing with food allergies.
The half-day program will help answer the burning question of what caused this sudden surge of food allergies? The panel will also cover hot topics such as: life-threatening allergies prevalence; the psychosocial impact of dining out; the top 8 food substitutions; and helpful tips on how to avoid cross-contamination in the kitchen.
This event is a free event, but tickets are first-come, first-serve. Whether you are in food service, have a food allergy, or are just curious about the state of the industry and this topic, all are welcome. Just be sure and secure your spot today as seats are limited. To find out more and register for The Food Allergy Symposium, visit allergyasthmanetwork.org/WFC/. To learn more about the largest Food Sport tournament and the other events happening at World Food Championships, visit worldfoodchampionships.com/tickets.
###
Allergy & Asthma Network is the leading nonprofit patient education and advocacy organization for people with asthma, allergies and related conditions.
The World Food Championships (www.WorldFoodChampionships.com) features almost 500 culinary champions seeking food fame and fortune. The sixth annual event, scheduled for Nov. 8-12, 2017 at The Wharf in Orange Beach, Alabama, is comprised of 10 category championships that award chefs and cooks with hundreds of thousands of dollars in cash and prizes. The Top 10 performers in the field move on to a high-stakes Final Table event in April 2018 for the ultimate bragging rights and a $100,000 prize purse. For all WFC updates, follow World Food Championships on Twitter (@WorldFoodChamp), and Facebook and Instagram (@WorldFoodChampionships).
« Back to News