Cowboy Charcoal and Western Wood Bring the Heat to 2017 Barbecue Category
Share:
Posted Sep 21, 2017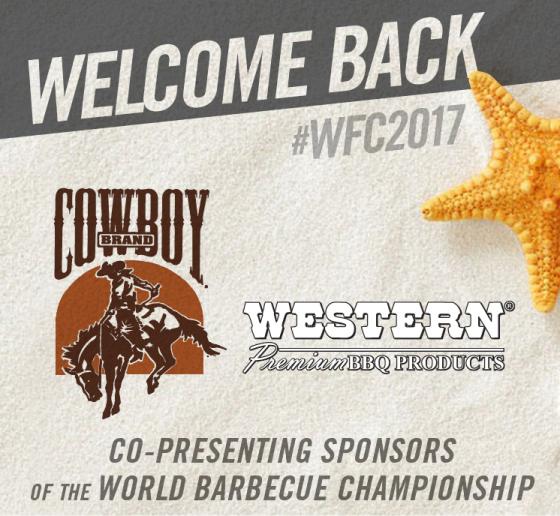 ORANGE BEACH, Ala. -- September 21, 2017-- The World Food Championships announced today that the barbecue battle for its 6th Anniversary in Orange Beach, Alabama, is already heating up with more than 100 teams registered to compete and world-class companies on board to support.
Cowboy Charcoal and Western Wood, part of the Duraflame Inc. family of products, will be the co-presenting sponsors of the 2017 Barbecue Championship, which will feature for the first time a "dual duel" of KCBS and IBCA-sanctioned contests as part of the quest for teams to reach the Top 10 round.
Additionally, Cowboy Charcoal is presenting the Fire & Ice Women's Championship Barbeque Series, the finals of which will be held during WFC in Orange Beach, Alabama the week of Nov. 8-12. This competition tracks and rewards the top 10 female pitmasters in the KCBS network with a $25,000 grand finale.
"Cowboy Charcoal and Western Wood are synonymous with pro barbecue, so it's only natural that we would be featuring their line of products with the best barbecue teams in the world," said Mike McCloud, CEO of World Food Championships. "We're also excited to partner with Cowboy Charcoal to once again host the finale of the 2nd Annual Fire & Ice Women's Series, an exciting addition to our competition lineup as we pit the best female pitmasters against one another."
The addition of new programs and sponsors like Western Wood, who is sponsoring the IBCA contest, and Cowboy Charcoal, who is sponsoring the KCBS contest, have created a record registration at WFC and stoked a fire that's going to rage throughout the entire tournament. For teams who want to participate, there are even four ancillary challenges on Thursday, Nov 9, at no charge to the teams (based on first-come, first-serve registration). Those additional challenges are the result of support from Smithfield, Bill E's Bacon, Jelly Queens and Bolner's Fiesta Products.
"This year's BBQ category is going to be the most fun and challenging week of activities that we've ever seen," commented Mike McCloud, President and CEO of WFC. "There are 4 full days of competition, from ancillaries to the Top 10 showdown. It may take a month before the smoke actually clears up in Orange Beach!"
As reported earlier this year, WFC will be featuring a unique Top 10 process in barbecue this year, with 5 KCBS teams and 5 IBCA teams going head to head to see who's barbecue will pass the ultimate test. The Top 10 Challenge, where more than $18,000 in bonus money is awarded, will feature a special infusion of Rufus Teague BBQ Sauce, while being judged with the EAT methodology that is used in all other WFC categories. While side bets and Elite Golden Tickets will certainly be up for grabs, only ONE of these teams will advance to the WFC Final Table in April of 2018, where $100,000 is up for grabs.
For barbeque lovers who don't compete, there's even a VIP "FUNdraiser" event that features a Memphis-style, whole-hog night of Southern Cuisine. The 2nd Annual Bourb'N'Que, presented by Compart Family Farms and Jim Beam Bourbon, will occur at the beautiful Heron Pointe on Friday, Nov 10th. Tickets are available at https://worldfoodchampionships.com/tickets.
To stay connected to Food Sport news and the Food Champs who excel in the annual event, follow World Food Championships on Twitter (@WorldFoodChamp), and Facebook or Instagram (@WorldFoodChampionships).
About the World Food Championships
The World Food Championships (www.WorldFoodChampionships.com) features almost 500 culinary champions seeking food fame and fortune. The sixth annual event, scheduled for Nov. 8-12, 2017 at The Wharf in Orange Beach, Alabama, is comprised of 10 category championships that award chefs and cooks with hundreds of thousands of dollars in cash and prizes. The Top 10 performers in the field move on to a high-stakes Final Table event in April 2018 for the ultimate bragging rights and a $100,000 prize purse. For all WFC updates, follow World Food Championships on Twitter (@WorldFoodChamp), and Facebook and Instagram (@WorldFoodChampionships).
« Back to News