Goya's Adobo Light Adding A Healthy Challenge to WFC's Seafood Finals
Share:
Posted Aug 31, 2016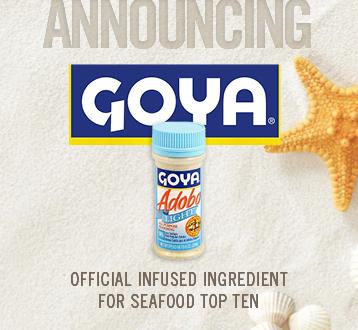 ORANGE BEACH, Ala. (August 31, 2016) – The World Food Championships unveiled another Infused Ingredient today. WFC Seafood Competitors will be using Goya'a Adobo Light Seasoning, instead of salt, when they create their Creole dishes in the Top 10 Category Finals for Seafood.
Goya's new Adobo Light is a very flavorful, low-sodium blend of Garlic, Oregano, and other ingredients that will provide a healthier substitute than salt for the Seafood Top 10 Challenge.
"We're excited to feature a brand that will help our Food Sport industry focus on more healthy dishes with less sodium," said Mike McCloud, CEO of World Food Championships. "Goya is one of the leading companies in this health initiative, and we are delighted to start infusing their products into our championship."
The CDC recently launched a Sodium Reduction Campaign to encourage healthy choices among American consumers. The average American eats about 50% more salt than recommended, and 75% of all sodium intake stems from processed food and restaurants. The Sodium Reduction Campaign seeks to bring awareness to Americans about how to reduce sodium intake in a long-term effort to reduce high blood pressure, heart disease, and strokes.
Goya recently unveiled a new line of Reduced Sodium products, one of which is Adobo Light. Goya seeks to provide healthful alternatives in the kitchen that will help Americans reduce sodium intake.
"While the World Food Championships is primarily focused on Food Sport and performance, we also want to serve as a platform to disseminate important information about the Food Industry, Nutrition, and healthier alternatives," commented McCloud. "Partnering with Goya puts us one step further in helping spread these important nutritional messages."
About Goya
Founded in 1936,
Goya Foods, Inc.
is America's largest Hispanic-owned food company and the premier source for authentic Latin cuisine. Combined with authentic ingredients, robust seasonings and convenient preparation, Goya provides consumers with over 2,200 high-quality and affordable food products from the Caribbean, Mexico, Spain, Central and South America. Goya has fostered a longstanding history not only in the food industry, but also as a cultural symbol beginning in New York more than 78 years ago. The company's commitment to excellence is the cornerstone of Goya's popular credo, "If it's Goya, it has to be good".
« Back to News