WFC Partners with Jim Beam for Boozy Burger Infusion
Share:
Posted Aug 30, 2016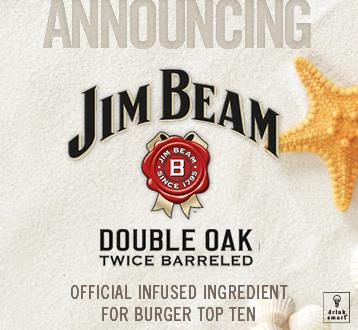 ORANGE BEACH, Ala. (August 30, 2016) – The World Food Championships is announcing another "cheers-worthy" Infused Ingredient for the 5th Anniversary this November in Orange Beach, Alabama. Thanks to a new partnership with Jim Beam, competitors will be provided Jim Beam Double Oak Bourbon as the Infused Ingredient for the Top 10 Challenge in Burger.
Marked by flavors and aromas ranging from caramel and vanilla to spiced oak and toasted wood, Jim Beam Double Oak is a unique Bourbon because it is double aged in two barrels. This particular bourbon is first aged in a charred American white oak barrel, and then matured for the second time in another freshly charred barrel.
"Bourbon and burgers at the beach? Can you think of a better combination for a world-class food gathering?!" stated Mike McCloud, CEO of World Food Championships. "We know competitors are going to love working with such a flavorful, unique bourbon as they try to take home the Burger title — almost as much as the judges who will be eagerly awaiting the entries!"
The World Burger Championships are one of the most highly-anticipated categories at this year's Ultimate Food Fight, as all 50 slots have already been claimed and registration has been closed.
"This is the most competitive and champion-laden World Burger division we've ever seen, so there's no doubt that the world-class chef or cook who wins this year will have major bragging rights," commented McCloud.
Jim Beam will also be helping the World Food Championships at the presenting sponsor of Bourb'N'Que, a Veteran's day VIP charity event. Attendees will enjoy numerous brands from the Jim Beam portfolio, as well as premium pork from Compart Duroc prepared by Food Champ and BBQ pitmaster Brad Orrison of The Shed. The event will take place at Heron Point on Friday, November 11th. Those interested can choose from General Admission or VIP ticket options. Check it out here, and don't forget to check "attending" on our Facebook event page.
About Jim Beam
Jim Beam has a full family of bourbons, each unique and expertly made by the Beam family, who has perfected the art of bourbon making over the last 200 years. For seven generations, Jim Beam has continued to provide the highest quality bourbon in each and every bottle. This year, it will make history again. Jim Beam is giving the entire Bourbon portfolio fresh, premium packaging that matches the quality of the liquid inside. Bourbon lovers, get ready for the bold new look of Beam.
« Back to News