WFC Welcomes Challenge Dairy Back As Official Butter
Share:
Posted Aug 18, 2016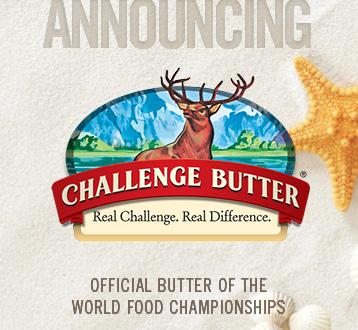 New "Bake Your Way to The Beach" Online Recipe Contest Announced
ORANGE BEACH, Ala. (August 18, 2016) – The 2016 World Food Championships is pleased to announce the return of one of Food Sport's biggest fans, Challenge Butter, as the Official Butter of the WFC at the event's 5th Anniversary in Orange Beach, Alabama. As the Presenting Sponsor of the World Dessert Championships, Challenge will also debut its Cream Cheese at the event as the infused ingredient in the Top 10 Dessert competition.
Not only will Challenge Dairy provide product for competitors during the competition, but they're also going to help Food Champs qualify for the Ultimate Food Fight. The Challenge Dairy "Bake Your Way to the Beach" Online Recipe Contest invites chefs and home cooks to submit their sweetest dessert dishes. (Read more below for contest details.)

A California-based, century-old dairy cooperative dedicated to providing quality dairy products, Challenge has been a sponsor and supporter of the World Food Championships since its inception. Challenge's Dessert Category will kick off the world's biggest food competition on Wednesday, Nov 9, with a host of food bloggers standing by as the official judges.

Challenge's Cream Cheese is the required (or "infused") ingredient for the final top 10 round of Dessert category, where the best of the best compete for $10,000, the title of World Food Dessert Champion, and a spot at the Final Table where $100,000 is up for grabs.

"We've long known Challenge products are of the highest quality and worthy of world-class recognition. Being recognized by Saveur as the best butter as well as receiving top honors in the World Butter competition, it's no wonder we've established a fan base among the culinary elite," said Tim Anderson, SVP of Retail and Foodservice at Challenge Dairy Products, Inc. "We are pleased to provide our real butter and cream cheese to these world-class recipe creators so they can experience firsthand how it heightens the flavor of any dish."

WFC Founder and CEO Mike McCloud concurs.

"As our competitors create dishes of a lifetime and compete for food fame and fortune, they certainly want access to the best products," said McCloud, CEO of World Food Championships. "We're proud to have a leading supermarket brand that cares strongly about the quality of its products representing the WFC as the Official Butter. Welcoming its Cream Cheese is a natural fit and we can't wait to see all of the amazing dishes created using Challenge products."

As a competitor and fan favorite, Challenge products will be integrated in the Ultimate Food Fight in more ways than one as they provide product demos in the Tasting Village and host the "Bake Your Way to the Beach" Online Recipe Contest starting on August 26.
About Challenge Dairy Products, Inc.
Challenge Dairy is a wholly owned subsidiary of California Dairies Inc., the second largest dairy cooperative in the United States. Available nationwide, Challenge Butter and Cream Cheese products span 19 varieties including salted and unsalted versions of regular Challenge Butter, whipped, spreadable and European style. It also offers a line of spreadable butters including Italian Herb & Garlic, Cracked Pepper & Sea Salt, a Lite Spreadable Butter, a Spreadable butter with Olive Oil, a lactose-free butter in addition to six cream cheese items. Challenge has not only been a pioneer in the quality in butter products, but is also responsible for many industry firsts including invention of the first aluminum butter churn, lab sampling of butter and shipping butter in paper rather than wooden crates. Challenge is a cooperative association responsible for the marketing and distribution of dairy products produced from 450 large family-owned dairies. Through a long standing history as a manufacturer and distributor, Challenge Dairy Products, Inc. has become proficient in providing product offerings in dairy fluids, butter, cheeses, eggs, salad dressings, desserts, ice cream, mayonnaise, oils and more. For more information about Challenge Dairy, its products and services, visit www.ChallengeDairy.com.

Challenge Dairy's "Bake Your Way to the Beach" Online Recipe Contest
Calling all chefs and home cooks! Challenge Butter's "Bake Your Way to the Beach" Online Recipe Contest kicks off at 8 a.m. CT on Friday, August 26th.
As Julie Child says, "Everything is better with butter!" and cream cheese is just the icing on the top. So, for this contest, all recipes must use a Challenge Dairy product(s), be it butter or cream cheese. To find Challenge Butter and Cream Cheese in your area, visit www.challengedairy.com/where-to-buy.
One Grand Champion will be granted a waived registration fee to the World Dessert Championship and a $500 travel stipend. Four runners-up will receive a Golden Ticket (qualification only) to the World Dessert Championship.
All recipes must be submitted through WFC's
Facebook page
by 11:59 p.m. CT on Monday, September 5th. You can find the
"Food Champ Recipe Contest"
on the left-hand side navigation under Apps on the WFC Facebook page. As a reminder, photos are required in order for an entry to quality.
« Back to News