Largest Free Bacon Festival in the U.S. to Serve Up 13 WFC Golden Tickets
Share:
Posted Jun 21, 2016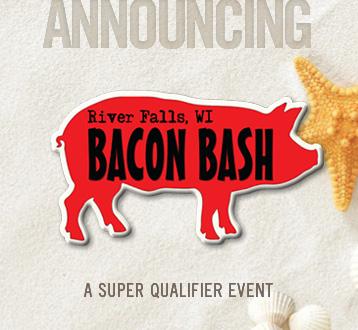 ORANGE BEACH, Ala. – (June 21, 2016) The River Falls Bacon Bash is serving up a little extra sizzle this year, as it aims to send Wisconsin's best culinary talent to the 2016 World Food Championships in Orange Beach, Alabama in November.
As a WFC Super Qualifying event, River Falls will give contestants a chance to win Golden Tickets, along with travel stipends, in five categories this year, including WFC's newest category: steak.
This is the second year that the Bacon Bash has served as a Super Qualifier, having featured Golden Ticket opportunities in the Chili, Dessert, Sandwich, and Bacon categories last year. Turns out the contestants were extremely talented, as Lori Rukstales took her sandwich victory to Florida and won the World Sandwich Championship, which came with a $10,000 payday. She went on to finish 8th overall at the event's Final Table.
"Last year, we sent eight qualifying teams to the World Food Championships, and we're expecting this year's Bacon Bash to be even bigger and better with fantastic competitors," said Judy Berg, Tourism Sales Marketing Manager for the River Falls Chamber of Commerce & Tourism Bureau. "We are thrilled to partner with World Food Championships again this year and send Wisconsin's best chefs to the 2016 competition."
The two-day Bacon festival, happening in River Falls, Wisconsin on Sept 17-18, was started three years ago to celebrate all things Bacon. This free outdoor event features a variety of bacon-inspired food booths, cook-offs with pig-themed activities for the whole family, live music, merchandise from local artists, local microbrews and more. More than 16,000 people attended last year's event.
New to the Bacon Bash this year, the bacon category has become a "people's choice" competition where attendees will cast their vote for their favorite bacon-inspired dish from participating vendors at the event. The 2016 Bacon Bash will feature restaurants and food vendors serving dishes ranging from Bacon Cheese Curds, Bacon Brownies, Pig Wings and more. Around 40 merchandise vendors will be showcasing their products including specialty sauces, arts, crafts and novelty items.
Anyone from home cooks to professional chefs can battle it out for their position to compete in the 2016 WFC at the River Falls Bacon Bash. To learn more about the Bacon Bash, competition process, judging and sponsorship opportunities, visit
www.riverfallsbaconbash.com
.
« Back to News