World Food Championships Announces Official Cooler Agreement With Orion
Share:
Posted Jun 10, 2016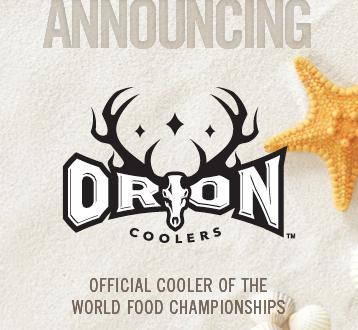 ORANGE BEACH, Ala. – (June 10, 2016) As the Ultimate Food Fight heads to Orange Beach, Alabama, WFC competitors won't have to worry about the security and condition of their perishable ingredients in the massive Kitchen Arena. WFC's new partnership agreement with Orion Coolers helps ensure everyone can stay a little cooler under pressure during the competition.
As the "Official Cooler of WFC," Orion is right there with competitors this year, equipping each of the 50 cook stations with an Orion 45 or 65 cooler to help preserve and protect ingredients, supplies and provide additional storage.
"Watching the food sport industry over the last couple of years, how fast it has grown and especially the talent and seriousness of the competitors, we see a great fit for our products," said Eric Jackson, CEO of Orion Coolers. "Ours is the most innovative cooler on the market, the most customizable with a number of features ideal for the serious home cook, chef and competitor. But as good as Orion is now, we can't wait to show everyone what's coming. Our new partnership with the WFC is already producing some incredible ideas for the serious foodie."
Competitive cooks and teams that want a distinct look for their personal brands rave about Orion Coolers' range of vibrant multi-color patterns. Every cooler is engineered with 2+ inches of insulation, reinforced corners, multiple anchor points, integrated bottle openers and mounting tracks for a host of accessories like bottle and gadget holders, GoPro mounts, knife holders and a new UtiliTop that serves as a removable, adjustable minibar and workstation. The coolers are lockable, certified bear resistant and include a high-density foam pad on the cooler lid for comfortable seating.
"Especially for this new relationship with the WFC," Jackson added, "we have pulled together a special package at OrionWFC.com that should really appeal to fans of the show."
"We chose to partner with Orion Coolers because they are focused on quality as well as ingenuity. We're excited to help them spread the news about launching a culinary accessory kit that makes their cooler an ideal complement to any backyard or foodie experience," said CEO Mike McCloud, CEO of World Food Championships. "I believe our Food Champs are going to love this product."
About the World Food Championships
The World Food Championships features hundreds of
competitors seeking food fame
and fortune (plus hundreds of thousands of dollars in cash and prizes) in Orange Beach, Alabama this November 8-15. Following a tournament-style format across nine iconic food categories, the WFC culminates with a Final Table faceoff where category champions brave potential elimination in front of a live audience and a discerning panel of culinary judges. The World Food Championships is owned and produced by Nashville-based MMA Creative.
« Back to News