WFC Announces Golden Strategy For Seafood Category
Share:
Posted Aug 8, 2022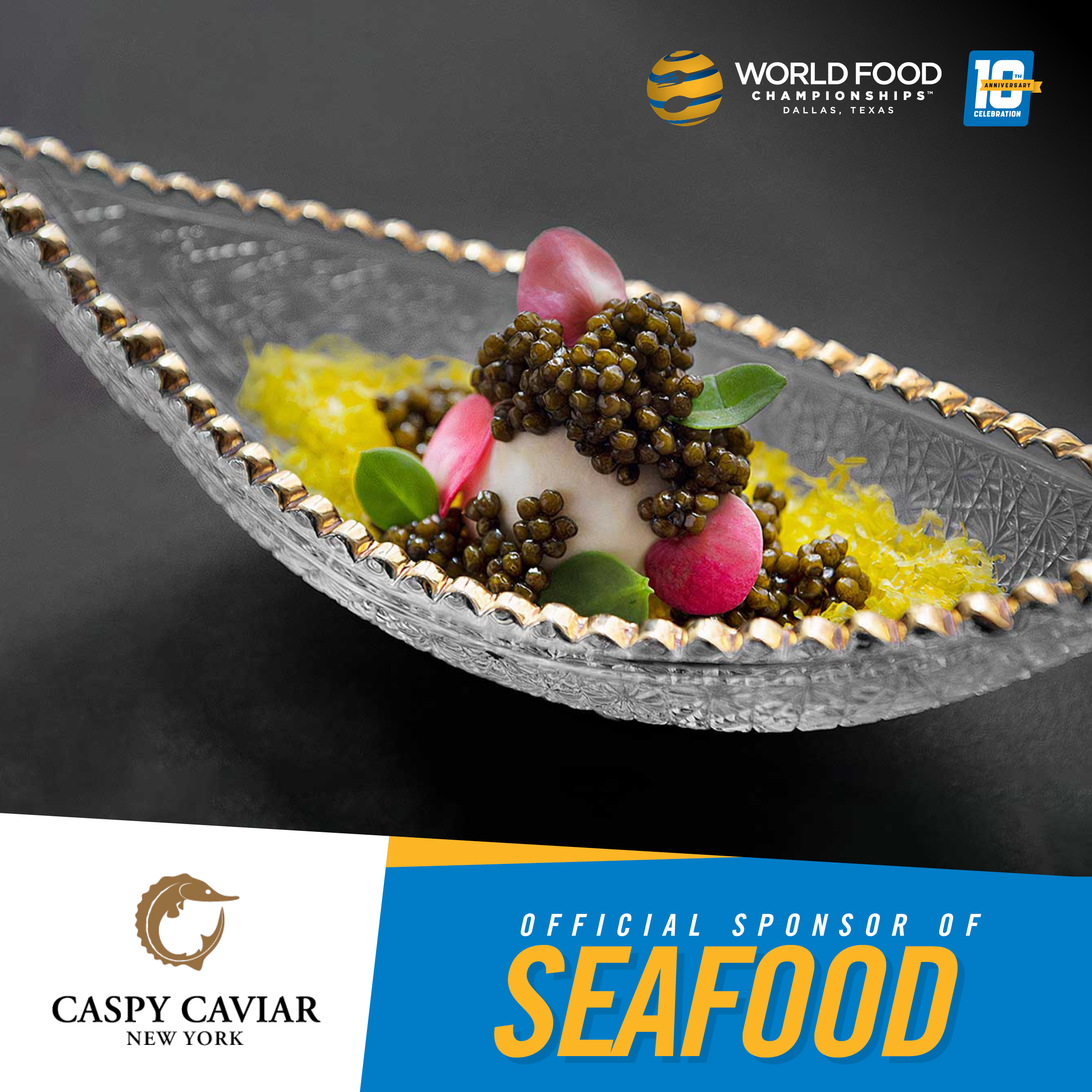 The leader in Food Sport announced today that all seafood competitors at its 10th Annual World Food Championships (WFC) are guaranteed to experience a golden moment during this year's tournament, thanks to a new relationship with Caspy Caviar.
Caspy Caviar — which is owned by multi Michelin star, award-winning Chef Shaun Hergatt — will be providing its Golden Osetra Caviar to each of the seafood contestants as part of a new integration strategy for this year's event. The caviar — known for its golden color and creamy walnut taste profile — will be a required ingredient for all Final Round dishes. A 125 gram tin of the caviar will be provided to each of the teams who make the Final Round, and a smaller tin can be reserved for all Opening Round teams if they want to feature it in their signature dishes (see info below).
"This is an incredible product from an incredible chef," said Mike McCloud, President/CEO of WFC. "We are thrilled to have Chef Hergatt involved in this year's event and truly look forward to what the seafood teams can do with this amazing caviar."
Hergatt will also serve as the Master Judge for seafood during the opening round. This new addition to WFC's process will enable an extra team to enter the Final Round based on x-factor considerations like technique, cooking process or recipe complexity.
Golden Osetra Caviar is produced from the classic Caspian Sea Osetra sturgeon. Its striking gold color, large profile and firm texture make it a world-class caviar and preferred selection by celebrity chefs like Hergatt.
Known as a classically trained creative modernist, Hergatt moved to New York in 2009 to open his first restaurant, SHO, located in the bustling Financial District. The restaurant received two Michelin stars and a 29 out of 30 Zagat rating and was awarded "Best New Restaurant" by both Esquire and New York Magazine. Hergatt received acclaim for his geographically-inspired dishes and was also recognized as "Best New Chef" by New York Magazine before closing in 2013. Hergatt moved on to open Juni the same year, a celebrated fine dining concept that also received a Michelin star. Today, he is the owner of many award-winning restaurants including Vestry in Soho and Caviar Bar in Las Vegas. To learn more about the Australian chef, click here.
For more information about Caspy Caviar products, visit www.caspycaviar.com. To use the caviar in the Opening Rounds, competitors can reserve a small tin for the competition or pre-order samples from Suzanne Slinin at sslinin@gmail.com.
Competitors will be invited to a special WFC Facebook Live interview with Hergatt to learn his insights and advice on how to best integrate the Golden Osetra into their competition dishes.
Stay tuned for more championship announcements about the upcoming Main Event, which is set to be held again inside the iconic Centennial Hall at Fair Park in Dallas, Nov. 9 -13. Ticketing options for the food fest are now available here.
In the meantime, stay up-to-date on all culinary competition news, by following the World Food Championships on Twitter(@WorldFoodChamp), Facebook and Instagram (@WorldFoodChampionships).
« Back to News