Dallas College Qualifies Local Chefs Into Upcoming World Food Championships
Share:
Posted Oct 14, 2021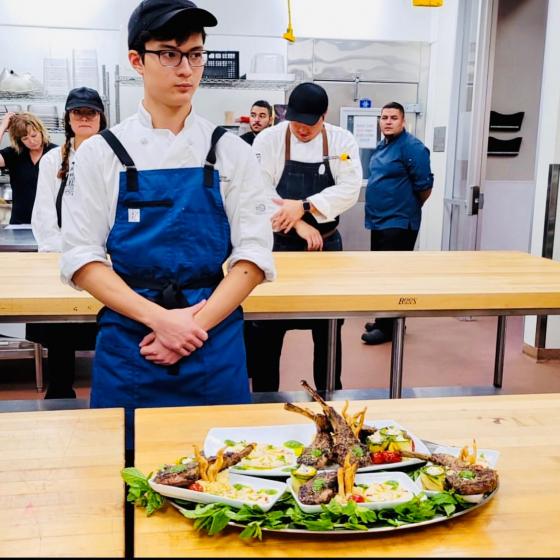 As the dust from a sizzling cookoff weekend settles, numerous local chefs from the Dallas area are now setting their sites on the biggest food fight of them all: the World Food Championships (WFC) at Fair Park in November.
In cooperations with its official higher education partner, WFC held a "last chance qualifier" exclusively for Dallas culinary teams to give them a chance to participate in one of WFC's competitive categories: Bacon, Barbecue, Burger, Chef, Dessert, Recipe, Sandwich, Seafood, Soup and Steak.
Chefs from the region were tasked with creating their "Signature Dish" in a timed, live-cooking competition hosted at the Dallas College Culinary, Pastry and Hospitality Center. The throwdown was judged using WFC's E.A.T.™ methodology by a panel composed of WFC and Dallas College Officials as well as Dallas Influencers – Trey Chapman of @TreysChowDown, Sereel Meadows of @Dallas_Discovered, and Leah Frazier of @TheLeahFrazier.
"Our partnership with Dallas College is one of the many ways we hope to discover new and rising culinary stars in the Texas region," said Mike McCloud, President of WFC. "Giving them a chance to compete at the highest levels of Food Sport is not only exciting, but very rewarding for culinary students, staff and artisans to experience in the process."
Due to a high number of participants, the Last Chance Qualifier was split into two rounds. The dishes to receive the highest scores per round earned a spot to compete at the 9th Annual Ultimate Food Fight, where they'll now go head-to-head against the world's best cooks for a chance at WFC's $300,000 prize purse in November.
Round One Winners of The Last Chance Qualifier include:
Jay Clifton

Ethan Nguyen

Harry Collins

Paul Flores

Constance Pullam and James Keefe
Round Two Winners of The Last Chance Qualifier include:
Nicholas Walker

Temika McCaskill

Hugh Stewart

Alejandro Arce

Diana Zamora

Gillesha Toins, Michelle Davis & Alejandra Preciado
You can see all of these chefs in action on Nov 5, 6 and 7 at Fair Park's Centennial Hall. There will be over 400 teams competing in this year's championship, which also features dozens of unique tasting opportunities for the public.
Want to root for your favorite local chef or take a bite out of the World Food Championships? WFC Event tickets are available at https://worldfoodchampionships.com/tickets.
In the meantime, stay up-to-date on all things Food Sport, follow the World Food Championships on Twitter (@WorldFoodChamp),Facebook and Instagram (@WorldFoodChampionships).
About World Food Championships
The World Food Championships (WFC) is the highest stakes food competition in the world. This multi-day, live event culinary competition showcases some of the world's best cooks who compete for food, fame and fortune in 10 categories (Bacon, Barbecue, Burger, Chef, Dessert, Recipe, Sandwich, Seafood, Soup and Steak). In 2019, more than 450 culinary teams from 11 countries and 42 American states competed in WFC's Main Event. In August, the 10 Category Champs went head-to-head for a $100,000 bonus that determined a new World Food Champion in a TV special called The Final Table: Indianapolis. While contestants have to earn their way into WFC by winning a Golden Ticket at a previous competition, potential judges are welcome to take WFC's online certification course that explains the E.A.T. methodology. Certified judges then request and receive available seats at the next scheduled WFC event. Click here to learn more about getting certified.
PHOTO CREDIT: TREY CHAPMAN of @TreysChowDown
« Back to News