World Food Championships Expands Support for Local Non Profit
Share:
Posted Sep 24, 2021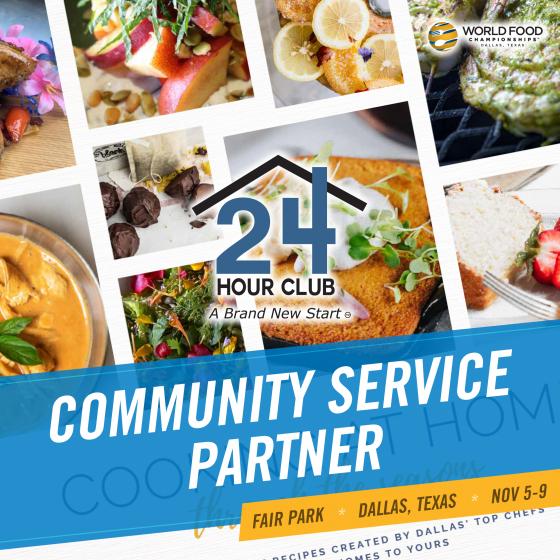 As the leader in Food Sport saddles up for its major foodie fest and competition this November, organizers of the World Food Championships (WFC) just announced that the event will continue to work with and benefit the Dallas 24 Hour Club, a non-profit organization which since 1969, has provided safe, sober transitional living for homeless men and women seeking a brand new life away from drugs and alcohol.
"The Dallas 24 Hour Club is a special organization that provides an incredible community service," stated Mike McCloud, President and CEO of WFC. "Many people in the food industry can be faced with substance challenges, so we believe that aligning with the mission of the 24 Hour Club is very important as we continue to build a positive and lasting enterprise for cooks and chefs in the industry"
Founded in 1969, the Dallas 24 Hour Club is a registered non-profit organization that provides sober transitional living for homeless individuals to escape the addictive cycle of alcohol and substance abuse.
One of the organization's annual fundraising efforts is the Dallas All Star Chef Classic, which WFC supported and participated in with two of its World Champion Chefs in 2019. However, since the pandemic, that event has been cancelled and the 24 Hour Club has pivoted to creating The Cooking at Home Through the Seasons Cookbook to fill the fundraising void.
"We will be doing a number of things to highlight and support the 24 Hour Club at this year's WFC event," commented McCloud. "We hope that DFW foodies will come out to Fair Park in November to help us raise funds and awareness for this incredible organization."
To bolster the group's efforts and raise awareness for its cookbook offerings, WFC has added a bonus for all purchases by providing free access to the "WFC $100,000 Recipe Collection," a digital booklet that contains the top 10 recipes from WFC 2019.
"We are thrilled to partner with the World Food Championships as we are both connected to the food industry within our DFW community. The 24's connection is our incredible local chefs who support our annual fundraiser which provides the necessary operating funds to continue our mission," commented Marsha Williamson, CEO of Dallas 24 Hour Club. "Further, nourishment is a significant part of our program to care for the physical needs of our recently homeless residents on their journey towards recovery and a brand new life. We are grateful for World Food Championships' significant support and the awareness they are bringing to Dallas 24 Hour Club! Thank you, WFC!"
The newest Dallas 24 Hour Club Cookbook, Cooking at Home Through the Seasons, is currently available for pre-order, here. The Cookbooks are expected to be delivered in early November and will be available for purchase at WFC, which will occur Nov 5-7th.
Tickets to WFC's event –– which features 1,500 competing chefs vying for a piece of the event's $300,000 prize purse, over 20 tasting experiences and exciting foodie entertainment for the whole family –– are available at https://worldfoodchampionships.com/tickets.
Stay up-to-date on all things Food Sport, follow the World Food Championships on Twitter (@WorldFoodChamp),Facebook and Instagram (@WorldFoodChampionships).
About World Food Championships:
The World Food Championships (WFC) is the highest stakes food competition in the world. This multi-day, live event culinary competition showcases some of the world's best cooks who compete for food, fame and fortune in 10 categories (Bacon, Barbecue, Burger, Chef, Dessert, Recipe, Sandwich, Seafood, Soup and Steak). In 2019, more than 450 culinary teams from 11 countries and 42 American states competed in WFC's Main Event. In August, the 10 Category Champs went head-to-head for a $100,000 bonus that determined a new World Food Champion in a TV special called The Final Table: Indianapolis. While contestants have to earn their way into WFC by winning a Golden Ticket at a previous competition, potential judges are welcome to take WFC's online certification course that explains the E.A.T. methodology. Certified judges then request and receive available seats at the next scheduled WFC event. Click here to learn more about getting certified.
About Dallas 24 Hour Club:
Since 1969, Dallas 24 Hour Club has provided safe, sober transitional living for
homeless men and women seeking a brand new life away from drugs and alcohol.
Dallas 24 Hour Club was founded to have a place open 24 hours per day for individuals
suffering from alcoholism and drug addiction who were seeking help. Over the next 50
years, Dallas 24 Hour Club grew to offer housing, the first with 6 beds for homeless men
only, to our current facility, which has 75 beds, services for both men and women, and
hosts (37) 12-Step Recovery Meetings each week. Help is available for the suffering
alcoholic or drug addict 24 hours each day, 365 days each year, thus the name Dallas
24 Hour Club. The public is welcome to attend recovery meetings, provide service to
our residents and enjoy our full-service on-site restaurant, The Hubcap Cafe.
« Back to News