Dallas Bourb'N'Que Block Party Features America's Best Pitmasters
Share:
Posted Sep 21, 2021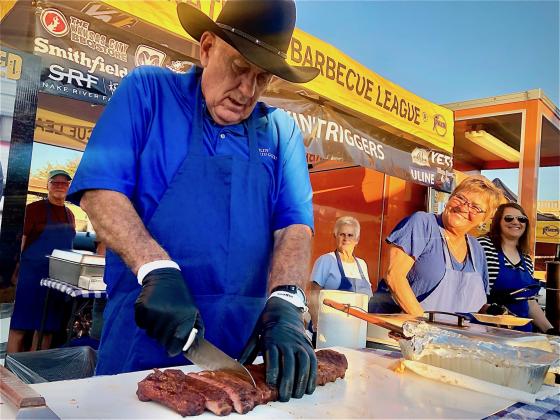 Bites. Bourbon. Barbecue. The leader in the Food Sport announced today that its fan-favorite bourbon and barbecue pairing party is back and bigger than ever as the World Food Championships (WFC) released its official line-up for its Bourb'N'Que event in Dallas, Texas.
The November 6th block party will feature ten of some of the best pitmasters in the country whipping up competition ribs that highlight different American flavor profiles. From Al Pastor Style (pineapple/chili) to Ozarks Style (cooked over live coals hot and fast) to Pirate Style (bacon wrapped raspberry chipotle ribs) and everything in between, Bourb'N'Que attendees will have the opportunity to vote for their favorite flavor through a special People's Choice process.
The foodie fun doesn't stop there, though, as each pitmaster will be perfectly pairing the ribs with bourbon samples provided by Bulleit, Sixty Men and more for attendees to sip and savor throughout the event.
"My taste buds get excited every time I think about our Bourb'N'Que event," said Mike McCloud, CEO and President of WFC. "Not only are we featuring the perfect marriage of bourbon and barbecue, but we'll be presenting it to the public in the most notable way possible by enlisting the best pitmaster teams from across the country, thanks to our partnership with The BBQ League."
WFC's Bourb'N'Que event is open to patrons who are 21+ years of age. It is scheduled to begin at 4 pm Central, November 6th at Fair Park's Centennial Hall in Dallas, Texas. Click here to secure tickets. A full list of WFC's foodie fest is available at https://worldfoodchampionships.com/tickets.
Get to know the featured Bourb'N'Que pitmasters:
BETHANY MCALLISTER | 913 BBQ
Hometown: Olathe, KS
Number of Years Competing: 8
Flavor Profile: Fiery Lady Style
BRAD LEIGHNINGER | GETTIN' BASTED
Hometown: Nixa, MO
Number of Years Competing: 9
Flavor Profile: Ozarks Style
CHRIS SCHAFER | HEAVY SMOKE BBQ
Hometown: O'Fallon, MO
Number of Years Competing: 10
Flavor Profile: St. Louis Style
FRED ROBLES | RIO VALLEY MEAT BBQ
Hometown: Weslaco, TX
Number of Years Competing: 9
Flavor Profile: Texas Sweet & Smokey Style
JAMES CRUSE | CENTRAL CITY BBQ
Hometown: Arabi, LA
Number of Years Competing: 15
Flavor Profile: Secret Style
JOE PEARCE | SLAPS BBQ
Hometown: Kansas City, MO
Number of Years Competing: 8
Flavor Profile: Kansas City Style
JOHNNY TRIGG | SMOKIN TRIGGERS BBQ
Hometown: Alvarado, TX
Number of Years Competing: 31
Flavor Profile: Sweet Heat Style
MIKE JOHNSON | SUGARFIRE
Hometown: Saint Louis, MO
Number of Years Competing: 9
Flavor Profile: Al Pastor Style
STERLING SMITH | LOOT N' BOOTY BBQ
Hometown: Scottsdale, AZ
Number of Years Competing: 13
Flavor Profile: Pirate Style
TIM SCHEER | SHAKE 'N BAKE BBQ
Hometown: New Haven, MO
Number of Years Competing: 9
Flavor Profile: Hot & Fast Sizzle Style
Stay up-to-date on all things Food Sport, follow the World Food Championships on Twitter (@WorldFoodChamp),Facebook and Instagram (@WorldFoodChampionships).
About World Food Championships
The World Food Championships (WFC) is the highest stakes food competition in the world. This multi-day, live event culinary competition showcases some of the world's best cooks who compete for food, fame and fortune in 10 categories (Bacon, Barbecue, Burger, Chef, Dessert, Recipe, Sandwich, Seafood, Soup and Steak). In 2019, more than 450 culinary teams from 11 countries and 42 American states competed in WFC's Main Event. In August, the 10 Category Champs went head-to-head for a $100,000 bonus that determined a new World Food Champion in a TV special called The Final Table: Indianapolis. While contestants have to earn their way into WFC by winning a Golden Ticket at a previous competition, potential judges are welcome to take WFC's online certification course that explains the E.A.T. methodology. Certified judges then request and receive available seats at the next scheduled WFC event. Click here to learn more about getting certified.
« Back to News