World Food Championships Partners With Dallas College To Provide Student Experiences and Local Chef Opportunities
Share:
Posted Sep 3, 2021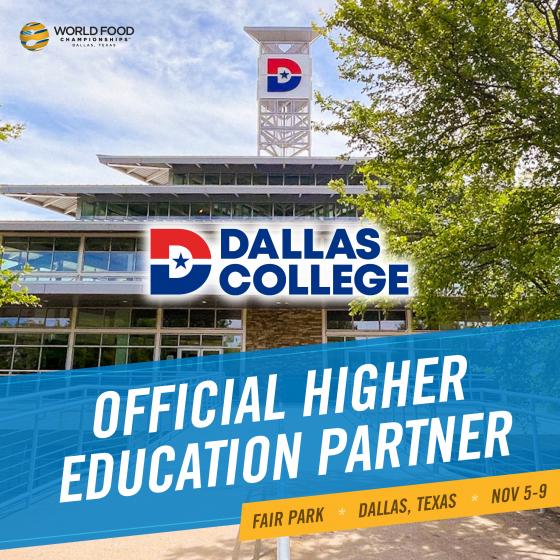 School is back in session, and the leader in Food Sport made a "BIG" Texas-sized announcement with an Official Higher Education partner for the 2021 World Food Championships (WFC) at Fair Park this November.
Dallas College –– a seven-campus college that serves more than 70,000 students annually in academic, continuing education and adult education programs –– has enhanced its WFC involvement by giving opportunities to students from various disciplines to participate at the world's largest Food Sport event while gaining valuable experience.
From the Culinary, Pastry and Hospitality Programs to the Dallas College School of Business, Hospitality and Global Trade, WFC will be integrating hundreds of student volunteers to help further their education and make the 9th Annual Ultimate Food Fight successful.
"This partnership with Dallas College is truly a win-win that we're excited to be a part of," commented Mike McCloud, President and CEO of WFC. "We can always use engaged and passionate volunteers. But what makes this even better is that the Dallas College student volunteers will be gaining real-life, entertainment and culinary experience. We're really looking forward to seeing what these students will bring to the table."
In addition to becoming the Official Higher Education Partner, Dallas College is also being named as the official host and sponsor of WFC's Inaugural "Last Chance Qualifier" Chef Challenge, which is scheduled for October 10, 2021.
WFC will use the Last Chance Qualifier as a way to fill its remaining competitive spots in its 10 category championships: Bacon, Barbecue, Burger, Chef, Dessert, Recipe, Sandwich, Seafood, Soup and Steak. "We expect to see about ten of the best Dallas chefs competing in our tournament through this opportunity. With the help of Dallas College's culinary program, we are excited to provide this opportunity for local chefs to earn their way into our event."
Last Chance Qualifier participants will be challenged to create their "Signature Dish" in a timed, live-cooking competition hosted at the Dallas College Culinary, Pastry and Hospitality Center. The throwdown will be judged using WFC's E.A.T.™ methodology by a panel composed of WFC and Dallas College Officials as well as leading Dallas chefs.
Applications for participation in the Last Chance Qualifier are currently being accepted (here) and up to 30 spots are available.
Want to root for your favorite local chef at the World Food Championships? WFC Event tickets are available at https://worldfoodchampionships.com/tickets.
In the meantime, stay up-to-date on all things Food Sport, follow the World Food Championships on Twitter (@WorldFoodChamp),Facebook and Instagram (@WorldFoodChampionships).
About World Food Championships
The World Food Championships (WFC) is the highest stakes food competition in the world. This multi-day, live event culinary competition showcases some of the world's best cooks who compete for food, fame and fortune in 10 categories (Bacon, Barbecue, Burger, Chef, Dessert, Recipe, Sandwich, Seafood, Soup and Steak). In 2019, more than 450 culinary teams from 11 countries and 42 American states competed in WFC's Main Event. In August, the 10 Category Champs went head-to-head for a $100,000 bonus that determined a new World Food Champion in a TV special called The Final Table: Indianapolis. While contestants have to earn their way into WFC by winning a Golden Ticket at a previous competition, potential judges are welcome to take WFC's online certification course that explains the E.A.T. methodology. Certified judges then request and receive available seats at the next scheduled WFC event. Click here to learn more about getting certified.
« Back to News