World Food Championships Announces Premier Partnership With Top Barbecue Retailer
Share:
Posted Aug 29, 2021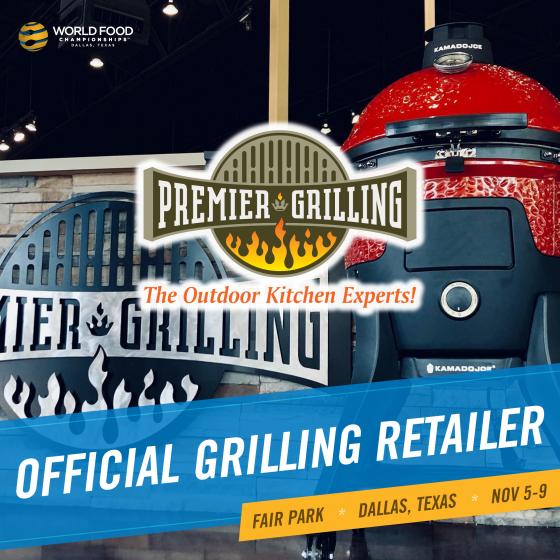 The world's largest food sport event continues to make sizzling headlines as it approaches its highly-anticipated, multi-day food fest in Dallas this November. One of the hottest new developments occurred today, as the World Food Championships (WFC) announced a new partnership with one of the top grilling retailers in Texas –– Premier Grilling.
"Premier Grilling is a well respected and prominent grilling retailer, and we are delighted to have them as the Official Grilling Retailer of WFC," said Mike McCloud, President and CEO of WFC. "Whether you're a professional chef, self-taught cook or an aspiring pitmaster, we know that the experts at Premier Grilling will be able to help our foodies and attendees understand and find the perfect grilling option for any backyard setting."
Premier Grilling is an outdoor kitchen expert company who offers the most technologically advanced grilling equipment in the market, including the ability to control grill temperatures from a phone. From outdoor kitchens to backyard kitchen necessities to barbecue sauce, Premier tests all their products and equipment to ensure they are the best available on the market.
"Premier Grilling is excited and honored to partner with The World Food Championships as the Official Retail Sponsor for 2021," commented Brian Rush, Primary Chief Operating Officer of Premier Grilling. "We look forward to sharing our expertise about outdoor cooking and the amazing products on the market today with the guests and talented participants at this year's event!"
As WFC's 2021 Official Grilling Retailer, the premier company will be featured in many key areas at the food fest's host location, Centennial Hall in Dallas' Fair Park. From its BBQ Ranch (which is a special tasting and educational zone) to Bourb'N'Que and Granny Grilling, barbecue enthusiasts will have the ability to see the best selection of all of the top brands of grills, smokers, seasonings, sauces live and in action.
Stay tuned for more partnership announcements about the upcoming Main Event, which is set to be held inside for the first time at Fair Park in Dallas, Nov. 6-9. Ticketing options for the foodie fest are available at worldfoodchampionships.com/tickets.
In the meantime, stay up-to-date on all culinary competition news, by following the World Food Championships on Twitter (@WorldFoodChamp), Facebook and Instagram (@WorldFoodChampionships).
About World Food Championships
The World Food Championships (WFC) is the highest stakes food competition in the world. This multi-day, live event culinary competition showcases some of the world's best cooks who compete for food, fame and fortune in 10 categories (Bacon, Barbecue, Burger, Chef, Dessert, Recipe, Sandwich, Seafood, Soup and Steak). In 2019, more than 450 culinary teams from 11 countries and 42 American states competed in WFC's Main Event. In August, the 10 Category Champs went head-to-head for a $100,000 bonus that determined a new World Food Champion in a TV special called The Final Table: Indianapolis. While contestants have to earn their way into WFC by winning a Golden Ticket at a previous competition, potential judges are welcome to take WFC's online certification course that explains the E.A.T.™ methodology. Certified judges then request and receive available seats at the next scheduled WFC event. Click here to learn more about getting certified.
« Back to News