The "Olympics of Food" Sprouts New Partnership with Bella Verdi Farms
Share:
Posted Aug 13, 2021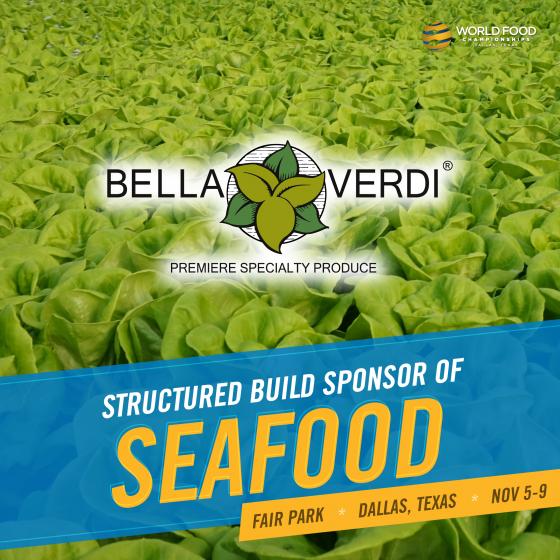 The leader in Food Sport, the World Food Championships (WFC), announced today that a local farm from Texas will play a key role in who will win a piece of the 9th Annual Main Event's $300,000 prize purse this November. Thanks to its new partnership with Bella Verdi Farms, sustainable greens from the company will be featured in WFC's Seafood division, where up to 40 chefs and home cooks will be infusing their premium, eco-friendly products into their competition dishes.
Competitors in the World Seafood Championship, one of ten categories during the event, are being challenged to create their best fish taco recipe using at least one of the following Bella Verdi Farms' Microgreens: Rainbow Mix, Cilantro and Intensity Mix. Scoring high in this task is critical, as it plays a big role in identifying which 10 Seafood competitors will be advancing to the Final Round, where ultimately, a 2021 World Seafood Champion will be crowned and earn a seat at WFC's $100,000 Final Table Challenge.
"Bella Verdi Farms' passion and commitment to quality and sustainability is something we stand behind and value greatly in Food Sport," said Mike McCloud, President and CEO of WFC. "The organic, local and nutrient products will certainly be a key element in our competitors' dishes this November."
The new partnership is the result of an alliance between WFC and Viva Fresh, which is one of the most important produce trade shows in the industry that focuses on networking, education and building relationships in a relaxed and intimate setting. Hosted by the Texas International Produce Association (TIPA), Viva Fresh helps a growing number of retailers and foodservice buyers connect with key suppliers in the Tex-Mex region.
"Infusing fresh and locally produced / packaged products in our WFC pantry is an important initiative of ours," commented McCloud. "We know that Texas has a huge agricultural, farming, produce and livestock industry. Now that we're Texas-based, we want to identify and celebrate this aspect of the Lone Star State."
Bella Verdi was chosen as a key partner to WFC based on their passion for harnessing fine food and sustainable agricultural practices while also supporting its community. In their dedication to providing the finest quality product, the company moved onto researching and consulting with some of the finest hydroponics experts in the world.
The result of this relentless, self-education process was a world-class growing facility with advanced growing systems and methods that are helping them achieve their dream of producing high-quality herbs, lettuces and micro greens using sustainable agricultural practices.
"Bella Verdi Farms is honored to be selected by the WFC team to provide micro greens to the 2021 World Food Championships Seafood competition. We look forward to supporting the competitors and wish them all a hearty Texas Welcome and good luck in the WFC 2021 event," said Mel Howes, Business Manager.
Stay tuned for more partnership announcements about the upcoming Main Event, which is set to be held inside for the first time at Fair Park in Dallas, Nov. 6-9. Ticketing options for the foodie fest are available at worldfoodchampionships.com/tickets.
In the meantime, stay up-to-date on all culinary competition news, by following the World Food Championships on Twitter (@WorldFoodChamp), Facebook and Instagram (@WorldFoodChampionships).
About World Food Championships
The World Food Championships (WFC) is the highest stakes food competition in the world. This multi-day, live event culinary competition showcases some of the world's best cooks who compete for food, fame and fortune in 10 categories (Bacon, Barbecue, Burger, Chef, Dessert, Recipe, Sandwich, Seafood, Soup and Steak). In 2019, more than 450 culinary teams from 11 countries and 42 American states competed in WFC's Main Event. In August, the 10 Category Champs went head-to-head for a $100,000 bonus that determined a new World Food Champion in a TV special called The Final Table: Indianapolis. While contestants have to earn their way into WFC by winning a Golden Ticket at a previous competition, potential judges are welcome to take WFC's online certification course that explains the E.A.T.™ methodology. Certified judges then request and receive available seats at the next scheduled WFC event. Click here to learn more about getting certified.
« Back to News