World Food Championships Checks Into Hotel Culinary Scene With Special Qualifying Event
Share:
Posted Jul 23, 2021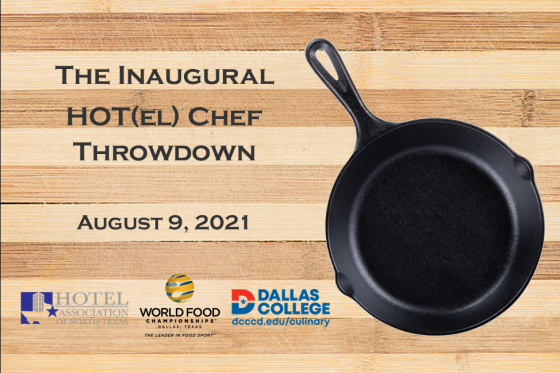 The leader in Food Sport announced today that it is partnering with Hotel Association of North Texas (HANTX), an organization that educates, networks and advocates on behalf of the hospitality industry in North Texas. The World Food Championships (WFC) will assist the 95+ year association by awarding "Golden Tickets" through its newest qualifying event on August 9th.
Through the inaugural culinary competition called "HOT(el) Chef Throwdown," WFC will advance four of the top cooks into its 9th Annual Main Event, known as the "Ultimate Food Fight," which is scheduled to be held in Dallas this November and has over $300,000 up for grabs.
"We are elated to be qualifying four amazing hotel chefs into our event, where they'll be able to showcase their elaborate culinary talents as they battle against 1,500 other cooks in our Kitchen Arena," commented Mike McCloud, President and CEO of WFC.
HANTX is a not-for-profit trade organization that has been in existence and working with hoteliers in the North Texas region for more than 95 years to strengthen the industry. The company supports the industry through advocacy efforts, educational programming and scholarships and takes part in efforts to give back to our community through various volunteer opportunities.
"We are very excited about this new partnership. One of the goals of our organization is to highlight the multiple career paths available within the hotel industry. This event provides an opportunity for our wonderful hotel chefs to display their creativity and talent while showcasing the culinary side of our industry," said Traci Mayer, Executive Director of HANTX.
The Inaugural HOT(el) Chef Throwdown — presented by WFC, HANTX and Dallas College — will feature chefs who will be challenged to create their "Signature Dish" in a timed, live-cooking competition hosted at the Dallas College Culinary, Pastry and Hospitality Center.
The competition will be judged using WFC's E.A.T.™ methodology by three special guests: WFC's CEO Mike McCloud, Four-time James Beard nominee and renowned chef Kent Rathbun, and Dallas College's Senior Director of Workforce Chef Steve DeShazo..
The WFC qualifier is open to all hotel culinary professionals including but not limited to Executive Chefs, Pastry Chefs, up-and-coming Chefs, etc. Registration is currently open (here) and is $300 for HANTX member hotels and $375 for non-members.
More information about HANTX is available at https://www.hantx.org/.
Want to root for your favorite North Texas Hotel Chef at the World Food Championships? WFC Event tickets are available at https://worldfoodchampionships.com/tickets.
In the meantime, stay up-to-date on all things Food Sport, follow the World Food Championships on Twitter (@WorldFoodChamp),Facebook and Instagram (@WorldFoodChampionships).
About World Food Championships
The World Food Championships (WFC) is the highest stakes food competition in the world. This multi-day, live event culinary competition showcases some of the world's best cooks who compete for food, fame and fortune in 10 categories (Bacon, Barbecue, Burger, Chef, Dessert, Recipe, Sandwich, Seafood, Soup and Steak). In 2019, more than 450 culinary teams from 11 countries and 42 American states competed in WFC's Main Event. In August, the 10 Category Champs went head-to-head for a $100,000 bonus that determined a new World Food Champion in a TV special called The Final Table: Indianapolis. While contestants have to earn their way into WFC by winning a Golden Ticket at a previous competition, potential judges are welcome to take WFC's online certification course that explains the E.A.T. methodology. Certified judges then request and receive available seats at the next scheduled WFC event. Click here to learn more about getting certified.
« Back to News