World Food Championships Releases Its 2021 Tournament Chart
Share:
Posted Jul 1, 2021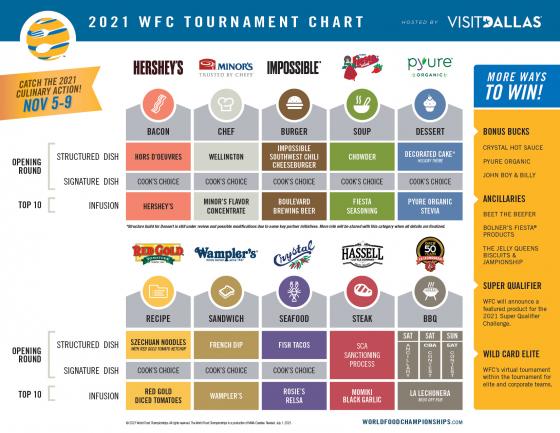 The table is now set for the world's largest Food Sport event. The organizers of the World Food Championships' (WFC) just released its 2021 Tournament Chart, which is a quick snapshot of the culinary challenges and ingredient requirements for each of its ten major categories.
With the release of this key information, more than 1500 chefs and cooks now know what they need to cook and prepare for a chance at winning a piece of the WFC's $300,000 prize purse –– which is the largest in the Food Sport industry.
During the five days of competition, over 8,000 dishes will be created and judged in WFC's new location of Centennial Hall at the iconic Fair Park in Dallas. Around 40 food-related companies have also taken a bite of the culinary action as they've officially signed on as official Food Sport partners and sponsors.
"We are elated about this year's Structured Build and Infusion line-up, as we've been working and tweaking it for over a year now since we had to cancel our 2020 event due to COVID," said Mike McCloud, President and CEO of WFC. "We have some incredible new builds that will not only be mouth watering, but will also make for some epic, viral moments for social media that will feature both new and veteran WFC food brands."
While all of the primary category challenges have been identified through the 2021 Tournament Chart (see below), there are other ancillary contests and ingredients info that will be announced in August to all registered WFC contestants through the annual release of the Official Competitor Packets. For now, additional competition information (such as Structured Build definitions) are available to review, here.
Click here for a printable version of the 2021 WFC Tournament Chart.
The highly-anticipated event is set to take place Nov. 5-9 and has already closed nine of its ten categories, as well as all of the opening round judging spots.
Tickets for #WFC2021 start at just $15 and feature 20+ tasting experiences for all foodies. Click here to check out the full line-up and purchase before prices increase.
Stay tuned for more competition announcements about the upcoming Ultimate Food Fight. In the meantime, stay up-to-date on all culinary competition news, by following the World Food Championships on Twitter (@WorldFoodChamp), Facebook and Instagram (@WorldFoodChampionships).
About World Food Championships
The World Food Championships (WFC) is the highest stakes food competition in the world. This multi-day, live event culinary competition showcases some of the world's best cooks who compete for food, fame and fortune in ten categories (Bacon, Barbecue, Burger, Chef, Dessert, Recipe, Sandwich, Seafood, Soup and Steak). In 2019, more than 450 culinary teams from 11 countries and 42 American states competed in WFC's Main Event. In August, the 10 Category Champs went head-to-head for a $100,000 bonus that determined a new World Food Champion in a TV special called The Final Table: Indianapolis. While contestants have to earn their way into WFC by winning a Golden Ticket at a previous competition, potential judges are welcome to take WFC's online certification course that explains the E.A.T. methodology. Certified judges then request and receive available seats at the next scheduled WFC event. Click here to learn more about getting certified.
« Back to News