WFC Announces New Barbecue Alliance for 2021 Event
Share:
Posted May 4, 2021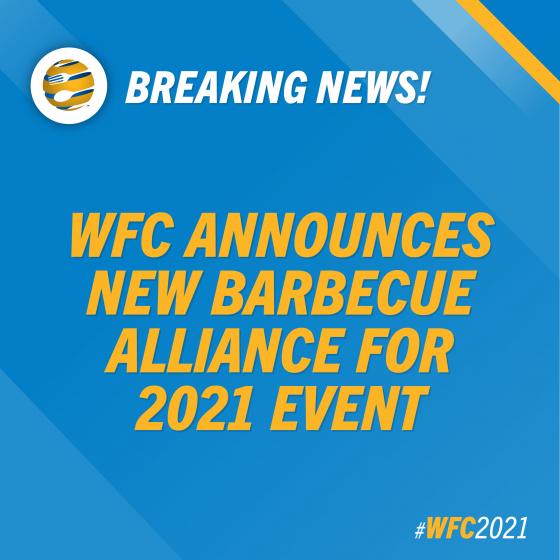 Throughout the history of the World Food Championships (WFC), its Barbecue Championship has always been a key category due to its long history in competition food at both the national and international levels. Additionally, WFC's event coordinators are constantly reviewing the barbecue arena to assess and integrate the latest trends into its competition process. As the most recent example of this, WFC just announced a partnership with the new barbecue sanctioning body, Champions Barbecue Alliance (CBA) –– which was founded by several pitmasters including former WFC Barbecue Champion Fred Robles.
CBA is a Texas-based organization founded by barbecue cooks for barbecue cooks, whose goal is to modernize competition barbecue and ultimately, "make barbecue fun again."
"This is really a pivotal moment in barbecue," commented Mike McCloud, President and CEO of WFC. "We are thrilled to be a part of CBA and stand behind one of our own Champions (Fred) as we incorporate this digital-scoring barbecue process into our competition."
CBA has developed a single-round barbecue judging system that takes three key criteria into consideration: Appearance, Taste, Texture. Judges of their sanctioning events rank these three elements on a scale of one to five, and there is a commenting section that's available to give feedback based on their scoring. Once the judges punch in their scoring on their individual handheld, digital devices, the scores are sent directly to CBA's local server, where no one will have access to any scorings or results until all categories have been completed and judged.
"Champions Barbecue Alliance was formed out of a deep love for barbecue sport," said Fred Robles, President of CBA. "We wanted cooks and promoters to have a fresh, new barbecue sanctioning body that better suits their needs in this modern age. Using technology in our taste judging system, we strive for 100% accuracy while still providing 100% transparency in everything that we do. CBA's partnership with WFC will bring people and barbecue teams together for our common love of great barbecue and Food Sport."
The 2021 World Barbecue Championship will host a "dual duel," with CBA (which will be replacing the International Barbeque Cookers Association, a previous sanctioning body) and WFC's own E.A.T.™ process as the two featured contests.
This year, WFC also tightened the load-in and load-out process for barbecue teams, allowing them to condense their trip to Dallas to participate in WFC. For example, teams will be able to load in on Thursday or Friday of this year, shortening their overall event window by a couple of days.
"Teams are going to really like our shorter, more efficient tournament window this year," McCloud commented. "Add to that a better entry and exit process, and we're certain that participating teams this year will be delighted with our new host venue at Fair Park in Dallas."
The CBA competition will be held on Saturday, Nov. 6; and WFC's E.A.T.™ sanctioning will occur Sunday, Nov. 7. The top five finishers from each division will move on to WFC's Top 10 challenge, which will be held on Tuesday, Nov. 9. This is the moment where one of the ten teams will win $10,000, be crowned a category champion and earn a seat at WFC's bonus $100,000 Final Table competition.
As a reminder, any barbecue team that has won a Grand or Reserve Grand Championship in 2019 or 2020, from any official sanctioning body, is now qualified to register for WFC 2021 in either the Barbecue E.A.T.™ or CBA division — or both. However, WFC has limited its barbecue field to 40 teams and registration is merited on a first come, first serve basis.
The approved sanctioning bodies who are qualified to compete in either the E.A.T.™ or CBA events include, but is not limited to, CBA, MBN, KCBS, PNWBA, SLBS, FBA, IBCA, SBN, SCBA and LSBS.
To register for the WFC 2021 Barbecue Category, click here.
Stay tuned for more competition announcements about the upcoming Ultimate Food Fight. In the meantime, stay up-to-date on all culinary competition news, by following the World Food Championships on Twitter (@WorldFoodChamp), Facebook and Instagram (@WorldFoodChampionships).
About World Food Championships
The World Food Championships (WFC) is the highest stakes food competition in the world. This multi-day, live event culinary competition showcases some of the world's best cooks who compete for food, fame and fortune in 10 categories (Bacon, Barbecue, Burger, Chef, Dessert, Recipe, Sandwich, Seafood, Soup and Steak). In 2019, more than 450 culinary teams from 11 countries and 42 American states competed in WFC's Main Event. In August, the 10 Category Champs went head-to-head for a $100,000 bonus that determined a new World Food Champion in a TV special called The Final Table: Indianapolis. While contestants have to earn their way into WFC by winning a Golden Ticket at a previous competition, potential judges are welcome to take WFC's online certification course that explains the E.A.T. methodology. Certified judges then request and receive available seats at the next scheduled WFC event. Click here to learn more about getting certified.
« Back to News